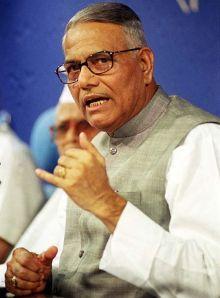 In an apparent jibe at Prime Minister Narendra Modi for neglecting party veterans, Bharatiya Janata Party leader Yashwant Sinha has said the present regime has declared those above 75 as "brain dead" on assuming office.
"All those who are above the age of 75 were declared brain dead on May 26, 2014," the octogenarian leader, who himself was sidelined and denied a party ticket at the last hustings, told an industry meet in Mumbai on Tuesday.
Sinha, who was finance minister in the Vajpayee government, was answering a question on the difference between the previous Manmohan Singh government and the Narendra Modi regime, and what has the incumbent government learnt from its predecessors.
Sinha, whose son Jayant is a junior finance minister, later jokingly referred to himself also as among those "brain dead".
It can be noted that quite a few stalwarts, including BJP leaders L K Advani and Murli Manohar Joshi are not in the Modi cabinet. This had led to many making potshots at the government, including Joshi questioning the 'Clean Ganga' initiative saying it will never be successful.
Sinha also took a jibe at the government's flagship 'Make in India' campaign, saying energies should be first focused on making the country a better place and all the other things will fall in place.
To buttress his point, Sinha cited his decision to lower the duties on heavy road building equipments when he was the finance minister which ensured that highway work kick-started, which, he claimed, in turn helped the economy.
"Make India and make in India will follow," he said.
Without mentioning the ongoing 'Lalitgate' controversy, Sinha said there is a need for the government to act proactively and ensure that the upcoming parliament session does important business.
The government should reach out to the Opposition and sit down with them to ensure that the session does not get washed out, he said.
The statement assumes importance as the government has a heavy legislative agenda including the new land and the Goods and Service Tax bills to get passed, which are being stiffly opposed by the Opposition.
The monsoon session will begin from July 21.
© Copyright 2023 PTI. All rights reserved. Republication or redistribution of PTI content, including by framing or similar means, is expressly prohibited without the prior written consent.