Here's your weekly digest of the craziest stories from around the world.
---
Japanese model poses with giant octopus, because she likes tentacles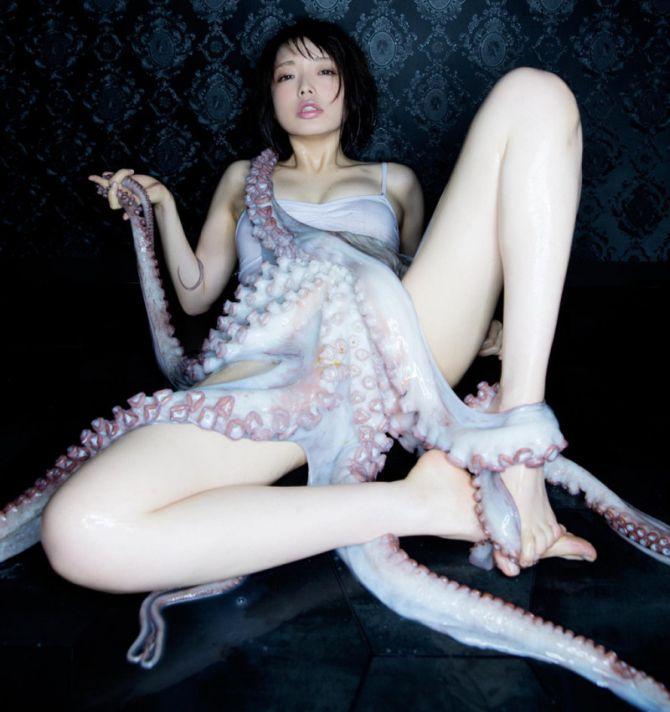 A Japanese model and food blogger Namada decided to take photos with an 18-kg live giant Pacific octopus because, she said, she 'really likes tentacles'. She 'always wanted to be photographed with an octopus; and to make her dream a reality, she collaborated with photographer Kazan Yamamoto.
After the shoot was over, Namada told tokyogirlsupdate.com that it was 'really difficult because the octopus was so heavy'.
Yamamoto said there were some unexpected challenges as the octopus was alive, and because it was slippery, it was really hard to grab a hold of.
The photos were recently put on display at a gallery in Tokyo.
But what happened to the octopus after the shoot? Well, it was cooked and eaten.
---
A swimming competition for 'mermaids'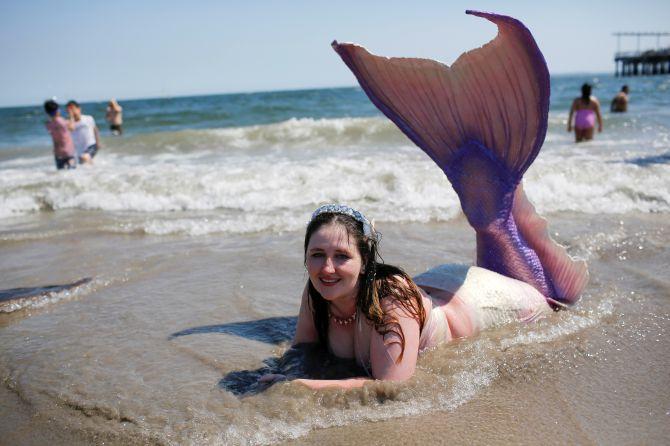 The world's first 'mermaid swimming' contest was held in Germany last week, where the states participated against one another.
'Merthletes' were aged between eight and 48, swimming either 50 metres (children) or 100 metres (adults) wearing mermaid tails, The Independent reported.
It wasn't only for women and men also took part.
The states of Bavaria, Thuringia and Baden-Württemberg had two wins each at the end of the day of races.
Organisers claimed this was the first time that 'Merfolk' had been put into offical competition.
---
Whoa! This car turns into a giant robot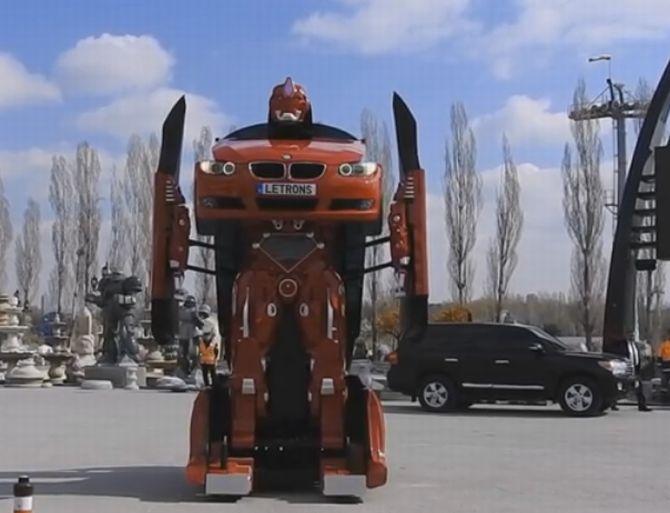 A team of Turkish engineers has designed a 'real-life Transformer', a car that converts into a giant robot.
A YouTube video posted by Turkish company Letrons showed the car, also named Letrons, transforming from a BMW sports car into a robot that moves its head, arms and fingers.
However, unlike its cinematic counterparts, Letrons doesn't have space for a driver or passenger. It is driven via remote-control, the creators said. The robot then transforms back into a car and continues its drive.
---
'Corpse flower' at US college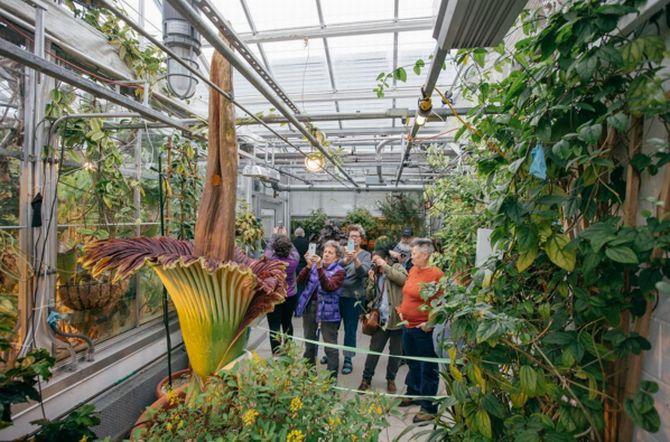 A rare 'corpse flower', known for its large size and foul smell bloomed in a greenhouse at Dartmouth College in Hanover, New Hampshire last week. The flower Morphy, which got its nickname from its putrid smell, is blooming at DartmouthCollege for the first time since 2011, the Associated Press reported.
Morphy is native to Sumatra's equatorial rainforests and has a long pointy stalk with a skirt-like covering.
Dartmouth greenhouse manager Kim DeLong said its odor has been described as a cross between a decaying animal and urine.
---
'World's most expensive toilet' is made of 18-karat gold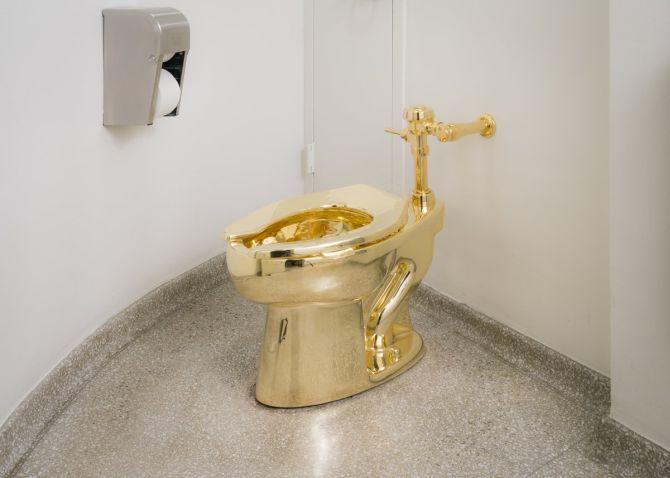 The Guggenheim museum in New York is inviting visitors to 'world's most expensive toilet', made of 18-karat gold. This is on of the museum's public restrooms, it says on Twitter.
The unusual throne is created by Italian artist Maurizio Cattelan. But he has taken 'the unusual step of allowing viewers not only to witness the bowl -- but also try it out for themselves,' said the Daily Mirror.
The toilet named 'America' is on the fifth floor of the museum.
---
A smartphone, a balloon and a world record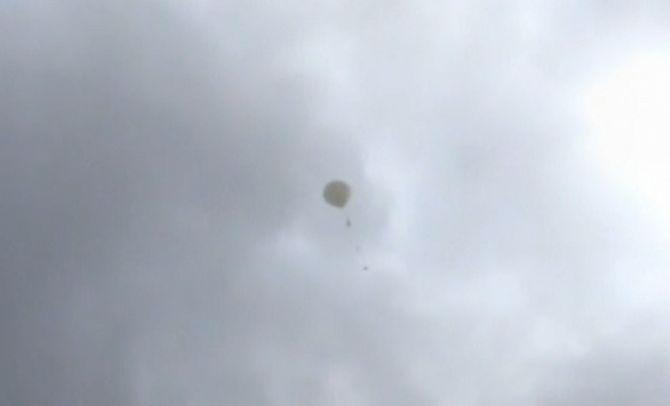 In an attempt to set a record for the highest livestream from a smartphone, Huawei Technologies Sweden attached such a device to a balloon and sent it to the skies.
The Huawei Honor 8 phone was attached to a weather balloon also carrying a camera and other equipment, and set off from the SSCEsrangeSpaceCenter in northern Sweden.
The balloon was expected to burst at an altitude of 30,000 meters with the device then making its way back down by parachute, Reuters reported.
Peter Lundkvist of Huawei Technologies Sweden said the balloon reached 18,421 meters before bursting.
'Hopefully, Guinness (World Records) will accept this as a world record in highest smartphone live-streaming,' he said.
---
Surfing dogs compete in California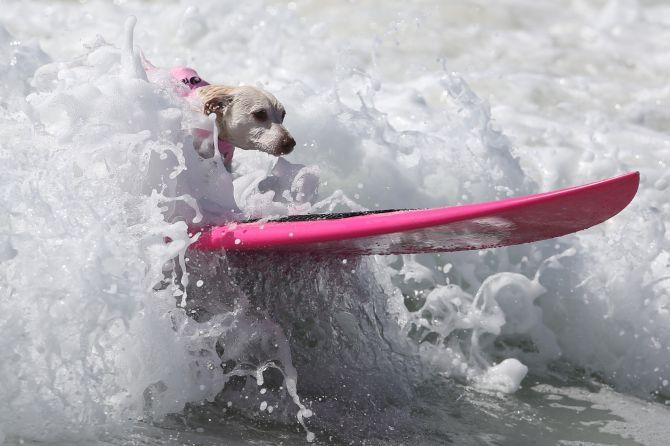 More than 60 dogs gave cats a rest and instead chased waves during the eighth annual Surf City Surf Dog competition at Huntington Beach near Los Angeles.
Dogs and their owners came from as far away as Australia and Brazil to compete in California, with more than 2,000 spectators, as the pets wore lifejackets and tried to avoid wiping out in the unusually high waves, Reuters reported.
The dogs competed individually or in tandem with their owner and were judged on a variety of skills, including the length of their ride and their confidence on the board.
---
World's tallest teenager is still growing at 6 inches a year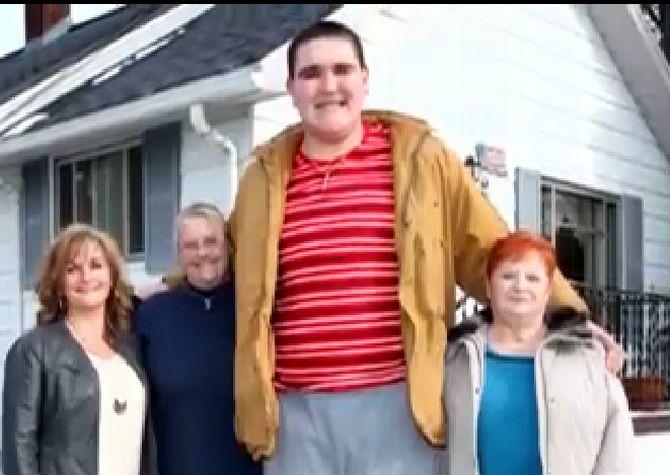 Broc Brown, who was officially declared the world's tallest teenager, has reached a record-breaking height of 7ft 8 inches and is continuing to grow.
He is growing at the rate of six inches a year, Daily Mirror reported.
If he maintains that rate, the 19-year-old from Michigan could easily surpass the current world's tallest man Sultan Kosen, who is 8ft 2 inches tall.
Brown's mother said he was taller than 5ft when he was in kindergarten!
He was diagnosed with Sotos Syndrome, known as cerebral gigantism, when he was just five-years-old and his mother was told that he would not outlive his teenage years.
The condition effects one in every 15,000 people but doctors are now confident that Broc will have a normal life span.
He was also born with one kidney so is unable to take painkillers despite suffering constantly with his back.
---
Man living in wooden sphere gets power unplugged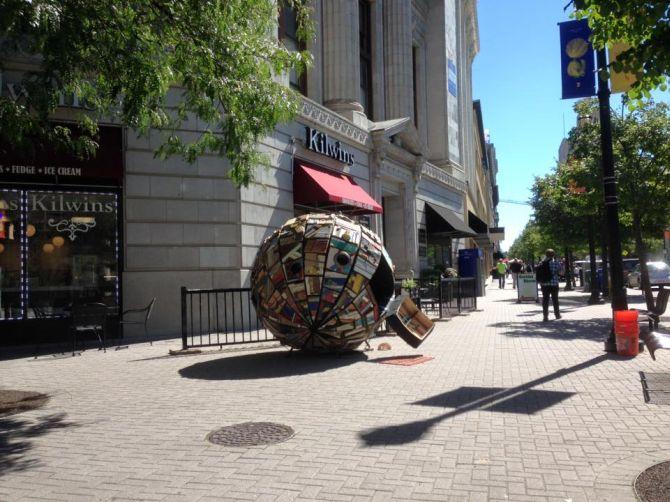 A man in Michigan, who has in a large wooden sphere as part of an art project, has got the plug providing power removed by authorities.
Loren Naji of Cleveland, Ohio, planned to live in the 8-foot spherical 'micro home' on the streets of Michigan until October 8 as part of an artistic statement. The sphere is equipped with WiFi, electricity and a front-row view of downtown Grand Rapids.
Naji told Fox 17 that the 'micro home' is called Emoh, which is home spelled backwards.
'It's about our backwards system of vacant houses and homeless people,' he was quoted as saying.
'I am now living here inside of Emoh in Grand RapidsMI! This is getting a lot of buzzzz for ArtPrize! WZZM 13 news has placed a 24 hour time lapse camera inside Emoh to view my living habits! The world might discover intimate secrets about me!' Naji wrote on Facebook.
On September 19, the authorities removed the power cord, which had been plugged into a city streetlight across the sidewalk, providing electricity to 'Emoh'.
The authorities said the cord was unplugged because it 'posed an obvious hazard with increased foot traffic expected for the upcoming ArtPrize festival'.
---
Is that a fish, or a kid's toy?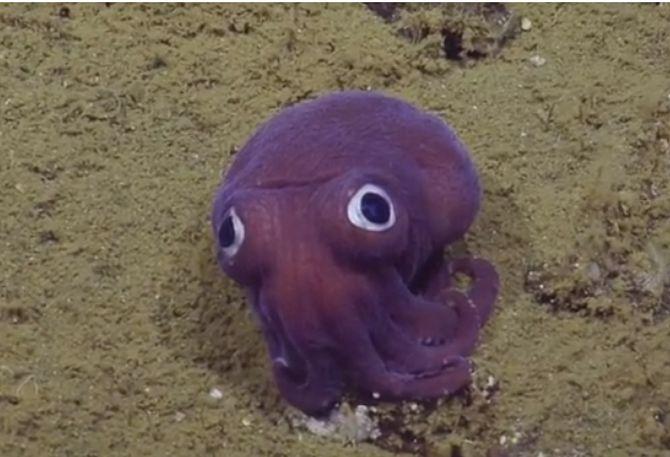 This bright purple creature with giant, stuffed-animal-like eyes is making waves on the internet. It looks like it could be a cartoon character, but it's real. The stubby squid was encountered upon by researchers from the Nautilus exploration vessel who were cruising along the deep sea floor off California's coast.
In a 2.5-minute video posted on YouTube, the group of researchers can be heard giggling as they encounter the creature.
'It looks so fake. Looks like a kid has dropped his toy,' one of them says amid laughter.
The stubby squid stays stoic, gazing straight ahead with its huge eyes throughout the entire video.