Here's your weekly digest of the craziest stories from around the world.
---
She's selling her wedding dress on eBay to fund divorce from husband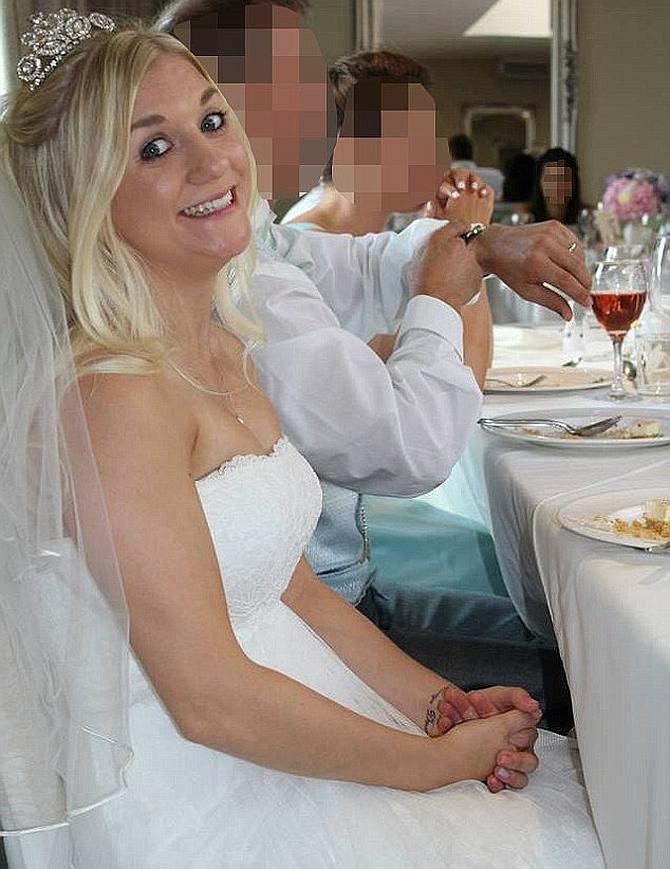 In a bizarre incident, a 28-year-old woman in the UK has put her designer wedding dress, worth 2,000 British pounds, up for sale on eBay to pay for her divorce after she found her husband was cheating on her.
Samantha Wragg, from Chesterfield, wore the dress on her wedding in August 2014. She claims her husband left her after 18 months and was already living with another woman, the Dailymirror reported.
Wragg, a blogger, is now selling her designer art deco wedding dress on eBay to help pay for her divorce, which she says her ex-husband "left her to foot the bill for."
She says the ivory, floor-length dress is a little dirty and will need to be dry-cleaned before it's worn again "to get rid of the stench of betrayal."
Samantha says the size six strapless gown, which has a long lace train and buttons down the back, cost her parents around 2000 British pounds brand new in 2014, but she's started the bidding at 500 British Pounds. Bids for the dress are currently close to 66,000 British.
---
The day Americans turned Madrasi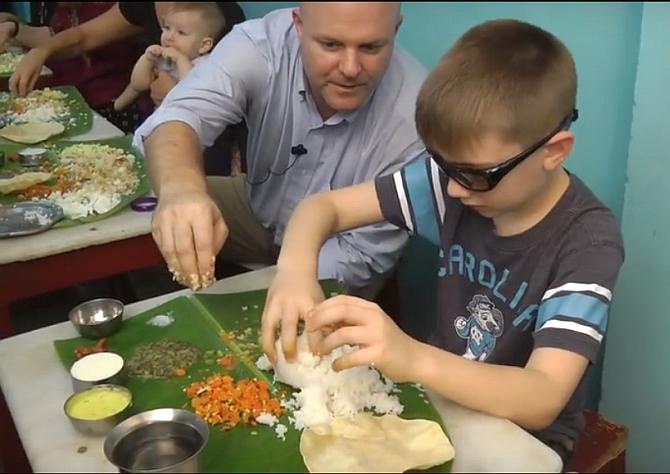 The US Consulate General in Chennai had a remarkable idea to commemorate the city's 377th birthday.
Instead of raising a toast to the city, founded on August 22, 1639, a few members from the US Consulate decided to go on a gastronomical journey at Kasivinayaga Mess.
And then, they uploaded their experience on Facebook on a video titled, "Feeling the everyday rhythm of Madras life"
"We should come here every day," they could be heard saying as they feasted on delicacies off banana leaves.
"Eating a MEAL with your hands in banana leaf is always special, isn't it? And it's a celebration especially in South India! We are trying to connect your every day rhythm of Madras life highlighting Madras culture, food, and traditions. This is the first video in the Madras Week video series. SEVEN more to come. Keep watching and make your Madras connections! Happy Madras Week," read the caption of the video posted by the US Consulate General on YouTube.
Since it was posted on August 21, the video has received over 1.6 million views and more than 49,600 shares.
---
Eight-acre 'Super Mario Bros.' Corn Maze is a crowd-puller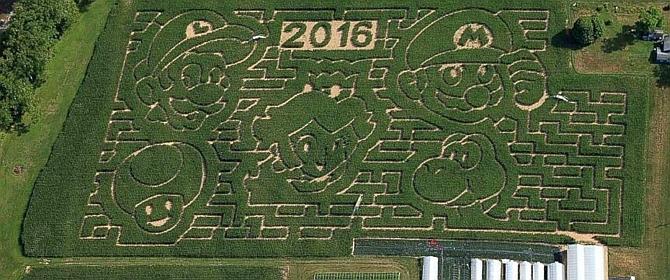 Images of Mario, Luigi and friends have been carved into the fields of an upstate New York farm as part of a corn maze based on Nintendo's Super Mario Bros. game series.
It is the latest installment of an annual themed maze at the Stoughton Farm in Newark Valley.
Owner Tom Stoughton told Fox News that the farm's mazes typically attract about 10,000 visitors annually.
An aerial photo of the 8-acre maze clearly shows Mario, Luigi and fellow Mario Bros.
characters Princess Peach, Toad and Yoshi carved into the cornfield. Stoughton says he created the maze based on a design by a Utah company. He says creating the maze usually takes a few weeks and involves "a lot of math."
---
Booze party begins in US, ends up in Canada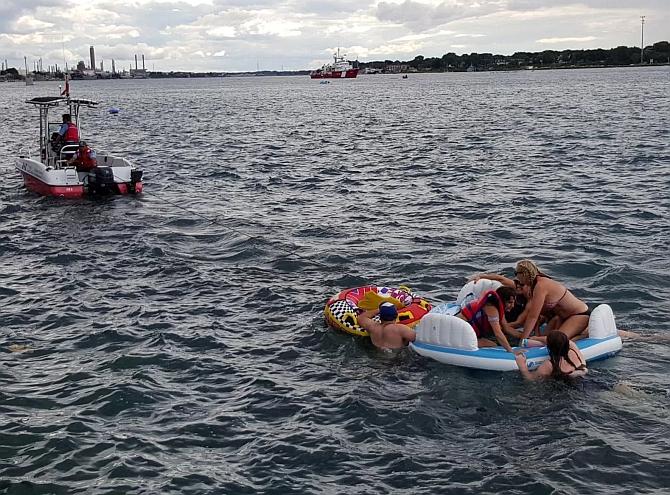 About 1,500 Americans floating down a river that separates the United States from Canada had to be rescued from the water when strong rains and winds sent them illegally into Canadian territory, Reuters quoted the country's coast guard as saying on Monday.
The Americans were taking part in the annual Port Huron Float Down on Sunday in the St Clair River, which runs between the US state of Michigan and the Canadian province of Ontario.
The winds blew the flotilla of inflatable rafts and inner tubes off course and toward the Canadian shore, Reuters reported.
Some rafts deflated, spurring a rescue effort by the Canadian Coast Guard as well as federal and provincial police, coast guard spokeswoman Carol Launderville said in an email.
Most "floaters" had to be rescued from the water, with many towed to shore, according to the coast guard.
Some tried to swim back to the United States.
---
Seen the world's first playable DJ pizza box
Pizza Hut has got something for you out-of-the box, or maybe you can say, on the box.
Though there's not much to innovate in the pizza-making industry, this international franchise has recently launched the "world's first playable DJ pizza box", which is a standard cardboard container rigged up with touch-sensitive decks, a mixer and other controllable buttons.
According to Engadget, it is created by printed electronics expert Novalia. The battery-powered box connects to your computer or smartphone via Bluetooth and is compatible with DJ software like Serato DJ.
You can scratch, rewind, control pitch and cross-fade. This playable DJ pizza box will however be limited to just five of Pizza Hut's 350 UK restaurants.


---
Melt-proof ice-creams are here!
Ice-cream lovers, rejoice! There's a new ice-cream in town with a melt-free twist. Gastronaut Ice Cream, created by a food expert, comes in a bar and can be enjoyed at room temperature, the Mirror reported.
It may be very different from its frozen counterpart as it can be crumbled in your hands, but once you begin eating it, the organic snack transforms into the "exact same sweet and creamy ice cream" you have known all your life. To melt-proof an ice-cream, first they freeze-dry it and then dehydrate it, with nothing added to it except a pinch of salt.
Freeze-drying involves first freezing a food substance and then creating a powerful vacuum before adding heat which draws out the frozen liquid from the food as vapour. The Gastronaut range comes in 3 mouth-watering flavours -- Mexican Chocolate Chip, Cookies and Cream and Mint Chocolate Chip.
Owner Rob Collignon said: "This is the only premium organic freeze-dried ice cream on the planet. I've always liked freeze-dried ice cream -- they sell it in space museums and camping stores. I've eaten it my whole life but it doesn't taste that good because they start with the cheapest ice cream imaginable."
The 34-year-old from Brooklyn worked on his product for three and a half years before bringing it onto the market.
---
Doctors remove 40 knives from stomach of a policeman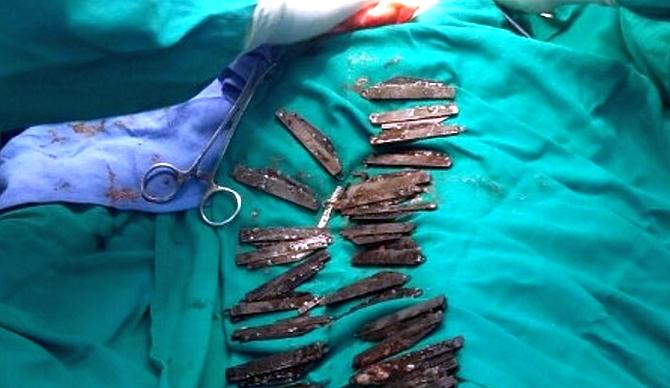 In an unusual case, as many as 40 knives were surgically removed from the stomach of a policeman in Gurudaspur, Punjab who claimed that he used to feel an "urge" to eat them.
A team of five doctors carried out a five-hour long surgery on Surjeet Singh (40), who is employed with Punjab Police and is posted at Tarn Taran district, at a hospital.
"He had a wild urge to consume metal. Even for us, the experienced surgeons, it was frightening," Dr Jatinder Malhotra told CNN.
"A series of ultrasounds followed by various tests, including endoscopy and CT scan, related to the stomach were carried out before the surgery as the patient was admitted in the hospital with severe weight loss, besides multiple ailments.
"In the beginning, cancer was suspected but during investigation some hard metal substances were found inside the stomach that had damaged liver and kidney and other organs," said Malhotra who led the team of doctors during the operation.
"We were so nervous... a small mistake could have taken the patient's life," Malhotra said. "In my 20 years of practice, I have never seen anything like it."
Malhotra said they found folded knives, unfolded knives and rusted and broken knives in the man's stomach.
---
Is that a Tyrannosaurus Rex?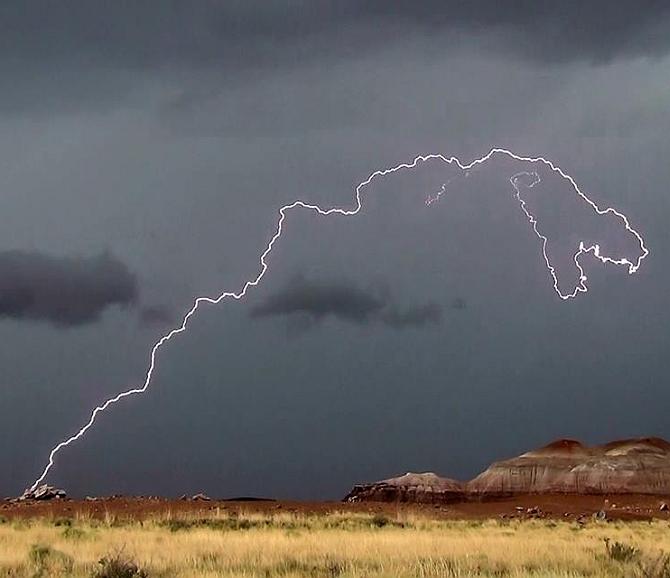 A lightning bolt some believed to be shaped like a tyrannosaurus rex struck a national park in Arizona.
The US Department of the Interior shared a photo of the oddly shaped bolt of lightning which struck Petrified Forest
National Park.
"This bolt looks like a Tyrannosaurus rex getting ready to chomp a formation at Blue Mesa," they wrote.
Some people provided their own opinions of the lightning bolt's shape, suggesting it resembled a snake, a cougar or an upside down heart-shaped balloon on a string.
---
KFC's fried chicken-scented SUNSCREEN?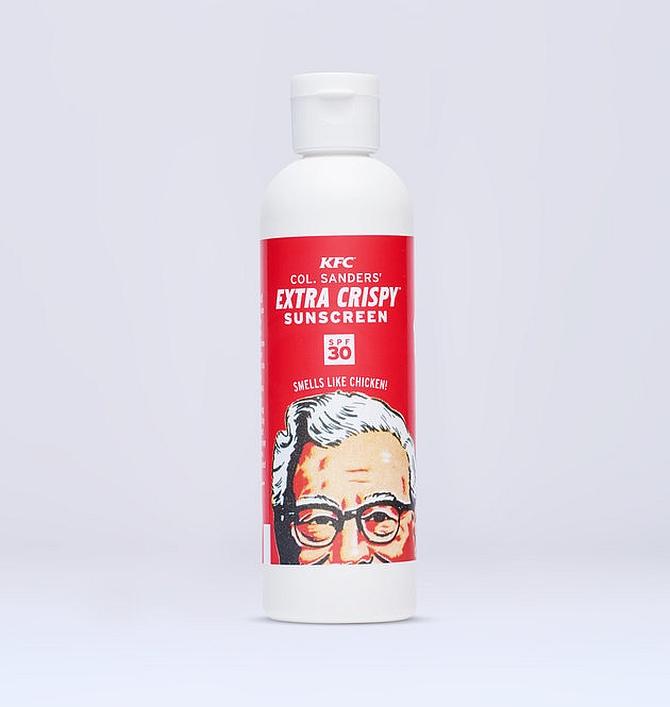 Are you a fan of Kentucky Fried Chicken? Here's a complete bizarre move by the fast food giant.
KFC has created an "exclusive and extremely limited run of fried chicken-scented sunscreen" that will be available on a first come, first served basis, according to a press release.
Their tagline is, fittingly, "The only skin that should be extra crispy this summer is on your fried chicken."
So, how do you score the body grease? Visit ExtraCrispySunscreen.com!
---
Spoof video shows 'human sacrifice' at CERN
No, there wasn't actually a human sacrifice at the CERN laboratories in Switzerland -- home of the Large Hadron Collider.
Officials say they are looking into a "spoof" video filmed on the site without permission.
Shot from a building at the European Organization for Nuclear Research in Geneva, known as CERN, the video shows hooded people in a courtyard before the cape of one woman is lifted off her shoulders. After she lies down, a hooded person approaches and appears to stab her with a knife. An off-camera voice reacts with an expletive and the camera turns away.
On its website, CERN called the video "a work of fiction showing a contrived scene."