This week's collection of stories that prove we live in a truly mad, mad world.
1) This ain't no super glue commercial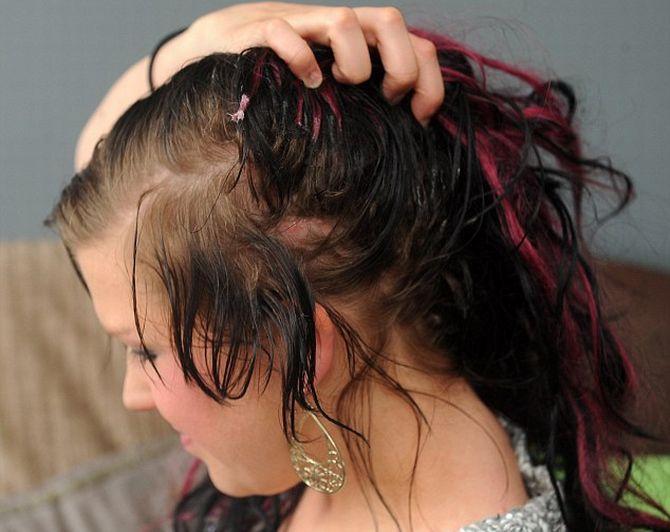 A woman has been left with hair extensions stuck to her head after mistakenly buying the 'glue-in' beauty product online.
Lauren Dewick, 25, said the black and pink pre-bonded hair extensions with keratin tips were so bad, even pliers have failed to remove the fake hair -- leaving her with 'half' her hair missing as well as bald patches.
The mother-of-two, from Hull, East Yorkshire, bought the 'glue-in' extensions on the internet and attached the extensions in February but has been trying in vain to remove them for nearly a week.
The extensions, which were predominantly black with around 50 strands of pink thrown in, came with blocks of glue already fixed to the tips.
Lauren said: 'We've been trying to take them out all weekend, but the glue bonds that are left in are not softening at all - they are rock solid.
It was the first time Lauren had hair extensions and splashed out to make sure she bought good ones.
---
2) What's crawling inside your burger?
Ever been on the move and wanted to grab some grub, say a burger. Now that you've thought about those succulent burgers for a second: Think again!
A new study has revealed more may be lurking in your burger than you anticipated.
Experiments carried out on 258 unlabelled samples of ground meat, frozen patties, fast-food burgers and veggie varieties from 79 brands spanning 22 retailers using state-of-the-art genomic sequencing, scientists at Clear Labs, screened the products for authenticity, examining them for nutrition-content accuracy, including calories, carbohydrates, fat and protein.
But, their investigations revealed some unexpected results.
Three samples tested positive for rat DNA, while one contained traces of human DNA, the researchers revealed.
Thirteen per cent of all the products were found to be 'problematic', but that figure rose to 23.6 per cent when the scientists examined the vegetarian products.
Of those, two samples contained traces of beef DNA, while one black bean burger contained no black beans at all.
The researchers noted all tests are run through a secondary analysis pipeline and scrubbed for statistical accuracy and error.
---
3) Food for thought
Mama always told us not to play with scissors. But eating corn off a power drill? She skipped that one. Must've thought we were smarter.
A YouTube video showing a woman in China attempting to eat corn with the help of a spinning drill is proving to be a cautionary tale for the rest of us.
The woman was left with a large bald patch on her head after her hair was caught and ripped out during an attempt to eat corn from a rotating drill has released further footage to prove the accident was real.
The painful video featuring the Chinese woman attempting the ten second 'corn drill challenge' emerged on Sunday.
It shows the excruciating moment a lock of her long hair was caught in the power tool and ripped from her scalp but she doesn't appear to make a sound nor react in pain as she reaches up to feel her hairless scalp.
---
4) Cheeky!
A 10-metre high sculpture of a man grabbing his own buttocks is part of an art exhibition that has been shortlisted for the prestigious Turner Prize.
Anthea Hamilton is one of four artists nominated, receiving a nod for her solo show Lichen! Libido! Chastity! at SculptureCentre in New York, which features two hands clutching the bare bottom, as well as a brick-printed suit.
The other artists on the shortlist are Michael Dean, Helen Marten and photographer Josephine Pryde, whose installation Thinking By the person I Am at CCA Wattis in San Francisco includes a small working train.
Now that's art. Isn't it?
---
5) Show me the money!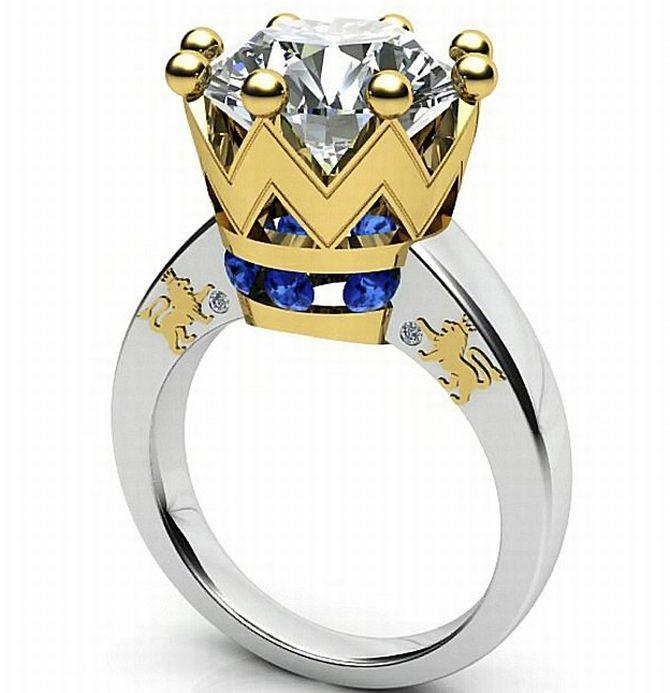 Leicester City diamond ring inspired by the Premier League trophy is unveiled - but it will cost you £225,000
Leicester City WAGs are sure to have their eyes on this £225,000 ring which was inspired by the Premier League trophy itself.
The giant sparkler features a 5.01 carat central diamond set inside a yellow gold crown surrounded by blue sapphires.
The ring has two gold lions facing each other on the silver band and will be engraved on the inside with the total number of points notched up by the new champions.
---
6) The cat that got the cream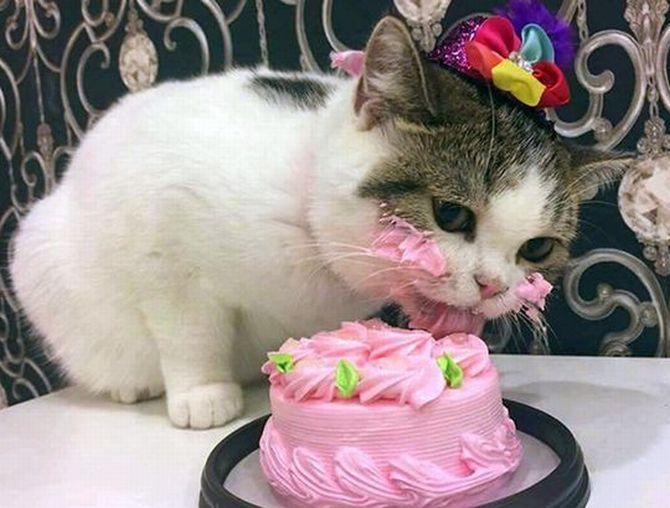 This lovable moggie celebrated its birthday in style by getting more than a mouthful of this pinky pink cake.
And the pet will likely now also be lapping up the attention as the images go viral for the world to see.
The contents of the cake are unknown but presumably the owner knows sweets are not good for your cat and it was specially baked.
At first the cat can be seen -- dressed a festive bonnet for the occasion -- eagerly licking the cream off the top of the cake as if it were an ice lolly.
Now there's one satisfied kitty.
---
7) Woman wants to celebrate 100th birthday... by pole dancing?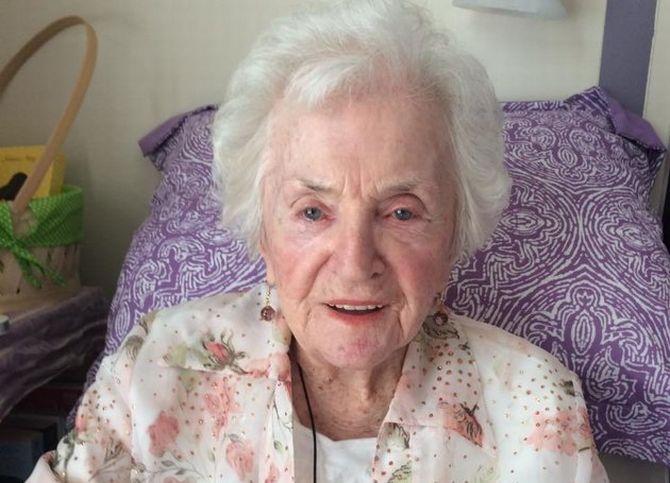 Becoming a centenarian is just another year for Beatrice Ingerling.
Unlike most oldies though this ole dish is not like your friendly neighbourhood granny.
Ingerling celebrates her 100th birthday this Saturday and she plans to show her appreciation to her guests by pole dancing.
That's right. This centenarian like to gyrate on a pole.
Ingerling has even had a pole installed in her home in Chesterfield, Virginia, just so she can do a few spins for family and friends at the party.
Ingerling is healthy enough for physical activity. She's not even on medication, unless you count the daily glass of wine.
---
8) Take that old age…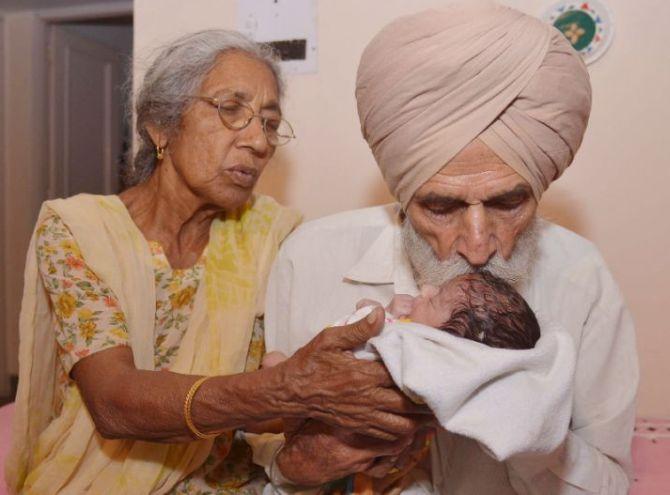 An Indian couple who are both in their 70s have had their first child after undergoing two years of fertility treatments.
Daljinder Kaur, who is believed to be about 72 but is lacking a birth certificate, gave birth to a healthy baby boy April 19 at Haryana's National Fertility Center, which is famed for offering fertility treatments to women well past menopause.
The baby was fathered by Kaur's husband of 46 years, Mohinder Singh Gill, 79.
"Every one asked me to adopt a baby but I never wanted to. Now I have my own child," Kaur told The Telegraph. "We will raise him and give him a proper education. I had faith in Almighty that I will have my own baby, and God answered my prayers."
Now that's some baby.