A weekly digest of all the news that will surely shock and make you laugh at the same time!
1) Ouch! Man undergoes over 4500 piercings in eight hours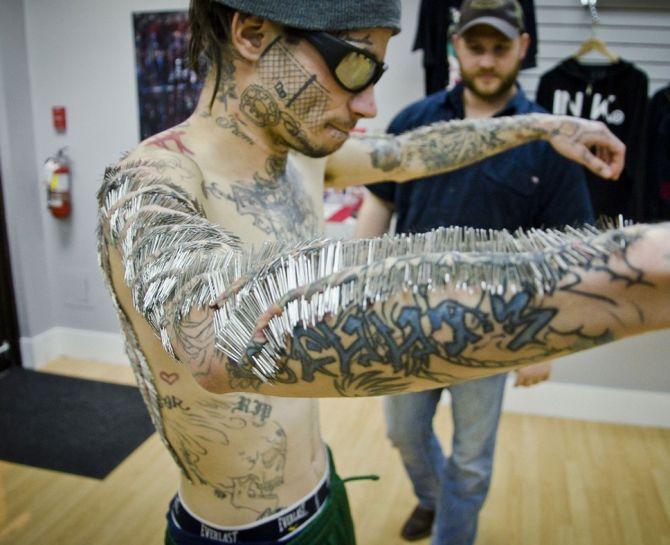 A tattoo-addict has smashed the world record for the most piercings in one sitting - enduring more than 4,500 during a gruelling eight-hour session.
Matthew Menczyk, 30, had 4550 surgical needles pierce the skin of his arms and back - breaking the previous record by an impressive 650.
The previous record had been 3900, which was set by American Tyson Turk in 2011.
He underwent the pain to raise money for Directions Youth Services, which helps at risk youth in Vancouver.
---
2) Hungry kya! This man chomped 4,500 calories in 12 minutes!
Randy Santel ate six bacon rashers, six sausages, six eggs, six hash browns, six toast slices and six pancakes in under 12 minutes to beat a cafe's food challenge.
Randy Santel, 28, a professional eater from St Louis, Missouri, consumed 4,500 calories.
The Corner Cafe in Bristol has launched the 'Monster Mega Breakfast' , which comes with six rashers of bacon, six sausages, six eggs, two three-egg omelettes, four portions of fried potatoes and four portions of mushrooms. It also includes six slices of black pudding, six hash browns, one bowl of chips, four onion rings, four slices of toast, two fried bread, half a grilled tomato, two portions of beans and two portions of tomatoes.
---
3) Meet Yasmin Eleby, the 40-Year-Old who married herself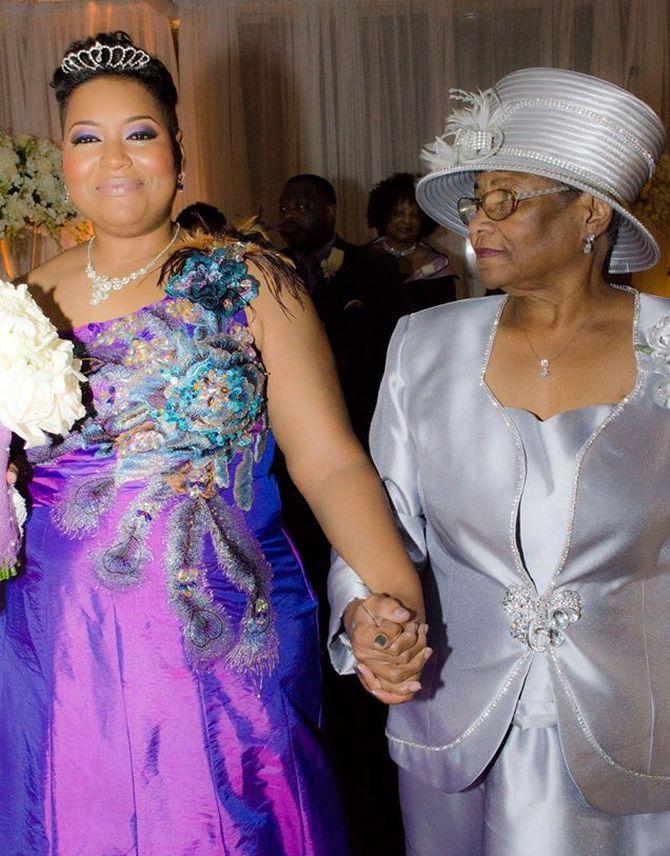 A woman has married herself after failing to find the man of her dreams before turning 40. Yasmin Eleby, from Houston, Texas, tied the knot in a purple gown earlier this month, surrounded by her closest friends and family.
However, she's not the first to marry herself. In July last year, a former radio host from Australia, Sammy Power, celebrated her 50th birthday by tying the knot with a life-sized cardboard cutout of herself. She said that the ceremony commemorated a year of important life changes; quitting smoking and drinking and losing 25 kgs.
---
4) Introducing the zoo offering giant snake massages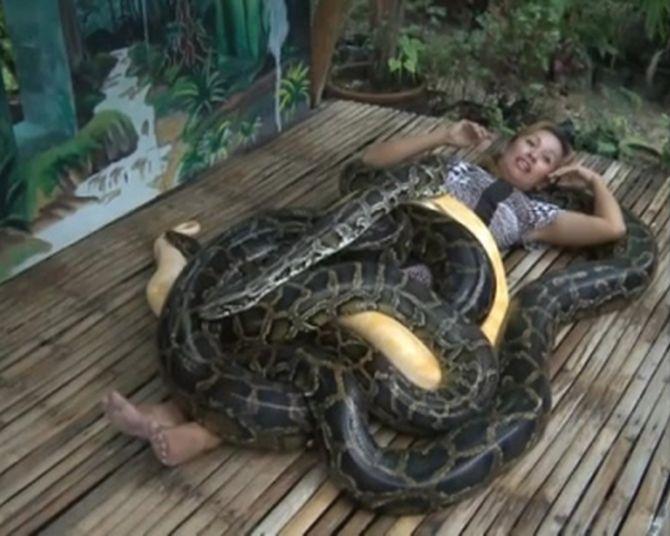 A zoo is offering visitors the opportunity to 'enjoy' a deep muscle massage - from enormous deadly pythons.

In return for a donation to the running of the organisation, visitors to the Cebu City Zoo in the Philippines are offered the service, which involves four large pythons being placed across the body. The snakes are five metres long and weigh a combined 250 kg.
---
5) French parents banned from naming child 'Nutella'
A French court has banned parents from naming their baby girl "Nutella" after the hazelnut spread, arguing that it would make her the target of mockery.
The judge aid in his ruling that the name Nutella was the trade name of a spread that is commonplace in Gallic homes and ordered that the child be called Ella instead.
---
6) Snails slide into Thai spa scene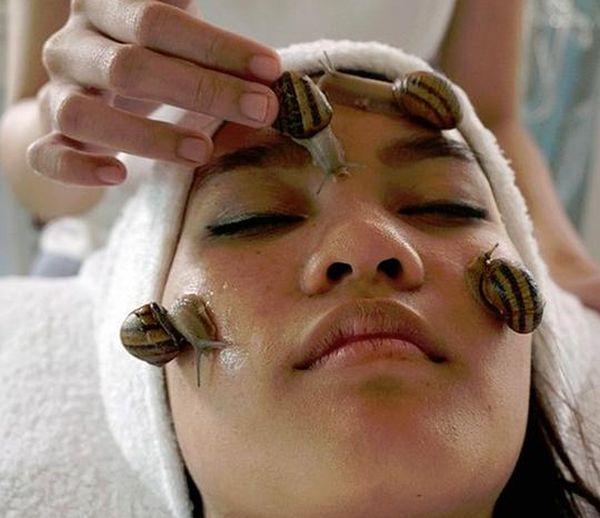 Snail facials are the latest addition to the global beauty and wellness craze.
The trend came to a spa in the UK last year, but is it just another marketing ploy or really an effective way to plump up and rejuvenate skin? The strange treatment surfaced in Chaing Mai, NorthernThailand.
---
7) Hair-raising designs!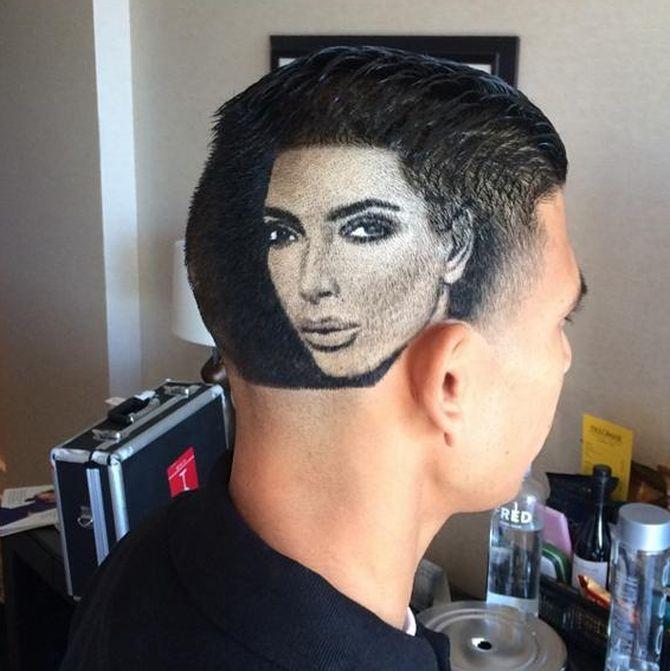 A San Antonio-based barber and artist is combining his skills by creating portraits of celebrities on his clients' heads.
Rob Ferrel has spent the last few years studying the faces of various well known stars and working out how to define their features on a human scalp.
Using standard hair clippers, he crops the hair to varying lengths to create an outline of his chosen subject's features. Rob then uses a black and coloured eyeliners to fill in the more intricate details.
Ellen Degeneres, Kim Kardashian and Bob Marley have all been given the Rob Ferrel scalp treatment to date, among others.
---

8) This Tokyo café is a real hoot!
After cat, and other sorts of cafés, you can now spend an hour at a cafe holding a great horned owl in Tokyo. Fukuro no Mise is a cafe in downtown Tokyo that is literally just filled with owls. Like, up to thirty owls. You have to pay and book a time to get in, but once you do you can have a drink and put an owl on your head and take a photo with it.