Here's your weekly digest of the craziest and funniest stories from around the world.

Wall Street intern quits to become a porn star


A female intern at a blue-chip financial firm won't be pumping stocks any more after reportedly quitting her stuffy Wall Street gig to become a porn star.

Paige A Jennings, who moonlights under the stage name Veronica Vain, dropped her internship at Lazard Asset Management last week after her nude selfies taken in the bathroom of the firm's Manhattan offices were discovered online, according to Business Insider.

"I just left a job on Wall Street for a porn career because I can't stop masturbating at work," Jennings, 23, wrote on Twitter Wednesday.

"It was a little awkward," Jennings told the website BroBible.com about meeting with her boss after the pics went public.

"However, he obviously couldn't have me coming back to the office when likely just about everyone had seen me half-naked online."

Jennings, a recent college grad, previously worked as a stripper but didn't see it as "a viable career path."

She also said she would like to start a venture-capital fund centered around the adult film industry.
---
This restaurant will give you free meal if you're 'beautiful'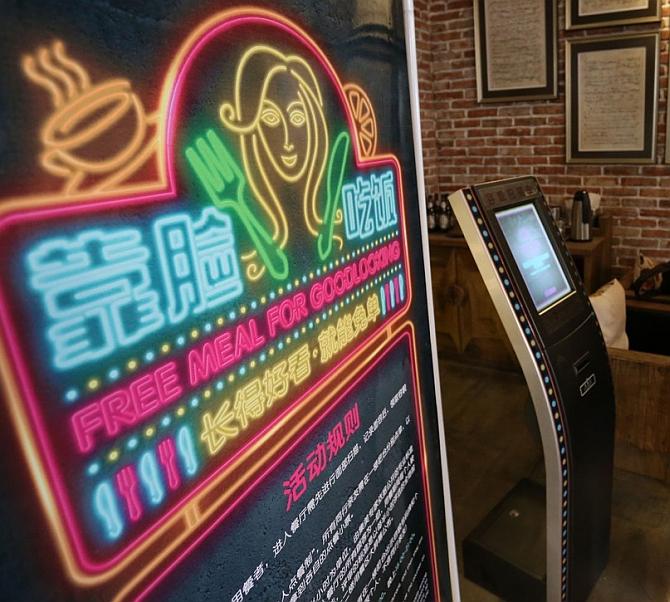 A China based South Korean restaurant has offered free meal s to its 50 first customers, but only if they are most beautiful.

The Jeju Island restaurant in Zhengzhou, China, launched a promotional offer, which is part beauty contest, part early-bird special, and would give away free food to the first 50 attractive customers to arrive at its doors each day, the Mashable reported.

The customers are supposed to get their faces scanned at a "beauty identification area" before they place order, and are then considered by some local Zhengzhou plastic surgeons, who are working with the restaurant on this idea.

According to The Telegraph, customers are evaluated on the "quality of their faces, eyes, noses and mouths," and that, "protruding foreheads are a particular advantage."

The promotional offer's bright pink sign reads: "Restaurant for Good Looking," which the authorities have tried to remove the due to lack proper permission to display it.
---
January 19 will be the 'unhappiest day' of 2015
January 19 has been marked as the "blue Monday" of 2015 as it is going to be the unhappiest day of the year.
Experts have predicted it to be the biggest downer for Christmas revelers, based on the following factors: weather conditions, debt level (the difference between debt accumulated and our ability to pay), time since Christmas, time since failing our new year's resolutions, low motivational levels and the feeling of a need to take action, the Daily Star reported.
Those attempting Dry January are likely to reach the end of their tether by Monday. And many stubbing out the cigarettes will be puffing away again come the end of the weekend.
Plus those that enjoyed the festive period with their spouse are more likely to be talking with their solicitors than their partners.
So experts at the British Dietetic Association have offered keen eaters a way out to fight the sorrow.
Diet expert Alison Clark from the BDA said that comfort eating can help people get through the blue Monday but only if they don't go overboard.
---
Scent of lavender helps you trust people more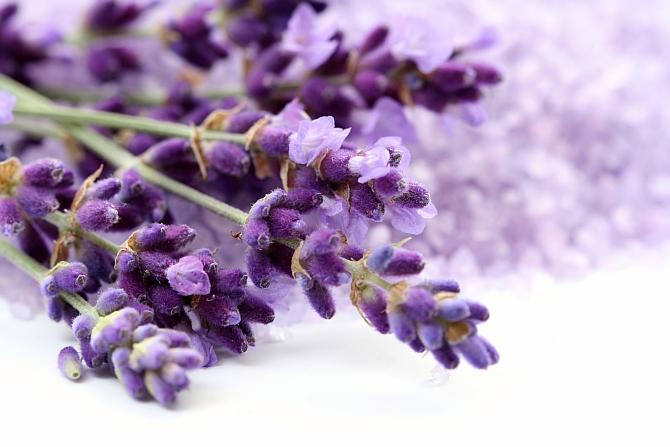 A new study has recently revealed that scent of lavender can help boost trustworthiness.
Sellaro and her fellow researchers were the first to investigate whether the calming olfactory fragrance of lavender has a positive effect on mutual trust.
Aromatherapists already known that aromatic compounds can alter one's mood, cognitive, psychological or physical wellbeing.
Sellaro said that mutual trust was the social glue of society and interpersonal trust was an essential element for social co-operation bargaining and negotiation.
The results might have various serious implications for a broad range of situations in which interpersonal trust was an essential element like smelling the aroma of lavender might help a seller to establish more easily a trusting negotiation to sell a car, or in a grocery store it might induce consumers to spend more money buying products, she added.
---
Woman gives birth to baby just an hour after learning about pregnancy
A woman in Massachusetts, US recently gave birth to a baby girl just an hour after learning about her pregnancy, it has been reported.
Katherine Kropas had no idea she was pregnant with a 10-pound baby until an hour before she gave birth, ABC News reported.
The 23-year-old had few intense back pains, but at first, doctors couldn't find anything wrong with her, so they did an ultrasound and after looking at the report they rushed her off into the labor.
Kropas told WCVB she felt that she'd put on some weight, but figured maybe it was just typical holiday weight gain.
Dr Jennifer Ashton, a senior medical contributor for ABC News and practicing OB/GYN, said she's seen cases like Kropas's in her career and it tends to happen in women who are overweight or obese to start, might have irregular periods and are less aware of their bodies.
---
Man gets record breaking 4,500 piercings done in 8 hours for charity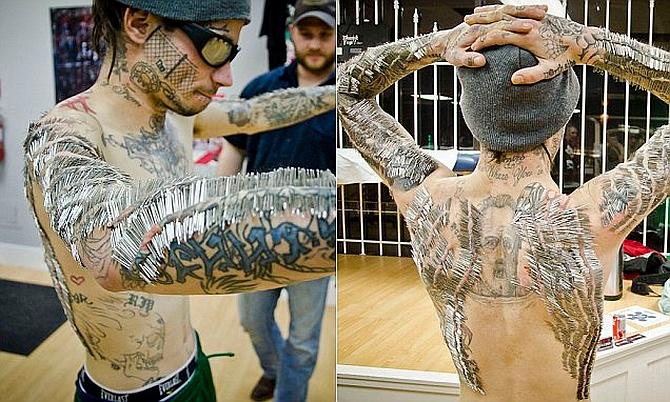 A man has broken the world record for the most piercings in one sitting when he underwent 4,500 piercings in 8 hours for a charity.
Matthew Menczyk, who was thrilled to smashed the "Most Surgical Needle Piercings in One Session (8 hours timeframe)" by 650 needles, said that he went through the agonizing ordeal to raise money for Directions Youth Services which helps at risk youth in Vancouver, Canada, the Daily Express reported.
The 30-year-old said that he just wanted to cry because of the pain and he was biting things, punching things but, endured and it was all for a good cause.
---
Parting with iPhone can cause grave psychological effects?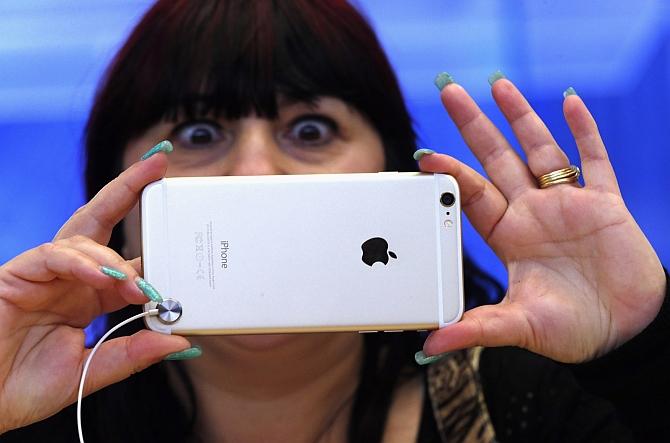 A new study has suggested that separation from iPhone can have serious psychological and physiological effects on their users.
University of Missouri researchers say these findings suggest that iPhone users should avoid parting with their phones during daily situations that involve a great deal of attention, such as taking tests, sitting in conferences or meetings, or completing important work assignments, as it could result in poorer cognitive performance on those tasks.
Lead author of the study Russell Clayton, a doctoral candidate at the MU School of Journalism said that their findings also suggest that "iPhones are capable of becoming an extension of our selves such that when separated, we experience a lessening of 'self' and a negative physiological state."
Clayton, along with Glenn Leshner, found that when iPhone users were unable to answer their ringing iPhones while solving simple word search puzzles, their heart rates and blood pressure levels increased, as did feelings of anxiety and unpleasantness. Also, performance (number of words found on word search puzzles) decreased as compared to when iPhone users completed similar word search puzzles while in possession of their iPhones.
The researchers found a significant increase in anxiety, heart rate and blood pressure levels, and a significant decrease in puzzle performance when the participants were separated from their iPhones as compared to when iPhone users completed similar word search puzzles while in possession of their iPhones.
---
Now, an app to help you deal with 'break-ups'
Just had break-up? Don't worry, because now there's an app to help you deal with the traumatic post break-up phase.
Launched by Sara Davison, the UK's leading break-up and divorce coach, the app called 'Seven Steps To A Better Break Up' offers a step-by-step guide to help heartbroken men and women through the early stages of a messy break up or divorce, the Daily Star, reported.
Davison said that there were more than 100,000 divorces each year nationally and since many of these happened at the start of the New Year, many couples see the it as the time for a fresh start.
Whatever the situation, even when a couple has reached an amicable decision to split up, most people who begin divorce proceedings often do so unprepared for what is to come.
The app's seven steps show simple and easy to follow strategies that give people ways to manage emotions and reactions to situations as they unfold.
It is accompanied by exercises which can be practically applied to any relationship scenario, users complete each stage in their own time, working through their individual concerns, helping them to feel better prepared and able to cope with whatever situations may occur.