Here's your weekly digest of the most Weird, True and Funny News from the across the globe.


1) You won't believe this!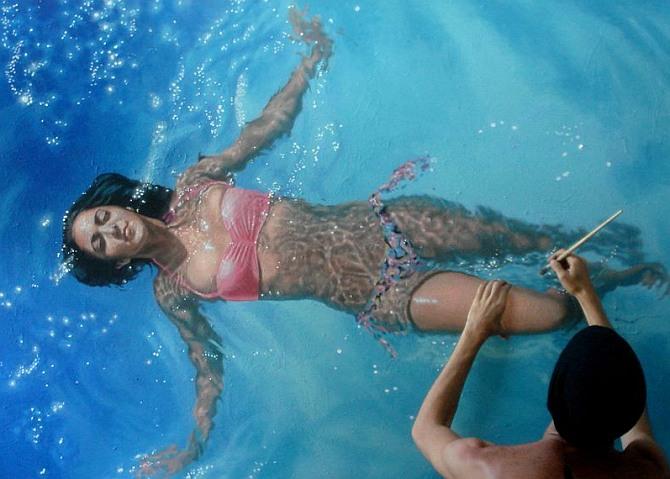 Gustavo Silva Nunez, an artist based in Valencia, Venezuela, creates incredibly lifelike paintings of people swimming in water, his use of light and reflections making them appear three-dimensional.
To add to the realism, he poses next to the paintings in strikingly interactive ways, making it look as though he is grabbing onto the swimmers' limbs or shielding himself from their splashes.
These images are brilliant not only because of what they are portraying, but also because of the way they are portrayed.
Pictures of his artistic achievements were posted on social networking sites and due skill, Gustavo Nunez Silva has quickly attracted tens of thousands of fans.
---
2) Coming soon: 'Star Wars' hoverbikes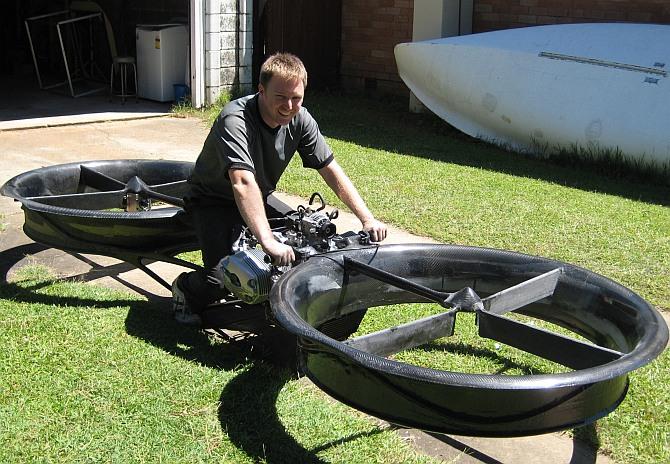 If New Zealander Chris Malloy succeeds in his endeavour, we may soon be able to fly like a Star Wars character -- through the air on a hover bike.
The futuristic flying machine, which can reach altitudes of up to 10,000ft, is a new type of helicopter which they call a quadcopter. They have already manufactured a model, one third the size of a real one, and this is already popular with drone enthusiasts. But the team behind it say that this is only the beginning.
They are confident that soon they'll be able to test a real, full-sized one, controlled by a human rider. And they say the quadcopter is safer than a conventional helicopter.
Malloy said: "The advantage that the hoverbike has over helicopters is that it can fly amongst trees safely. Rotor-strike is a major issue with helicopters, but this design eliminates rotor-strike by protecting the propeller blades from the ground as well as from airborne obstacles. The helicopter is inherently complex, but the hoverbike is simple. So, that makes it safer. And it's built to be robust and be flown in environments that would present problems to a typical helicopter."


---
3) The artist who draws pictures with typewriter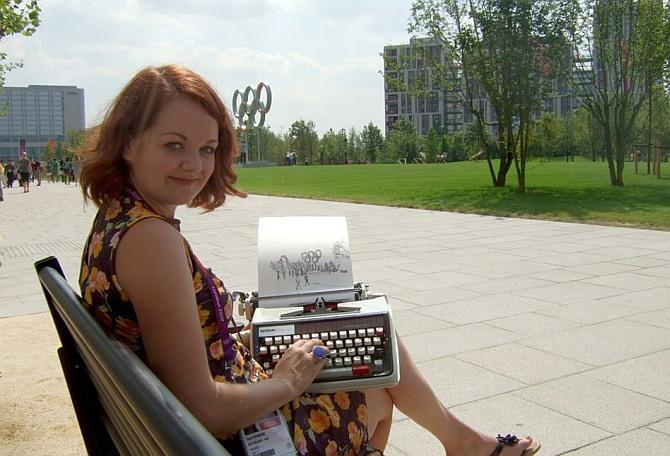 London-based artist Keira Rathbone makes one-off complex images with the help of typewriter.

According to the Huffington Post, Rathbone said she began experimenting with the typewriter art in around 2003 and when she started typing out and about in London and Bristol, she realised that it was very unusual.
Now people from all over the world contact her to tell her they are inspired or enquire about buying work or want to hire her to type at their events, she further added.
Rathbone has sold art around the world, online and even in Selfridges department store.
---
4) Texas brewery creates '99 pack of beer'


Austin Beerworks, a brewery in Texas, has created the 99 pack of beer, meaning loyal customers can keep blood alcohol levels higher for longer.

The pack resembles a cannon and looks to be about eight feet long. Good luck fitting this monster pack in your car.

The brewery is only making a limited number and potential customers will have to track the company on Facebook for information on how to purchase one.

The brewery originally described Peacemaker as "extra pale" because of its color, but consumers were confusing the beer for a more hop-forward pale ale, which prompted the company to make a change and charge up the marketing behind it.


---
5) Chinese farmer grows 'Buddha-shaped pears'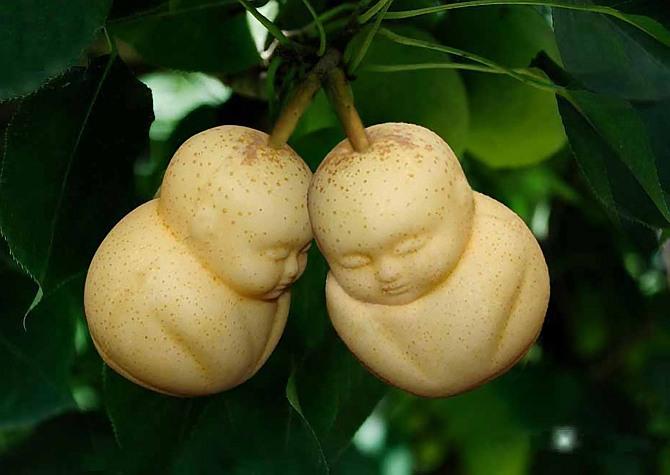 A farmer named Hao Xianzhang in China has been growing pears that are shaped like 'Buddha.'

Xianzhang, who spent 6 years perfecting the method by growing the fruit inside moulds, said that his pears were high in demand because they symbolized "good luck," ABC News reported.

To grow the pears in shape, the farmer put the pears while they were little in the moulds, and when they took up the space inside the case, he would remove the moulds, letting the fruits develop further on their own.
Xianzhang, who has priced the 10,000 pears he grew in his backyard at $8 per fruit, added that he was inspired by an old Chinese myth about a magical fruit shaped as Buddha, which claimed to give immortality.
---
6) World's biggest egg goes under the hammer


A massive, partly fossilized egg laid by a now-extinct elephant bird has sold for more than double its estimate at a London auction.
Christie's auction house said that the foot-long, nearly nine-inches in diameter egg fetched $101,813.
The egg is over a foot long and is big enough to hold the contents of seven ostrich eggs, 100 chicken eggs or 12,000 hummingbird eggs, the Daily Express reported.
The extinct elephant bird egg is the largest egg ever recorded.
Errol Fuller, curator of the sale at Summers Place Auctions, said that the egg of one of these birds was simply a miracle and it was over a foot in length and larger than any known dinosaur egg.
---
7) This nail polish can detect 'date rape' drugs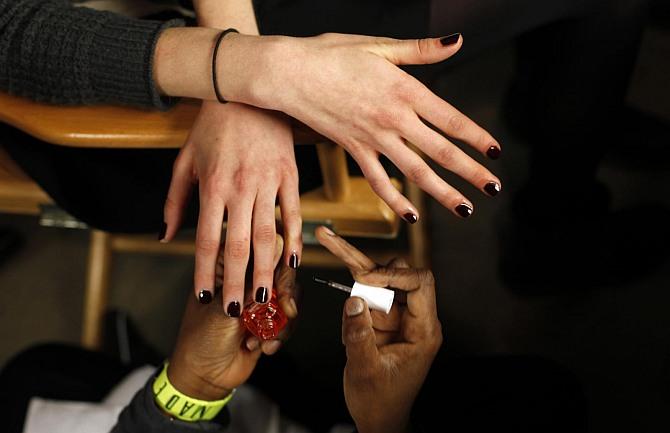 A team of students from North Carolina has come up with a new nail polish that detects date rape drugs and keeps women safe from being a victim of sexual assault.
Undercover Colors nail polish, which hopes to be the "first fashion company empowering women to prevent sexual assault", changes color when in contact with date rape drugs like Rohypnol , Xanax and GHB, Cnet reported.
Undercover Colors said on their Facebook page that their goal is to invent technologies that empower women to protect themselves from this heinous and quietly pervasive crime and with their nail polish, any woman will be empowered to discreetly ensure her safety by simply stirring her drink with her finger.
While the nail polish is still in the early experimental stages, the team has already raised 100,000 dollars for product development and is still searching for additional investors.
---
8) Lobsterman catches 'one-in-two-million' blue lobster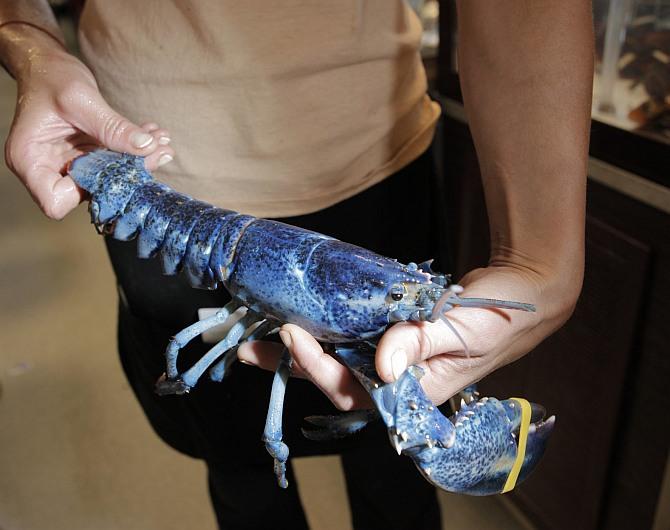 A lobsterman from Maine in the New England region of the northeastern United States says one of his traps caught a one-in-two-million crustacean: a blue lobster.
WCSH-TV reports that Jay LaPlante of the Miss Meghan Lobster Catch Company caught the curious creature in Scarborough around 10.45 am on Saturday.
LaPlante and daughter Meghan were hauling traps when she discovered the bright blue critter.
The story has a happy ending for the lobster. Meghan says she is naming it Skyler and donating it to the Maine State Aquarium, far from any dinner rolls or pats of butter.
The aquarium says it has three other blue lobsters and an orange one.
LaPlante says it's the first time he has caught a blue lobster.