Don't send us back, Rohingya Muslims plead the Indian government.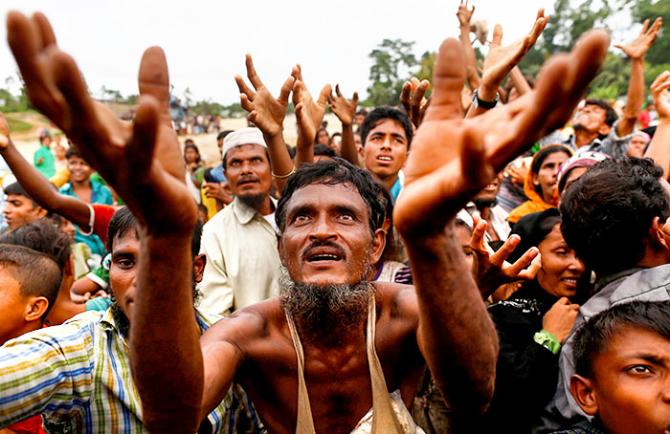 It was late one night in the summer of 2012 that Noorul Islam's life changed for ever, sealing his family's fate as refugees from Myanmar's Rakhine state.
Noorul was then just seven, but remembers in detail how militants attacked their home in Rakhine. He also remembers their escape from death and the early days of struggle in Bangladesh from where they were turned out and made their way to India.
"Our situation was really bad because my father didn't have enough money to support us. We went hungry for days until we arrived in India and my father started selling fish to earn a living," he said, tears welling up at the memory.
Noorul's family is one of the 70 staying in a camp in Shaheen Bagh, tucked away in a corner of south Delhi.
They are the nowhere people, the Rohingya Muslims, considered by the United Nations to be the most persecuted minority in the world.
There are about 1,200 Rohingyas in the national capital, some in Shaheen Bagh and the others in a camp in Madanpur Khadar.
With hundreds of thousands of Rohingyas, mostly Muslims, being forced to flee from Rakhine this month and take refuge in Bangladesh, their plight has hit global headlines. UN secretary general Antonio Guterres has said the Rohingya Muslims are facing a catastrophic humanitarian situation.
But those in India face their own share of anxieties with the government threatening to deport them.
All of 12, Noorul talks with the wisdom of someone much older when he says he would never want to go back to his homeland.
For him, home is a small makeshift tent next to huge piles of garbage and school is the nearby government one in Jasola.
"I am happy here and I love going to school. I would never like to go back to my homeland because the military kills children there. I want to request the government not to send us back to Myanmar," he said.
The others in the camp are equally fearful at the thought of returning to the country that was once their home.
"I don't want to live as a refugee my whole life. But even if I think of going back to my village in Myanmar, those nightmarish memories of military attacks haunt me," said Sabikun Nahar.
"They burnt our house and forced us to follow Buddhism. We were even banned from going to the local mosque and we were so scared that we wouldn't sleep at night," she said.
The 21-year-old had left her village in 2012 and moved to Bangladesh with her relatives. She lived with her parents in the camp for a year but extreme poverty and no employment avenues drove her to India.
In 2013, Nahar found herself in the Shaheen Bagh camp. She is now married to Mohammed Zubair, 30, a fellow refugee in the camp who works with an NGO in the city.
He earns about Rs 12,000 every month and the couple finds it difficult to make ends meet. But Nahar shudders at the thought of being sent back.
"The situation has worsened since 2012. I want the whole world to support us. I wanted to call my parents who are now in Bangladesh to Delhi but with the government here thinking of deporting us how will I call them," she asked.
Constant worry -- about their present, their future and the well-being of their families in Myanmar or in Bangladesh -- is the subtext of all their lives.
Abdul Rahim, 35, who runs a small grocery shop in the camp and earns about Rs 300 a day, has been desperately trying to get in touch with his brother back home.
"There are many relatives who are still stuck in the country. I am worried about my brother and his family because they haven't reached Bangladesh yet," said Abdul, who fled from Myanmar nine years ago.
He said he is shocked by the government's plan to deport them. "I would rather die here than go back to my country where people are facing atrocities and violence."
Hoping for some intervention, Shabeer, who works with the Rohingyas Human Rights Initiative (ROHRIngya), has written a letter to External Affairs Minister Sushma Swaraj.
"We wrote a letter to the foreign minister on August 23 and are waiting for a reply. I want to ask the government here why they want to deport us," he said.
He speaks for thousands of other Rohingyas who dread the prospect of being sent back from India.
The government told Parliament on August 9 that more than 14,000 Rohingyas, registered with the UNHCR, are at present staying in India.
However, activists estimate that around 40,000 Rohingyas are living in India illegally, mostly in Delhi-NCR, Jammu and Hyderabad and parts of Haryana, Uttar Pradesh and Rajasthan.
Union minister of state for home Kiren Rijiju had earlier said the Rohingyas were illegal immigrants and stand to be deported.
On Monday, the Supreme Court will hear a plea challenging the government's decision to deport illegal Rohingya Muslim immigrants back to Myanmar.
Their future might well take another decisive turn.
Photograph: Danish Siddiqui/Reuters
© Copyright 2023 PTI. All rights reserved. Republication or redistribution of PTI content, including by framing or similar means, is expressly prohibited without the prior written consent.