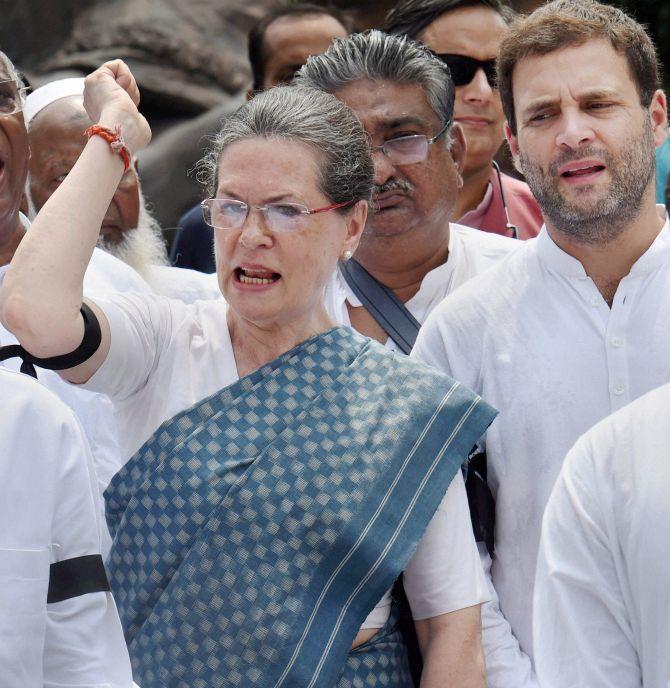 A day after Sushma Swaraj explained her stand on the Lalit Modi controversy, there was no let up in the Congress attack on her with Sonia Gandhi rejecting her claims as "theatrics" while Rahul Gandhi said the whole matter was kept a secret as is done in a "theft".
As Congress leaders and other opposition party leaders continued their protest against the suspension of Congress MPs for the fourth day in Parliament complex, the Congress president dismissed Sushma's defence as "drama".
Replying to the External Affairs Minister's question if she would have acted differently if faced with such a situation, Sonia Gandhi said, "Sushma Swaraj is doing drama, she is an expert in theatrics.... I would have certainly done my best to help the lady but not by breaking the law."
The Congress Vice President Rahul Gandhi went a step further, saying the external affairs minister should explain how much money Swaraj's family got from Lalit Modi.
"When a theft occurs, two things take place. Whatever happens is in secrecy and there is a financial transfer. What Sushmaji did was by maintaining secrecy and keeping her ministry in the dark," he said.
"Sushmaji should tell the country how much money her family, her daughter and husband got from Lalit Modi to keep him out of jail", Rahul told reporters.
The Congress leader said "My mother would not have acted like her".
Taking a dig at Swaraj, he remarked, "Sushmaji made a very eloquent but a very hollow speech. She spoke when the opposition was not in the House."
The external affairs minister had on Thursday made an emotional statement in the Lok Sabha, saying she had not helped Lalit Modi but his cancer-stricken wife and questioned if Sonia Gandhi would have acted differently if faced with such a situation.
She had insisted that she had made "no request or recommendation" to the UK government for giving travel documents to Lalit Modi but had left the decision to Britain.
She said she had only told the British government that relations with that country will not be affected if they choose to provide him travel documents to visit Portugal to be with his wife who was facing "life threatening" ailment and required immediate treatment which was full of risk.
"His wife has been suffering from cancer for the last 17 years and it is the 10th time it has recurred... I want to ask what Sonia Gandhi would have done had she been in my place. Would she have left her to die," she said, reading from the reports of Portuguese doctors and the statement of Modi's wife.
Smriti hits back at Sonia Rahul for Sushma attack
Union Minister Smriti Irani shot back at the Gandhis, saying that people from "common families" have to earn their living and Gandhi family may be "exception".
BJP fielded Irani to defend Swaraj and Lok Sabha Speaker Sumitra Mahajan and attack the top Congress leaders on a day the verbal duel between the two parties escalated with both the Congress chief and her deputy making sharp comments against Swaraj over the Lalit Modi controversy.
"People in this country know that a woman coming from a normal family has to toil hard to make a space for herself in the society and its economy. It is generally seen that children of such women also work hard. Congress may have an exception in the Gandhi family where they don't have to sweat it out in the sun to earn their livelihood. I completely reject their charges (against Swaraj)," she said.
Noting that the "boys of Congress" removed their shirt to protest "naked" against the Speaker's decision to suspend 25 Congress members from Lok Sabha, Irani wondered if this was the value Rahul wanted Congress to absorb.
"As a woman I want to ask this. The Speaker is the honour of Parliament... Is this the value Rahul Gandhi wants to give to Congress?" she said.
To a question on Sonia Gandhi dubbing as "drama" and "theatrics" Swaraj's statement on the opposition's charges against her, she shot back asking if Gandhi wanted to say that Parliament had become a "theatre".
"Such a statement is disrespect to the people's mandate.... Congress party especially Rahul Gandhi should not work to reduce Parliament's respect," she said.
Taking a dig at the Congress president and her party's decision to stall Parliament, she said giving a byte for one and half minute may be easy but speaking in Parliament for over one and half hour without support of papers may be difficult.
Image: Congress president Sonia Gandhi with son Rahul Gandhi continue their protest outside Parliament. Photograph: PTI