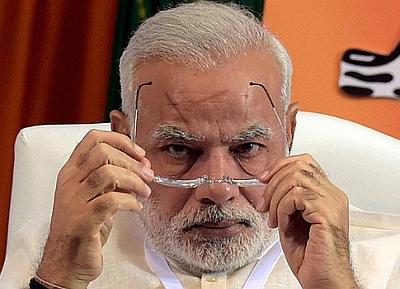 Tuesday was just the fourth instance in Rajya Sabha's history that an amendment moved by the Opposition to the Motion of Thanks to the President's address. Embarrassment apart, it is a reminder to the Narendra Modi government that it is in acute minority in the Upper House. Sheela Bhatt/Rediff.com reports.

A teaser of how tough the forthcoming days will be for the Narendra Modi government in the Rajya Sabha was released by Opposition parties on Tuesday when they left the ruling party embarrassed in the Upper House by getting an amendment passed over President Pranab Mukherjee's Motion of Thanks address on corruption and black money.

The government was taken by surprise of the show of unity of non-Bharatiya Janata Party parties which is not even a secret.

Communist Party of India-Marxist leader Sitaram Yechuri moved the amendment on the issue of black money and corruption and sought a division of votes.

Despite the government's attempts to get it withdrawn, the Rajya Sabha voted in favour of the amendment which will now be included in the final version of the President's
speech.
Two days back, Yechuri and Congress leader Ahmed Patel had worked silently to work out the strategy.
The Samajwadi Party and Bahujan Samaj Party too were contacted.
Despite initial apprehensions, eventually, the SP's Rajya Sabha member Professor Ram Gopal Yadav took the final call to go against the Modi government.
M
odi had recently attended the pre-wedding ceremony of SP supremo Mulayam Singh Yadav's grandnephew in Saifai, Uttar Pradesh. However, it seems the 'wedding diplomacy' has served only a limited purpose.
For now, the Modi government is expected to face the Opposition's ire in the Upper House for at least two more years.
Tuesday's setback suggests that it will be tough sailing in the Rajya Sabha for the government on various important bills.
In the coming days, the Rajya Sabha is likely to stall the Modi government's ambitious legislative business plans.
In the past, the BJP too had stalled then prime minister Manmohan Singh's reply to President's address. Seems like it is payback time.