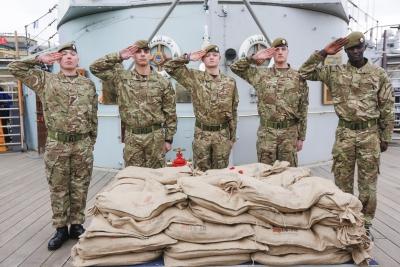 The sacrifice made by thousands of Indian soldiers fighting for the British army during the World War I has been recognised as part of a ceremony in London.
"Sacred soil" from 70 WWI battlefields in Belgium, which arrived by warship to the United Kingdom, was laid at a memorial garden marking the 100th anniversary of the war in 2014 in memory of soldiers from around the world who laid their lives during the Great War.
The soil, collected by British and Belgian schoolchildren and put into 70 sandbags, arrived on the Belgian navy frigate Louisa Marie and went on a ceremonial procession through London on Saturday before reaching its last resting place at Wellington Barracks.
More than 1,000 schoolchildren were involved in collecting 70 bags of soil from the battlefields earlier this year.
The soil was blessed in a ceremony at the Guards' Chapel before eight-year-old schoolboy Patrick Casey was given the honour of pouring a crucible of soil taken from all the battlefields into the heart of the garden.
Queen Elizabeth II's husband Prince Philip, 92, was presented with the soil in a ceremony in the Belgian town of Ypres earlier this month, as a mark of remembrance for the tens of thousands of Commonwealth soldiers who died in the 1914-18 war.
Among them were around 1.2 million soldiers from undivided India who fought for the British Empire, of which 74,000 died.
British junior defence minister John Astor, who attended the ceremony, said, "They were killed for our freedom, they paid a very high price for that, and we are enjoying the freedom now."
The Guards Museum, which funded the project with help from public donations and corporate sponsors, including a contribution from the government of Flanders, described the £700,000 project as "unprecedented" and "historic".
Designed by Belgian architect Piet Blanckaert, the "Flanders Fields 1914-2014" Memorial Garden is intended as "a symbol of hope and a better future for all".

Image: Guardsman of Number 7 Company Coldstream Guards watch over 70 bags of sacred soil from cemeteries of First World War battlefields in Flanders onboard the light cruiser HMS Belfast on November 29 in London

Photograph: Dan Dennison/Getty Images