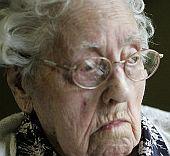 A 115-year-old US woman from Iowa has died less than two weeks after inheriting the title of the world's oldest person.
Dina Manfredini, who lived at the Bishop Drumm Retirement Centre in Johnston, died on Monday, according to her granddaughter Lori Logli.
Logli said Manfredini had been suffering from a fever and she apparently died in her sleep, CNN reported.
Guinness World Records identified Manfredini as the world's oldest person on December 5, a day after the death of 116-year-old Besse Cooper of Georgia.
Logli said her grandmother was known as a great cook who baked Italian bread every Sunday for her family, and meticulously made pasta by hand. She called Manfredini a hard worker.
Manfredini was born in Pievepelago, Italy, on April 4, 1897, and moved to Des Moines in 1920 with her husband, according to her Guinness biography.
She was an avid gardener who, after staying home to raise children and keep house, took up a job at the age of 90 cleaning houses, according to Guinness.
Manfredini had four children, seven grandchildren and more than a dozen great-grandchildren. She cleaned houses until she was 90 and lived independently until she was 110 years old, said Logli.
Guinness quoted Manfredini as saying that her long life was the result of her commitment to "hard work and everything in moderation".


© Copyright 2021 PTI. All rights reserved. Republication or redistribution of PTI content, including by framing or similar means, is expressly prohibited without the prior written consent.