Many were seen digging into Kebabs from Kashmir, Dosas from Tamil Nadu and everything in the middle. Subhayan Chakraborty reports.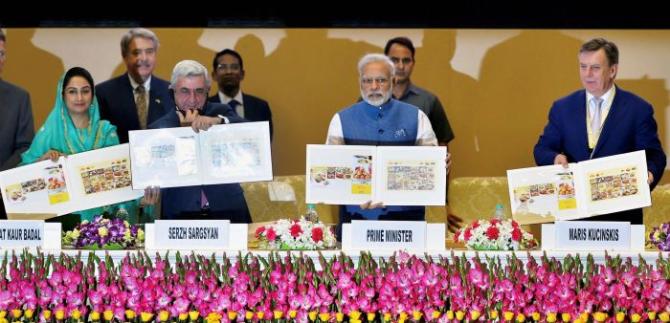 IMAGE: Prime Minister Narendra Modi along with Armenian President, Serzh Sargsyan, Prime Minister of Latvia, Maris Kucinskis (R) and Union Minister for Food Processing Industries, Harsimrat Kaur Badal release a coffee table book and Commemorative postage stamp on Indian Cuisines during the World Food India 2017 inaugural session in New Delhi on Friday. Photograph: Vijay Verma/PTI Photo

For Delhiites who ventured to see the World Food India event on Friday, the first day of the mega jamboree left a slightly bad taste in the mouth for some, but ensured others left burping loudly.
Apart from the dust, the bad taste was due to the incessant fumes deposited by a sea of traffic piled up all around India Gate where the event will be going on till Sunday.
Bombarded with advertisement for a historic fair endorsed by the prime minister himself, common citizens had lined up from morning onwards at the ticket counters. However, with entrance fees being a hefty Rs 500 per person, many did not hide their shock.
With the principal venue for such events -- Pragati Maidan -- undergoing major restorations, the government has been forced to hold the mega event at the sprawling lawns surrounding India gate.
Ironically, the spectre of such a high profile venue may do little to draw in major crowds, opposite of what the government had hoped.
With no metro station nearby and the roads around India Gate turning into a choke point for traffic on any weekday, the burden of more people is giving the authorities a headache.
Case in point, CEOs of major companies were seen to be trudging the long way from the parking to the stalls of their companies.
A hassled official from the Ministry of Food Processing Industries was seen pleading with a confused Delhi Police constable to divert traffic so that high profile delegates can easily reach the fair.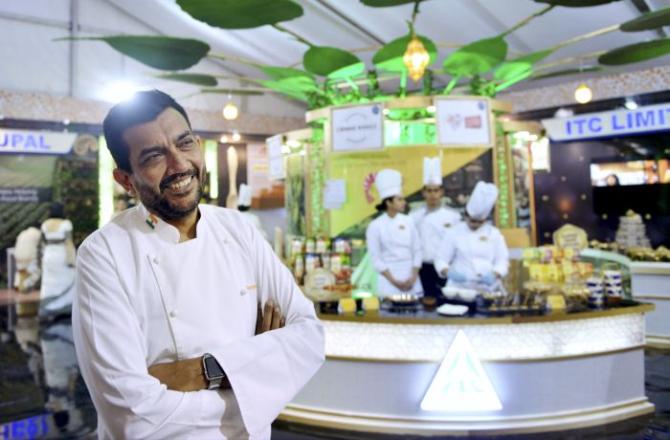 IMAGE: Chef Sanjeev Kapoor at the World Food India 2017. Photograph: PTI Photo

"The ministry estimates about 25,000 people will visit the fair but the parking is grossly inadequate and every VIP in town will be heading here. God knows how we will accommodate everyone." he said, before rushing off to receive a delegate.
However, once people managed to enter the massive fair spread across 40,000 square metres, most headed straight for the 'Food Street' a long line of stalls where cuisines from across the country and the globe are being showcased.
A clever marketing strategy from a burger chain ensured that dozens of youngsters jostled for a chance to click themselves in front of a selfie wall.
Many were seen digging into Kebabs from Kashmir, Dosas from Tamil Nadu and everything in the middle.
Aboubakar Mbele, an officer at the Nigerian embassy in Delhi declared that he did not want to miss the chance to taste the flavours of India, even if they did not adjust to his stomach.
On the other hand, the row upon row of specially constructed hangars where a multitude of companies -- domestic and foreign have dug in to display their products, remained relatively empty throughout the day.
"The response has been slow today. We haven't received may business visitors.", Precious Masih, General Manager for Exports at beverages major Rasna said.
The bulk of foreign delegates and bigwigs from the food industry headed to Hall-I where multinational giants such as Nestle, Dell Monte and Cargill have erected massive stalls.
Players from the domestic food processing industry has been jovial over the fact that the more than $258 billion sector is finally getting its due as one of the prime movers of the economy.
"India has one of the largest food markets in the world and the industry has the potential to grow exponentially." Mayank Jalan, chairman and managing director of processing major Keventer Agro Limited said. It can be hoped that World Food Fair will slowly become like Anuga, the largest food and beverages trade fair, he added.
In terms of footfall, in stark contrast, was the hall where state governments from Assam, Chattisgarh, Punjab and Karnataka among others, have created their own stalls.
Vanlalrengpui Ralte, a charming young girl manning the desk at a stall from Mizoram said few people came in and the high point of her day was getting a glimpse of the prime minister who had turned up in the afternoon.
As evening descended, many were seen to be hurrying to leave, in a bid to somehow give the mad traffic a miss.
However, Adarsh Mohan, a wholesaler of fruits from Shahadra was seen exiting the venue tugging his crying little daughter. When inquired about his predicament, the harried father replied that the girl had set her eyes on pizza from a major brand but prices inside the venue remained predictably high.
However, in the midst of all this drama, some have emerged smiling.
Enterprising papad seller Ramesh Kumar and his potato chips selling friend Jagga has made a killing on Friday, selling more than double what they are able to on any other weekday.
"Policewale ne hume kal hi bol diya tha ki kaafi bheed hoga (The local policemen had informed us yesterday that a lot of people are going to be here)," the boy in his late teens said with a smile.
However, his earnest friend reminded him calmly that for all the extra business they've done, a cut larger than usual needed to be paid to the local constables as bribe.