Bihar Chief Minister Nitish Kumar has asked his party colleague and parliamentary board chairman Upendra Kushwaha to quit the Janata Dal-United.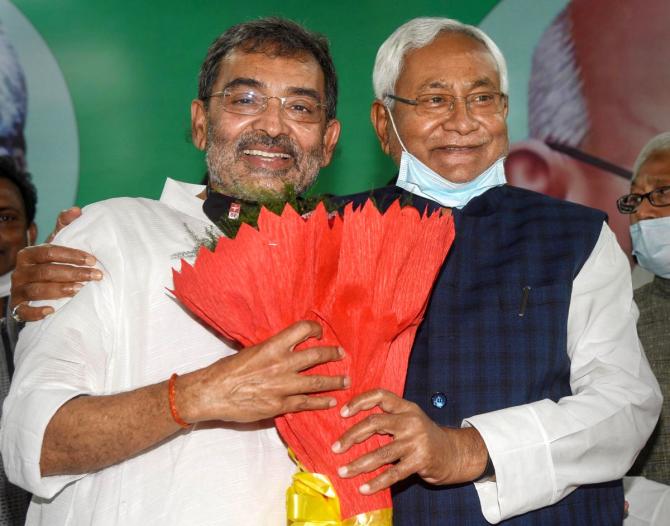 Kushwaha retorted saying that he could not leave the party without his share in the "paternal property".
This comes amid speculation about Kushwaha 'being in touch' with the Bharatiya Janata Party.
"Well said, Bhai Saheb....! If the younger brothers keep leaving the house like this at the advice of the elder brothers, then all elder brothers will grab the entire property of Baap-Dada (ancestors) by throwing away the younger brothers. How can I go out (of the party) while leaving behind my share in entire properties...?" Upendra Kushwaha tweeted in Hindi.
Slamming Upendra Kushwaha, JD-U leader Umesh Kushwaha said, "Upendra Kushwaha should be ashamed of his conduct. Nitish Kumar has given him so much but he is trying to break the JD-U. He should resign from the party."
"Till now he hasn't submitted the form for the membership drive. If he has any ethics, he should leave the party himself," he added.
"Nitish ji made him Upendra Kushwaha from Upendra Singh. He sent him to the parliament and the council," claimed Umesh Kushwaha.
The JD-U leader further stated that the party grew strong on its own but when Upendra Kushwaha joined the party, he worked to weaken it.
"If he has any self-respect, he should very well resign. The ones who cheated Nitish ji should be careful," warned Umesh Kushwaha targeting the JD(U) leader.
Earlier on Sunday, Upendra Kushwaha refuted the rumours about him joining the Bharatiya Janata Party.
On Saturday reacting to the speculations of Upendra Kushwaha's alleged proximity with the BJP, Nitish Kumar said that he will meet Kushwaha and discuss it.
"Please ask Upendra Kushwaha to talk to me. He left the party earlier too, I don't know what he wants. I was not in Patna so I'm not aware of it. He is currently unwell, I will meet him and discuss this," Nitish said during his Samadhan Yatra in Gaya.
Kushwaha returned to the JD-U in 2021, merging his Rashtriya Lok Samata Party, and was immediately given the top party post and rewarded with a legislative council membership shortly afterwards.
Incidentally, Kushwaha's disgruntlement has become pronounced ever since Kumar ruled out having any other Deputy CM besides Tejashwi Yadav whom he has also, virtually, declared as the future face of the ruling 'Mahagathbandhan'.
Kushwaha had been with the 'Mahagathbandhan', as the RLSP chief, for more than a year before breaking away ahead of the 2020 assembly polls.
In his mid-60s, he has been known to be uncomfortable with accepting Yadav, nearly three decades his junior, as his leader.