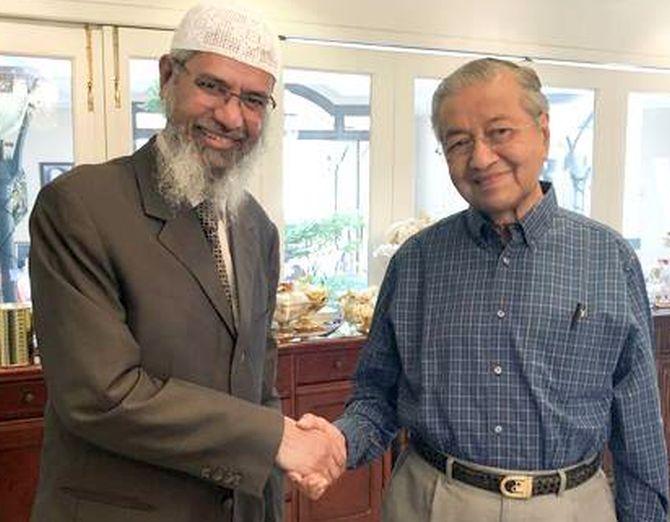 Malaysian Prime Minister Mahathir Mohamad on Tuesday said that his government would not give in easily to India's demand to deport the controversial Muslim preacher Zakir Naik for alleged terror activities and money laundering, according to a media report.
Three days after meeting Naik, wanted in India for alleged terror activities and money laundering, the Malaysian prime minister said his government would always ensure it looked into all factors before responding to any demand, the New Straits Times reported.
"We do not easily follow the demands of others. We must look at all factors before we respond," Mahathir said in his first public remarks since on Naik since he met the radical cleric on Saturday.
"Otherwise, someone will become a victim," the Malaysian Prime Minister said.
Responding to questions on Naik, who is has permanent resident status in Malaysia, and India's request to have him extradited, Mahathir said his government would always ensure it looked into all factors before responding to any demand.
Mahathir last week said the cleric would not be handed over to Indian authorities as he had been granted Malaysian permanent resident status.
India has made a formal extradition request to Malaysia for Naik's deportation after accusing him of inciting youngsters to commit terror activities through his hate speeches.
The prime minister said Zakir, who left India in 2016, would be allowed to stay in the country as long as he was not creating any problem.
Meanwhile, Naik on Tuesday thanked the Malaysian government and Prime Minister Mahathir for allowing him to stay here and for examining his case from an "unbiased perspective".
He said the decision reaffirmed his faith in Malaysia's justice and communal harmony, adding that this is a testimony to the success of the multi-racial diversity of the country, The Star online reported.
"I am humbled to be a part of this diversity, and I also acknowledge the sensitivities it entails. I would never wish to disrupt or jeopardise this balance in any way or to break the rule of law of this country because it is my primary concern to foster the social harmony currently enjoyed by its citizens," he said in a statement.
Naik said that while he hoped for justice and peace to return to return to India, he remained indebted to Malaysia, not just as one seeking fair treatment, but as an "individual with a love of humanity".
"I pray that Allah continues to bless the nation of Malaysia and its fearless leader Tun Dr Mahathir, and that He makes it a superpower, a role model nation and a paragon of virtue for the rest of the world through its leaders and citizens alike," he said.
Naik also claimed that over the last few years, thousands of news articles, YouTube videos and social media posts have attributed "appalling statements" to him that he did not make.
"To anybody who does not want Islam to be presented as a religion of peace, this is a quick and dirty way to discredit the faith. I implore anybody who comes across such material to verify it before jumping to conclusions," he said.
"Because the simple truth is that any statement ascribed to me that is against humanity is a fabricated statement. Time and time again, I have reiterated that a Muslim cannot be a good Muslim unless he is a good human being," he added.
Naik is being probed under terror and money laundering charges by the National Investigation Agency.
The NIA had first registered a case against Naik under anti-terror laws in 2016 for allegedly promoting enmity between different religious groups.
Naik is also under investigation for issuing alleged hate speeches that inspired a deadly terror attack on a popular cafe in Dhaka, the capital of Bangladesh in 2016.