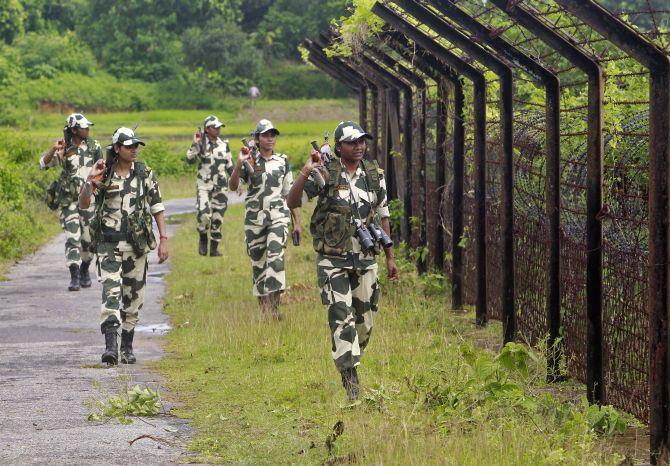 A contingent of over two dozen women, including border guarding 'mahila' troops of BSF, have embarked on a maiden 2,300 km camel safari along India's international border with Pakistan.
The all-women team will traverse different terrains in Gujarat, Rajasthan and Punjab on camel backs and the journey is aimed to not only enthuse a spirit of patriotism amongst the border population but also attract young women and men for adventure sports.
The Border Security Force, which guards India's frontier with Pakistan at these locations, has tied up with Tata Steel Adventure Foundation, to commemorate its 50th year of raising this year. The safari is a part of these celebrations.
The team, with 13 BSF women and 14 from the foundation, was flagged off for the expedition from Bhuj in New Delhi.
"The safari aims to promote the spirit of adventure and enterprise among young women and men of India. From a national perspective, it will promote national integration and patriotism. The team will interact with the border population, youth clubs and school children at multiple locations. The team would also be visiting various historical places along the way," a senior BSF officer said.
The expedition will largely run parallel to the IB with Pakistan in the three states.
However, due to harsh conditions at the Rann of Kutch, a few detours would be taken by the team. While the safari will traverse about 900km in Gujarat, it will go approximately 1,100km in Rajasthan and about 300km in Punjab.
The teams are led by BSF Assistant Commandant Saroj Shinde.
Image: Female personnel of India's Border Security Force. Photograph: Reuters/ Jayanta Dey