A social worker from Kerala has launched a hunger strike at the Sharaniyavas slum where the Ahmedabad civic body has built a 600-metre wall apparently to hide slums from United States President Donald Trump's sight during his Ahmedabad visit on February 24.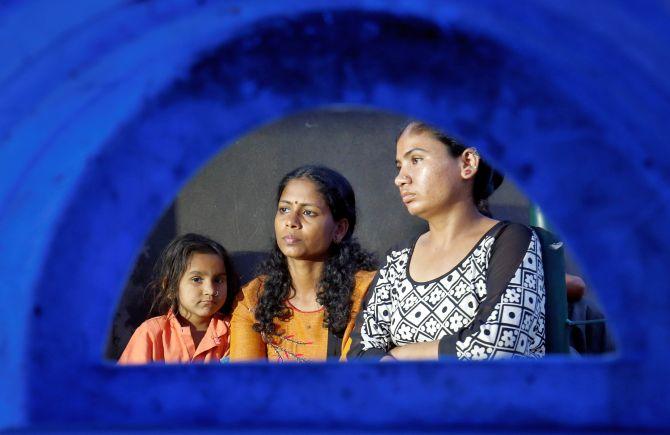 Aswathy Jwala, who founded the Jwala Foundation that provides food and shelter to the displaced and the elderly, was quoted as telling Ahmedabad Mirror, "If I am not arrested, I will be sitting right here on Monday when Trump's convoy passes by."
She has demanded that all these people living in the slums for decades must be rehabilitated with proper housing by the government.
When asked what brought her from Kerala to Gujarat, she said that it was her "humanity".
"Instead of hiding slums, the authorities and governments should work to make the country better. Why not work to eradicate poverty so that there are no slums instead of hiding slums," she told The Hindu.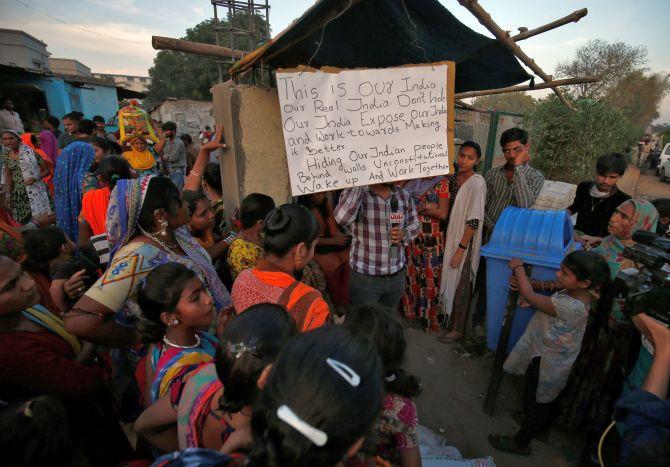 The Ahmedabad Municipal Corporation is building a wall in front of a slum along the road connecting Sardar Vallabhbhai Patel International Airport to Indira Bridge.
In fact, on February 18 reports stated that at least 45 families living in a slum near the newly-built Motera stadium in Ahmedabad have been served eviction notices by the municipal corporation ahead of the scheduled visit of US President Donald Trump and Prime Minister Narendra Modi on February 24.
While officials have denied any connection with the proposed high-profile visit and issuance of notices, residents of the slum have questioned the timing of the move, which came days after the Ahmedabad Municipal Corporation began building a wall allegedly to cover a slum on a route that the US President is likely to take while visiting the city.
PM Modi and Trump are scheduled to address over one lakh people at the Sardar Patel Stadium in Motera on February 24, as part of the 'Namaste Trump' event.
Trump is scheduled to take part in a roadshow in Ahmedabad and to visit the Sabarmati Ashram on that day.