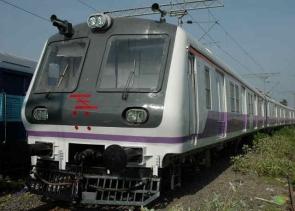 A 23-year-old woman was attacked in the ladies compartment of a local train on Saturday morning by a man who tried to strangulate her when she resisted a rape attempt.
The 28-year-old man was arrested by the Government Railway Police on charges of molesting and attempting to murder the woman after she cried out for help when the train stopped at a station.
According to GRP, the victim had boarded the train at 5.41 am from Mumbai Central station and was headed towards Dadar for work. The victim was in the second-class ladies compartment.
"The accused got into the compartment at Mahalaxmi station and after seeing the victim alone misbehaved with her and attempted to rape her. When the victim removed her mobile to call for help, the accused tried to strangulate her," senior inspector GRP Rajendra Trivedi said.
When the train pulled into the next station, Lower Parel, the victim cried out for help after which commuters standing on the platform and GRP personnel nabbed the accused. "The accused identified as Devraj Hanumant Kanapa was inebriated at the time of the incident. He is a resident of suburban Kurla and is a mason. The accused has been taken for medical tests after which he would be produced before a magistrate court for remand," Trivedi said.
He has been charged under the Indian Penal Code Sections 307 (attempt to
murder) and 354 (outraging modesty of a woman). Asked as to why there was no police official present in the ladies compartment, which is mandatory as per rules, Trivedi said inquiry is being conducted. "A constable attached with GRP Borivili, who was supposed to be on duty in the train, has been suspended for deriliction of duty," he said.
Preliminary investigation has also revealed that Devraj has two cases of chain snatching registered against him in Kalyan.
© Copyright 2022 PTI. All rights reserved. Republication or redistribution of PTI content, including by framing or similar means, is expressly prohibited without the prior written consent.