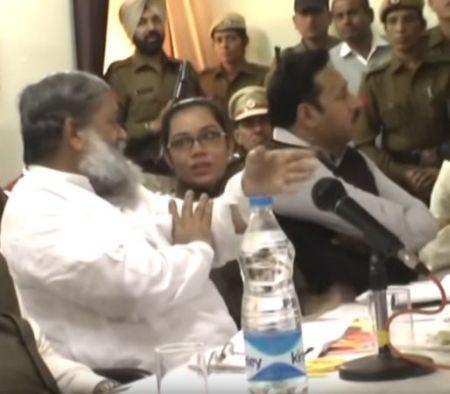 Sangeeta Rani Kalia, Superintendent of Police of Fatehabad district, was on Saturday shunted out, a day after a spat with Haryana Health Minister Anil Vij, becoming the second woman IPS officer to be unceremoniously shifted in two months, triggering angry reactions against him from the opposition and on social media.
An official statement said Kalia, a 2010-batch IPS officer, and two other officers, have been transferred by the state government. She has been posted as commandant 4th IRB at Manesar relieving Vikas Dhankar of the additional charge.
The minister had on Thursday stormed out of a meeting of the District Grievances and Public Relations Committee after the police officer refused to follow his order to leave the venue following heated exchanges between them. The video of their spat went viral on social media.
During the meeting, an NGO had brought to Vij's notice that illegal selling of alcohol was rampant in Ratia area, which also shares its boundary with Punjab.
Notably, Vij, who is known for his outspoken nature even taking on his own government, said that he had been getting complaints of drug mafia and liquor mafia being active.
"Yesterday, one NGO complained to police, but she (Kalia) shouted back at the NGO asking why it was complaining to the minister. That itself shows that she is not cooperating," he told reporters.
"Before media, the lady officer blamed entire government, saying government is involved in the sale of illegal liquor. I have spoken to the chief minister. There is one thing I want to make clear that my fight against inefficient officers and employees will continue," he said.
"I am ready to pay any price and make sacrifice for getting justice for people who face harassment at the hands of administration," he said.
The incident drew sharp reactions on social media, with several coming out in support of Kalia, saying the minister should have exercised restraint in the manner in which he dealt with the officer, including asking her to "get out" in front of the committee members.
Chief Minister Manohar Lal Khattar said in Karnal that he had taken cognizance of the matter and it will be dealt with appropriately.
Last month, another woman IPS officer Bharti Arora of 1998 batch was shunted out as Joint Commissioner of Police (Traffic) following a spat with her senior -- Gurgaon Commissioner of Police Navdeep Singh Virk -- with the BJP government deciding to act against her.
Arora had accused Virk of going out of the way to help a rape case victim resulting in allegations against each other.
Vij was slammed for his tweet by the people on social media.
One tweet said, "Fatehabad SP is an honest officer, who is stopping illegal work that comes to her notice. You (Vij) are being misguided by wrong people. I was not expecting this from a leader like you".
Another tweet reminded the minister that he was occupying a "constitutional post".
"You should not speak through your tongue (asking SP to get out..)," he tweeted.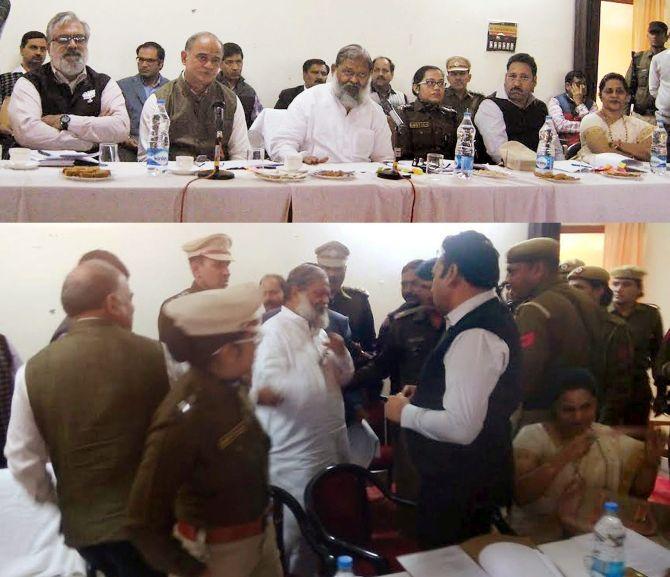 The confrontation between Vij and Kalia took place during a meeting of the District Grievances and Public Relations Committee in Fatehabad on Friday, where the minister questioned Kalia regarding a complaint pertaining to an unauthorised sale of liquor in villages.
Vij asked the SP what the police was doing regarding multiple sale points of liquor opened in villages.
The officer explained the responsibilities of the police in this regard and mentioned that 2,500 cases had been registered in connection with the Excise Act in the past 10 months, which was a record.
The minister was, however, not satisfied with her response.
As the exchange between the duo continued, the minister by now enraged asked the SP to "get out" of the meeting.
The lady officer, however, refused to leave the meeting as she felt she was not in the wrong, and even objected to the minister's manner.
The minister then left the meeting in a huff. All BJP workers and committee members followed suit. The officer declined to comment on the incident, saying everything happened before media and that she would not like to add anything further.
Incidentally, Kalia's father Dharam Pal retired as a painter from the Fatehabad police in 2010. The same year, she joined the Haryana police as an IPS officer, making it to the central cadre in her third attempt.
The 35-year old did her schooling and graduation from Bhiwani and then pursued her MA in Economics. She appeared in UPSC examinations in 2005, but could not qualify. In her third and final attempt in 2009, Sangeeta was able to turn her childhood dream into a reality.
National Scheduled Caste Commission member Ishwar Singh also slammed Vij, demanding action against him over his behaviour with the lady officer.
The opposition slammed Vij over his comments while chairman of the National Commission for Scheduled Castes, P L Punia, demanded that the minister should be sacked.
Former Chief Minister Bhupinder Singh Hooda said that the minister should have maintained decorum while speaking to a lady officer and deprecated his behaviour with her.
Congress leader Manish Tewari said the minister acted in a "crude manner. For the simple reason, you don't behave with a lady in this manner irrespective of whether she is an officer or not. There is certain decorum which you must observe. If this had happened in some other party, the minister would have been asked to step down".
Wading into the row, senior party Digvijay Singh said, "It displays arrogance and ego of the BJP. This will continue till such things are not eliminated."
Haryana Congress president Ashok Tanwar said, "This is not the way Khattar's ministers should treat their bureaucrats. This is definitely an example of an intolerant behaviour by the Haryana minister. One does not tell a lady officer to get out like this," he said.
Hooda said such behaviour will "demoralise the bureaucrats".
Recently, Vij had accused his own government's police of spying on him after which Haryana Police DGP had ordered a high-level inquiry.
Vij had caught a CID constable standing outside his office at the civil secretariat building in Chandigarh after which he had summoned the DGP to his office and lodged a complaint.
The five-time Ambala Cantt MLA had also expressed his displeasure at actress Parineeti Chopra being made the brand ambassador by the State Government for Centre's flagship 'Beti Bachao-Beti Padhao' campaign without him being kept in the loop.
In the past, Vij, who besides health also looks after sports and youth affairs, has also been upset over decisions taken in his departments without his knowledge.
Meanwhile, Vij has written to state's Director General of Police today asking him to provide security to complainants against the liquor mafia of Fatehabad.
Image: (Top) Haryana minister Anil Vij arguing with SP Sangeeta Kalia. (Below) A combination photo of Vij walking out of a meeting after an argument with Kalia who refused to leave even when the minister told her to get out. Photograph: PTI