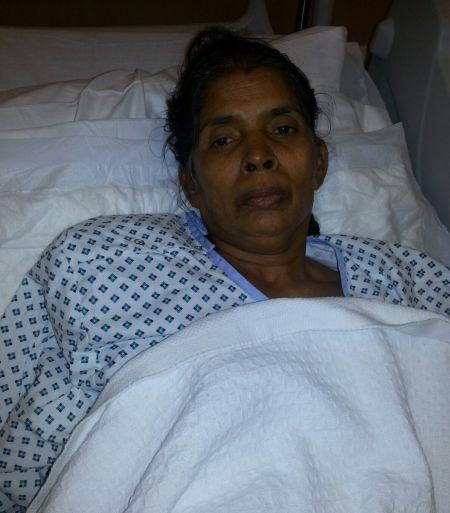 The Tamil Nadu woman, whose hand was chopped off allegedly by her employer, returns from Saudi Arabia with her meagre salary. A Ganesh Nadar/Rediff.com reports.
Kasthuri Munrathinam, the maid whose hand was allegedly cut off as she tried to flee her employer's home in Saudi Arabia, will return home on Saturday, November 7.
She has not been paid any compensation. Indian embassy officials have given her about Rs 31,500, which is equivalent to two months pay.
Munrathinam, 52, earlier told Rediff.com that she tried to escape from her employer's two-storey home by tying a saree to a balcony railing when her hand was cut off by someone.
The Saudi police claimed she lost her hand when she fell on a generator below the house. They also alleged Munrathinam is mentally disturbed.
Her family denied that she is mentally disturbed and questioned the Saudi police version of how she lost her hand.
Munrathinam has spent more than a month in a Riyadh hospital, and the hospital said she is fit to be discharged.
Last week Tamil Nadu Chief Minister J Jayalalithaa wrote to the central government asking it to help Munrathinam, a resident of Vellore district. Jayalalithaa asked the Centre to help Munrathinam get justice and compensation and also to bring her home safely.
Last week Indian embassy officials met Munrathinam and gave her 1,800 riyals (about Rs 31,500) which is the salary promised to her for two months work. She had to sign a receipt to say that she had received the salary due to her. A hospital worker deposited the amount in Munrathinam's bank account, which she can access once she returns.
Embassy officials have booked Munrathinam on a Saudi Airlines flight which will land in Chennai on November 7 at 10.30 am.
She will travel business class, but alone. A hospital source said embassy officials had assured them that their staff would be at the airport to escort her to her seat and also take care of her luggage.
They have also promised that she will be helped off the flight in Chennai and her luggage would be collected for her. An ambulance has been arranged to take her from Chennai airport to her home in Vellore district, a distance of about 140 km.
When Rediff.com contacted Munrathinam at the hospital in Riyadh, she broke down.
"I came here to earn money for my family and have not been able to do that. I have come here and lost my right hand. How will I ever work again anywhere?"
"All I have to show for my work is 1,800 riyals," she said, "What will I do with that? When I asked for compensation the embassy officials told me they would know about it only after my case was decided by the courts here. They did not give me a time frame."