Regional political parties received a total of Rs 91.37 crore in donations in 2016-17, with the Shiv Sena leading the chart followed by the Aam Aadmi Party, says a report.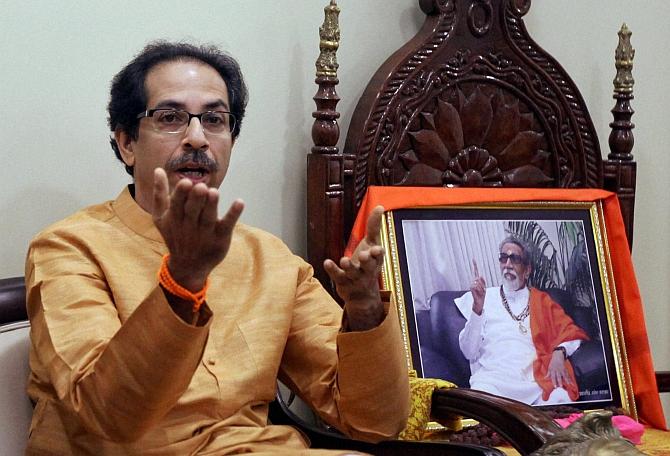 According to the Association for Democratic Reforms report released on Tuesday, the total amount of donations declared by regional parties, including both under and above Rs 20,000, was Rs 91.37 crore received through 6,339 donations.
"Shiv Sena leads with Rs 25.65 crore from 297 donations followed by AAP, which has declared receiving Rs 24.73 crore from 3,865 donations. Shiromani Akali Dal declared receiving Rs 15.45 crore that is the third highest amongst all regional parties," it said.
The ADR report, which is based on information submitted by the parties to the Election Commission, showed that 72.05 per cent, or Rs 65.83 crore of the total donations, was received by the three parties -- Shiv Sena, AAP and SAD.
Comparison of donations received by regional parties between 2015-16 and 2016-17 showed that Asom Gana Parishad, SAD, Janata Dal-Secular, Maharashtra Navnirman Sena and AAP saw the maximum percentage increase in their income from donations between 2015-16 and 2016-17.
Amongst the top five parties, Uddhav Thackeray-led Shiv Sena saw a decline in donations received in 2015-16. Its receivings declined by 70 per cent in 2016-17 to Rs 25.65 crore from Rs 86.84 crore in 2015-16, ADR said.
Of the total donations of Rs 91.37 crore declared by the regional parties, Rs 2.82 crore from 1,919 donations was received in cash during 2016-17.
Maximum donations in cash was declared by All India NR Congress, which collected a total of Rs 65 lakh, followed by AGP with Rs 41.2 lakh and Naga People's Front with Rs 41 lakh, it said.
Among states, donors from Assam made the highest donations of Rs 72.7 lakh in cash followed by Puducherry at Rs 65.3 lakh.
Donations worth Rs 60 lakh in cash did not have address details. The report further said that six regional parties NPF, Maharashtrawadi Gomantak Party, DMK, Bodoland People's Front, Shiv Sena and AGP have received such donations in 2016-17.
Regional parties declared receiving the highest amount of money or Rs 20.86 crore from Delhi, followed by Rs 19.7 crore from Maharashtra and Rs 9.42 crore from Punjab, the report added.
It further said that 35.67 per cent or Rs 8.82 crore of the total declared donations to AAP was received from abroad.
A total of Rs 14.38 crore could not be attributed to any state/union territory due to incomplete or lack of information provided by the parties, the report noted.
On disclosure of PAN details in donations, the report said that Rs 23.08 crore or 25.26 per cent of the total amount of donations received by regional parties do not have PAN details.
"AAP declared receiving Rs 8.82 crore from abroad out of which PAN details are not available for donations amounting to Rs 8.32 crore," ADR said.
Under Section 29C(1) of the Representation of People's Act, 1951, political parties are required to prepare a report providing details of contributions in excess of Rs 20,000 from any person in a particular financial year to avail 100 per cent tax exemption.
In its recommendations, ADR said that the national and regional parties should, ideally, lead by example by filing complete and correct statements of donations to the ECI well in time for public scrutiny so as to encourage financial transparency.
© Copyright 2020 PTI. All rights reserved. Republication or redistribution of PTI content, including by framing or similar means, is expressly prohibited without the prior written consent.