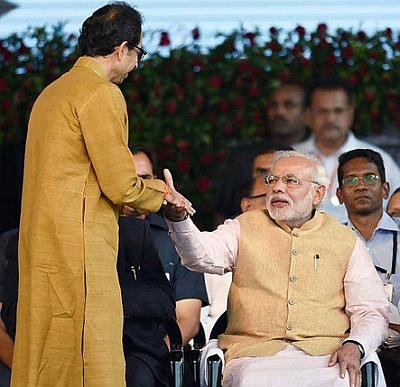 Shiv Sena and Bharatiya Janata Party on Sunday appeared to be on the verge of parting ways in the wake of spat over Cabinet expansion at the Centre and failure to accommodate the Sena in Maharashtra government in Mumbai.
Sena MP Anil Desai not taking oath as Union Minister and the induction of Suresh Prabhu, who had been in the Shiv Sena as Cabinet Minister, came as a climax to the growing chasm between the friends-turned-foes.
The simmering tension between them came to a boil as Desai left for Mumbai from Delhi airport without attending the swearing-in ceremony.
Desai returned to Mumbai on orders of Sena supremo Uddhav Thackaray whose party accused Prime Minister Narendra Modi as also the BJP of a host of broken promises and heaping "humiliation after humiliation" on it.
Union Minister Anant Geete is the lone Shiv Sena representative in the Union Cabinet and the developments could culminate in his being asked by the Sena leadership to quit the government.
"How much more humiliation we can take?" remarked senior Sena MP Chandrakant Khaire, who had accompanied Desai to Delhi when he rushed to the capital for taking oath.
The talk that Uddhav Thackeray will pull the party out of the government at the Centre and play Opposition in Maharashtra has gained ground ahead of a crucial meeting in Mumbai of the Sena chief with party legislators.
"As things stand now, there is remote possibility of Sena being part of NDA or of the BJP government in Maharashtra," a senior Sena leader said.
What added fuel to the fire was the induction of Suresh Prabhu as Cabinet Minister as Prabhu had been with the Sena. "Shiv Sena is angry. Whether it is PM or Amit Shah, they had no business to take Suresh Prabhu's name (as Shiv Sena representative for the Cabinet post)," said Khaire.
In an obvious attack on the PM, the Sena MP recalled that the late Bal Thackeray along with BJP leader Pramod Mahajan formed the alliance with the help of L K Advani and Atal Bihari Vajpayee. "Today we are being said they are everything. We have power. This does not continue for long," he said.