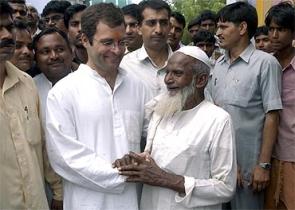 The Congress is banking on minority-oriented schemes like those providing medical aid, skill development and promoting leadership among women to reach out to Muslims ahead of the Lok Sabha elections.
With a view among party members that more needs to be done to publicise government schemes, Congress plans to publicise the benefits of schemes like 'Jiyo Parsi' (long live Parsis), 'Seekho Aur Kamao' (Learn and Earn), 'Nayi Roshni' (new light) among the minorities.
The Congress is also betting on steps like access to credit, wakf reforms and recent initiative like formulating a new health scheme for minorities under Maulana Azad Education Foundation for providing medical aid to cover critical ailments of minorities. An amount of Rs 100 crore has been earmarked for 2013-14 under the current scheme.
The Congress leadership held a meeting on Monday with 200 odd representatives of minority groups to seek the views and demands of minorities at the grassroots level for inclusion in the party's poll document for the Lok Sabha polls.
There was anger, concern and complaints during the meeting with many of them cautioning leaders that corrective measures are required as trends suggest that Muslim votes were somewhat slipping from the party.
During the meeting, Congress Vice President Rahul Gandhi stressed on the need to instill a sense of security and fearlessness among all sections of society.
"Muslims are distancing from us. The results in recent assembly elections also show that. We need to do something seriously," said a participant from the Uttar Pradesh.
As Minority Affairs Minister K Rahman Khan listed measures like access to credit, skill development programmes and scholarship for minorities as major works for the uplift of the community, there were voices from the participants that taking loan is still a herculean task for minorities. Explaining the difficulties, a participant said, "Rahulji even you cannot take loan, the documentation is so difficult."
In the manifesto meeting, the participants were given booklets carrying programmes, schemes and achievements of the minority affairs during the 11th plan (2007-2012) and during the in-progress 12th plan (2012-2017).
The skill development initiative for minorities 'Seekho Aur Kamao' was launched to upgrade skills of minority youth in various modern and traditional vocations depending upon their educational qualification, present economic trends and market potential.
"The scheme will guarantee minimum 75 per cent employment for trained minority youths and out of them 50 per cent will be in the organised sector. The ministry would ensure job letters from project implementing agencies at the end of training," the document distributed among party leaders at the manifesto meeting said.
The 'Jiyo Parsi' scheme launched this year will provide financial assistance to married Parsi couples to arrest population decline of the community.
The 'Nayi Roshni' scheme aims at leadership development of minority women. The ministry claims the scheme has been received by the minority community with great enthusiasm and there is huge demand for it from states.
Khan addressed the first session, which was focused on education and social conditions of minorities. The participants, however, citing Muzaffarnagar riots, said before education, the Congress should discharge the responsibility of ensuring security to minorities.

Image: Rahul Gandhi interacts with an aged man during a trip to Uttar Pradesh

Photograph: Reuters