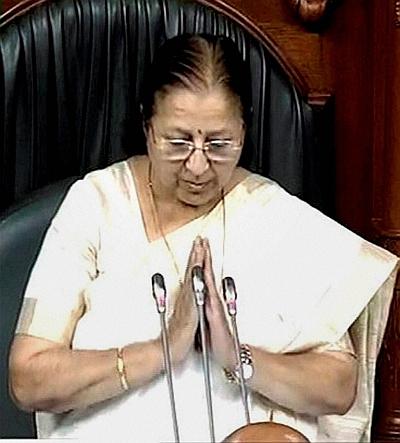 The winter session of Lok Sabha came to an end on Thursday after passing 13 bills despite persistent uproar created by opposition Congress over various issues, including certain allegations against Finance Minister Arun Jaitley in connections with Delhi & District Cricket Association affairs.
The 20-day session, adjourned sine die, was considerably much productive as compared to the last monsoon session which was a virtual washout due to the ruckus caused by the
opposition which had been pressing for ouster of External Affairs Minister Sushma Swaraj, Rajasthan Chief Minister Vasundhara Raje and Madhya Pradesh Chief Minister Shivraj Singh Chouhan over various allegations.
In the session which concluded on Wednesday, Speaker Sumitra Mahajan preferred to carry on with the listed business even as protesting Congress members stormed the Well and shouted slogans, many times walking out of the House for the day.
She twice threatened to take action against the Congress members who were disrupting the House by asking officials to note down their names. In the last session, she had suspended as many as 25 of the 44 Congress members for their unrelenting disruptions.
This session saw the rare action of the speaker expunging her own controversial "vested interests" remarks made about Congress members on Tuesday.
In her valedictory remarks, Mahajan said, "I hope this coming year brings new hope and new energy in our lives and we reflect with resolve that in the New Year we will take conscious decision while using all Parliamentary instruments to forcefully register our dissent and disagreement, if any, and will attempt to ensure less disruptions."