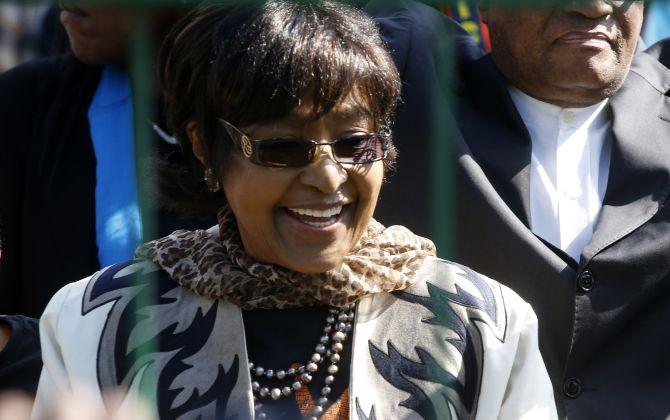 Photograph: Mike Hutchings/Reuters
Winnie Madikizela-Mandela, the former wife of South African anti-apartheid icon Nelson Mandela, died on Monday at the age of 81, her spokesman said.
She died in a Johannesburg hospital after a long illness, spokesman Victor Dlamini said in a statement.
Winnie Mandela was married to Nelson Mandela for 38 years, out of which the former president remained in prison for 27 years.
'She died after a long illness, for which she had been in and out of hospital since the start of the year. She succumbed peacefully in the early hours of Monday afternoon surrounded by her family and loved ones,' the statement read.
Born Nomzamo Winifred Zanyiwe Madikizela on September 26, 1936, in the village of Mbongweni in Eastern Cape, she was always known simply as 'Winnie'.
When Nelson Mandela was imprisoned, Winnie raised their two daughters alone and kept alive his political dream under the repressive regime.
She played a high-profile role in the battle to end white-minority rule. However, her place in history was also stained by controversy.
In 1990 she accompanied Nelson Mandela when he finally walked out of prison.
But in 1992, they separated and then divorced in 1996.
Winnie built her own role as a tough, glamourous and outspoken activist with a loyal grassroots following.
She was arrested for the first time in October 1958, months after her marriage to Nelson Mandela, at a protest against the pass system that restricted movements of black people in white-designated areas.
While, Nelson Mandela was sentenced to life in prison in 1964, Winnie was also in and out of jail.
She was tortured, confined to Johannesburg's Soweto township, and then banished to the desolate town of Brandfort, where her house was bombed twice.
She was rarely allowed to visit her husband in prison and only allowed to meet him from behind a glass screen.
Throughout the height of apartheid, Winnie remained at the forefront of the struggle.
But her reputation took a turn for the worse in 1980s.
She was widely linked to 'necklacing', when alleged traitors were burnt alive by a petrol-soaked car tyre being put over their head and set alight, in 1986, and was convicted of kidnapping and assault over the killing of a 14-year-old boy in 1991.
It was also found that she had had an affair with a young bodyguard of the Mandela United Football Club, a band of vigilante bodyguards she surrounded herself with.
She served as a deputy minister in President Mandela's government, but was sacked for insubordination.
In 2003, Winnie was convicted for fraud and theft on charges of taking money from loan applicants' accounts for a funeral fund, but not benefiting the applicants. She was sentenced to five years in prison.
In July 2004, however, an appeal judge of the Pretoria high court ruled overturned the conviction for theft, but upheld the one for fraud, handing her a three years and six months suspended sentence.
She later rehabilitated her political career by winning a seat in parliament in 2009 elections.
Despite the bitterness, she was a regular visitor to Mandela's bedside in his final months. However, he did not leave her anything in his will.