Naidu, a former BJP ally, has taken the initiative for a broader opposition unity and met several opposition leaders during his Delhi visit.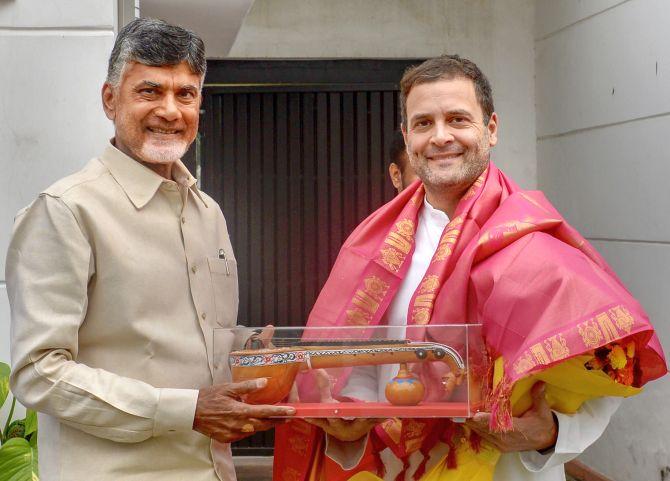 Aiming to forge an anti-Bharatiya Janata Party front ahead of the 2019 Lok Sabha election, Andhra Pradesh Chief Minister N Chandrababu Naidu on Thursday met heads of several opposition parties, including Rahul Gandhi, and termed his party's alliance with the Congress a "democratic compulsion" to protect the country.
Addressing a joint press conference, Gandhi and Telugu Desam Party president Naidu said the primary challenge before all the opposition forces was to work together and defend India's institutions and democracy, but they parried queries on who would lead the anti-BJP alliance.
"Everything else is secondary. We will do what is our primary challenge. You are interested in candidates, we are interested in the nation," Gandhi told reporters.
However, Naidu added, "It is a reality you have to understand that the Congress is the main opposition party. All other parties are necessary. So, we will work on these things. Our main motive is save nation."
This is for the first time Naidu met Gandhi since the TDP broke away from the BJP-led National Democratic Alliance.
Gandhi and the TDP leader had shared the dais at the swearing-in ceremony of Karnataka Chief Minister H D Kumaraswamy in May.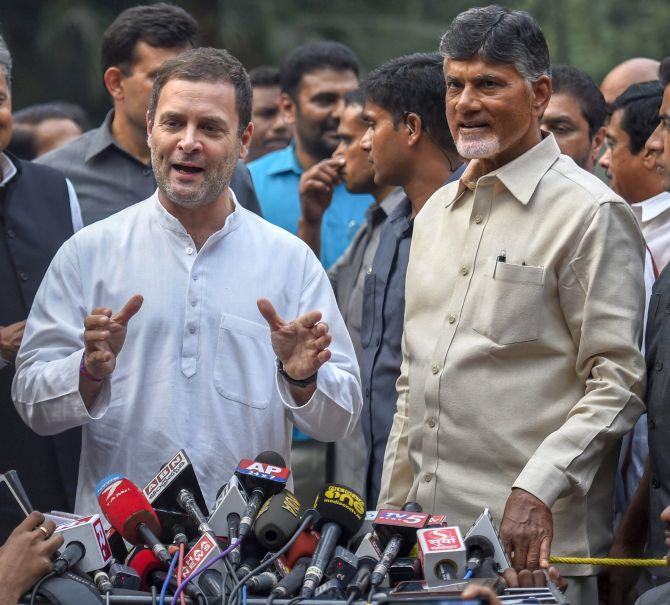 The TDP leader also held meetings with Nationalist Congress Party chief Sharad Pawar, Jammu and Kashmir National Conference patron Faqooq Abdullah and Samajwadi Party's Mulayam Singh Yadav and Akhilesh Yadav during the visit to New Delhi, his second within a week.
Naidu also met Communist Party of India-Marxist general secretary Sitaram Yechury at the Delhi airport.
"Today we have to save this nation and democracy. That's why I discussed with Rahulji also. In principle, we have agreed (to tie up). Some of you have doubt about our past. It is a democratic compulsion now, we are joining together to protect this country," Naidu said.
This is for the first time the southern party, which was floated by N T Rama Rao in the early 80's, primarily to defeat the Congress in the undivided Andhara Pradesh, will work with the national party.
In the past, the TDP has been a part of the NDA-I as well as NDA-II dispensations till it exited in March this year.
The TDP supremo met Gandhi in the presence of top party leaders Ahmed Patel and Ashok Gehlot.
After the meeting, Gandhi said forgetting the past, the Congress would work together with the TDP to defeat the BJP and defend the country, its institutions and democracy.
"We are coming together, we are going to work together and all opposition forces are going to work together to defend India, our institutions and our democracy," Gandhi told reporters.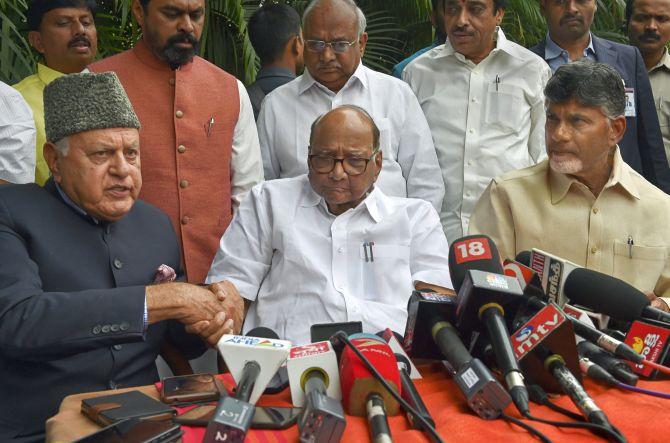 The BJP hit back, saying the TDP is desperate as cases of corruption are being investigated against the party leaders.
"TDP Govt in AP is mired in many scandals (IT, PD accounts, Irrigation scam etc.) MPs are being probed for misappropriation, tax evasion. Reason why Chandrababu Naidu is running from pillar to post to forge a 'Corrupt Alliance' in Delhi (sic)," BJP leader GVL Narasimha Rao tweeted, using the hashtag "TDPisDesperate".
Naidu also said that he would meet leaders of all parties that are against the BJP and try to forge a unity amongst them.
"Those who are all against BJP, I want to meet everybody. I want to convince the need for unity and also to save democracy. Day by day, it is becoming from bad to worse. Collectively we have to work together. Finally, we want to chalk out a programme," he said.
On the alliance with the Congress, Naidu said it is a "democratic compulsion" to get together and added, "We had differences with Congress. We had differences with BJP. At national level, TDP had always played a very crucial role whenever there was a need."
The chief minister said though some parties have alliances at state-level, efforts would be made to bring those parties together at the national level to provide an alternative to the Bharatiya Janata Party.
Gandhi asserted that during the meeting they have decided "not to get into the past" but talk about the present and future as it is "critical" for the country.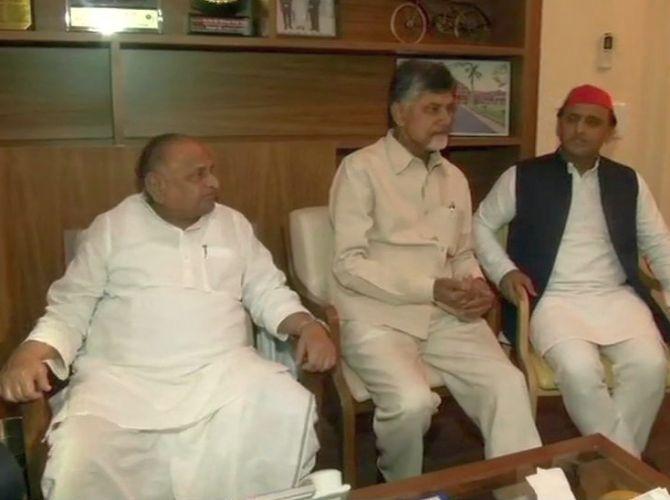 After meeting Naidu, Pawar said non-BJP parties would come out with a common minimum programme to take on the government as he expressed concern over "assault" on institutions such as the CBI and the RBI.
"If we collectively work to save democracy, we can definitely save the institutions. Chandrababu (Naidu) will talk to other state political leaders in this regard," the NCP chief told reporters, adding that a common minimum programme will be drafted once the non-BJP parties come on board to discuss the matter.
Claiming that the country was going through "difficult" times, Abdullah, after his meeting with Naidu, said, "Today, democracy is in danger and people are in danger. That is why we all met and decided to work out a common minimum programme to save democracy, institutions and the nation."
Naidu's meeting with Gandhi comes amid seat-sharing talks between the two parties for the December 7 assembly election in Telangana.
The TDP chief pointed out that he had never seen this type of attack on institutions such as CBI, RBI, ED and I-T in his political career of 40 years.
"I have asked Rahulji to discuss in the party and proposed all-party meeting to chalk out a programme for future," he said.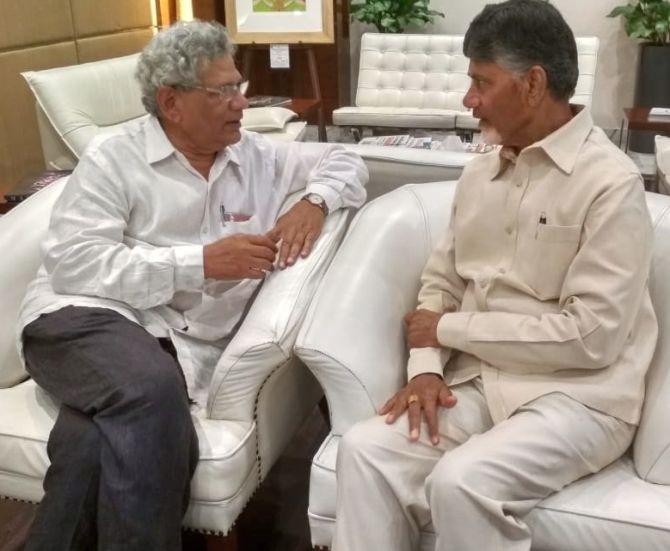 All India Majlis-e-Ittehadul Muslimeen president Asaduddin Owaisi questioned the credentials of Naidu in taking the initiative for an opposition alliance to take on the National Democratic Alliance, saying he was a supporter of the Bharatiya Janata Party till recently and during the 2002 "Gujarat pogrom".
Naidu's Telugu Desam Party was part of the Narendra Modi government when the deaths of research scholar Rohith Vemula, Mohammed Akhlaq (lynching victim) and others happened, he said.
"@ncbn supported BJP when Gujrat Pogrom happened in 2002, was part of @PMOIndia cabinet while Akhlaq, pahlu khan, Rohit,JUNAID, Aleemuddin where murdered,during his tenure as CM erstwhile AP many communal riots happened, AZIZ & AZAM killed in encounter NOW Saviour of Secularism WAH," Owaisi tweeted.
Earlier, Naidu "coincidentally" also met senior Congress leader Ghulam Nabi Azad at the Indira Gandhi International Airport in New Delhi and briefly discussed about the need to bring all non-BJP parties together, TDP sources said.
This is the Andhra Pradesh chief minister's second visit to New Delhi in less than a week.
Last week, Naidu had met Bahujan Samaj Party chief Mayawati, Farooq Abdullah and former Bharatiya Janata Party leader Yashwant Sinha in the national capital.
© Copyright 2023 PTI. All rights reserved. Republication or redistribution of PTI content, including by framing or similar means, is expressly prohibited without the prior written consent.