The chief minister is not being hailed as the leader who led the party to a victory in the state.
Sohini Das and Vinay Umarji report.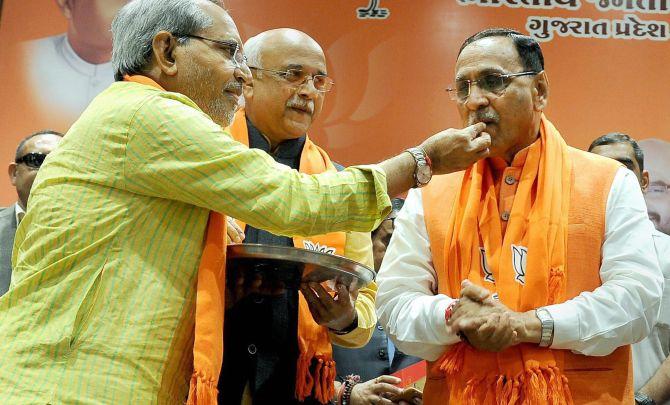 IMAGE: BJP leaders offer sweets to Gujarat Chief Minister Vijay Rupani after the party's victory in the state. Photograph: PTI Photo
The Bharatiya Janata Party on Monday decided to make Finance Minister Arun Jaitley and party general secretary Saroj Pandey as observers for the selection of chief minister in Gujarat.
The decision was taken at the party's parliamentary board meeting, which was attended by Prime Minister Narendra Modi, BJP chief Amit Shah and other senior leaders, Union minister J P Nadda told reporters. According to a report, sources in the BJP claimed the observers would arrive in Gujarat in a couple of days. "MLAs will propose their candidates and a decision will be taken through consensus. Deciding on the chief minister will take four or five days," a source said.
During the campaign, Shah had said incumbent chief minister Vijay Rupani was the party's face for the assembly elections. But Rupani is not being hailed as the leader who led the party to a victory in the state.
Prime Minister Narendra Modi addressed 36 rallies in the state in the run-up to the elections, while all top Cabinet ministers from Delhi as well as several chief ministers from other BJP-ruled states chipped in to clinch this victory in Gujarat.
Rupani is the first BJP chief minister after Modi to face elections in Gujarat. He fought from a constituency (Rajkot West) from where Modi had contested his first election. He won by a comfortable margin from a seat that is considered safe and a Rashtriya Swayamsevak Sangh stronghold. However, the Congress candidate Indranil Rajyaguru, a local businessman, has given Rupani a close fight in a safe seat.
A surprise candidate picked by Amit Shah to replace Anandiben Patel as chief minister in August 2016, Rupani has been fighting fires ever since he assumed office last year. A Jain-Baniya, a caste that makes up five per cent of Gujarat's population, Rupani was considered a neutral candidate at a time when his predecessor had failed to curb the Patidar agitation and Dalit movement in the state.
However, while the movements are far from over -- Patidar leader Hardik Patel on Monday claimed that their movement would continue in full fervour -- perhaps the BJP's need for a caste-neutral candidate as chief minister is over.
Surat's Patidar community had chosen to vote pro-incumbent. The Patidar vote is split among merchant Patidars (pro-BJP) and farmer Patidars (anti-BJP). The Congress managed to gain a foothold in the Patidar-dominated agrarian belt of Saurashtra and the BJP retained the urban Patidar belt of Surat in south Gujarat.
As a leader from Saurashtra, the party expects Rupani to exercise considerable clout over the region. Rupani has not been able to douse the fire among the region's Patidars where Hardik Patel led an aggressive campaign. This is despite the chief minister visiting Rajkot almost every weekend in the past year.
Names are being thrown around, including that of Shah, who could be keen to take over as chief minister of Gujarat. Rupani, some speculated, was chosen as a caretaker chief minister. However, political observers said Shah might choose to concentrate on state elections next year by staying in Delhi.
Deputy Chief Minister Nitin Patel is another candidate. He was a close contender for the chief minister's post when Anandiben Patel stepped down. A political veteran and a Patidar himself, 2018 may just turn out to be Nitin Patel's year.
Another name doing the rounds is that of Gujarat BJP President Jitu Vaghani, who won a tough battle in Bhavnagar. Vaghani, 47, is young and just might make the cut.
Contenders for Gujarat CM's post
>> Vijay Rupani
An RSS worker whose political career began in 1987 when he was elected to the Rajkot Municipal Corporation. By February 2016, he was declared the new state BJP president.
He has a clean, controversy-free image, also seen as Shah's protege, who was brought in as a caste-agnostic face in the heat of the Patidar agitations
Prior to being appointed as the BJP state party chief, Rupani was a Cabinet minister with portfolios like transport and labour and employment in the Anandiben Patel regime
>> Amit Shah
Although it would mean stepping down from the national party president's post, Shah's candidature as Gujarat chief minister still seems likely.
Known as a master strategist, Shah, along with Narendra Modi, has led the BJP to win assembly elections in Maharashtra, Haryana, Jammu & Kashmir, Jharkhand and Assam.
Under Shah, the BJP has also lost elections in Delhi and Bihar. A Rajya Sabha MP from Gujarat, Shah began his political career when he was elected as an MLA from Sarkhej in the 1997 by-elections, followed by consecutive wins in 1998, 2002 and 2007.
>> Nitin Patel
A Leuva Patel, he could be the next closest contender to Rupani for the CM's post. A seasoned politician, Patel has contested elections way back in 1995.
Patel has held portfolios in health, education, and finance, among others.
Last elected as a member of the Gujarat assembly from Mehsana in 2012, Patel had been facing challenges from his own community in north Gujarat. However, in 2017, all apprehensions were put to rest with Nitin Patel winning by 12,784 votes
>> Jitu Vaghani
Vaghani entered politics with a loss in the Gujarat assembly election in 2007 from Bhavnagar to senior Congress leader Shaktisinh Gohil. But he made it up in the subsequent election in 2012. While Vaghani had lost by over 7,000 votes, he won in 2012 with the highest margin in the Saurashtra region.
Seen as a low-key politician in the BJP, Vaghani was appointed as state party chief in November 2016.
Apart from politics, Vaghani is also involved in agricultural, construction and other entrepreneurial activities.