The party hopes that the multiple road projects, schools, canals, and water projects which have come up in the Meo-Muslim-dominated area will be able to sway the votes in its favour.
Thirumoy Banerjee and Nitin Kumar report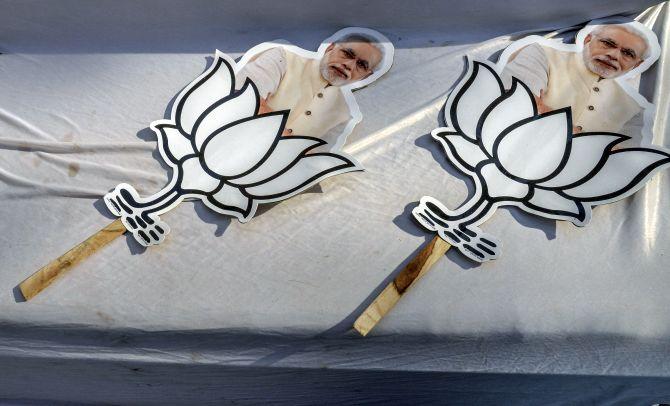 'Abki baar 75 paar'. Ask any leader or worker of the Bharatiya Janata Party in Haryana, that's what he'd tell you about where he thinks the party is headed. The
The BJP has transformed Haryana into its fortress of sorts after the Narendra Modi-led National Democratic Alliance romped home in 2014. But in the shield, there's a chink: Mewat.
One of the country's most backward regions on different parameters, Mewat has seen some traction in recent years, according to a NITI Aayog report. In the past five years, multiple road projects, schools, canals, and water projects have come up in this Meo-Muslim-dominated area. There are also some opportunities for jobs.
There was not even a Haryana Civil Services official from the region until 2016 when Wakil Ahmad was appointed sub-divisional magistrate at Hathin in Palwal.
As the assembly election draws closer, the focus is on the three seats in Nuh district, which falls in the Mewat region and was carved out of Faridabad and Gurgaon (now Gurugram) in 2005. Since 1996, when it last won a seat from the area in a coalition, the BJP returned empty-handed.
Chief Minister Manohar Lal Khattar outlined his government's focus on the district while addressing a rally in Nuh during last month's Jan Ashirwad Yatra. "We did not have an MLA from Mewat, but whenever local MLAs approached us for any assistance, we worked with them. Now, we have allotted Rs 500 crore for a drinking water project in Nuh."
Besides, the government is set to begin work on many pending projects, including Ranney collector wells and Kotla dam.
The BJP is now slowly becoming a force to be reckoned with in Mewat. Two MLAs in the region -- the Indian National Lok Dal's Chaudhary Zakir Hussain (Nuh) and Nasir Ahmed (Ferozepur Jhirka) -- have joined the BJP and will contest this time. Punhana's Independent MLA, Rahish Khan, had earlier joined the party.
Old-timers claim that subsequent governments of the Congress and regional parties are responsible for the region's lack of development. "They needed Muslim votes, but weren't willing to give us adequate representation or work for our betterment," a villager says. Others are in agreement.
As it seeks votes, the BJP lists its accomplishments in the region, including the nearly 900-km Delhi-Mumbai expressway, a road connecting Nagina and Tijara, a college in Ferozepur Jhirka, a dental school, and a Unani Medical College in Nuh. Forty-seven Mewat villages will be linked via the eight-lane expressway to Delhi. Landowners have started receiving compensation for the government-acquired plots for these projects.
Nevertheless, the Congress dismissed any claim of development in the area. "The Congress led all three assembly segments in Mewat in the 2019 Lok Sabha election. People here have resisted the divisive agenda of the BJP. We are confident that we will not only do well here but throughout the state," said the Congress's Aftab Ahmad, a former Nuh MLA.
According to a Lokniti-CSDS survey, an overwhelming majority of Muslims, who comprise over 70 per cent of Mewat's population, voted in the Lok Sabha polls for the Congress. Just 14 per cent of Muslims in Mewat voted for the BJP, but that was up from a mere 5 per cent in 2014.
"The Meo-Muslim vote share for the BJP has increased. This time it could go up by another 5-7 percentage points, but unlikely anymore than that," says Sanjay Kumar, professor, CSDS.
Since 2014, although there have been reports of unrest, the state has not experienced any major communal violence.
Rao Narbir Singh, public works and forest minister in the state, said: "A lot of incidents have been given a communal hue. For example, the fight over a cricket match was made to look like a Hindu-Muslim clash. Such things are unfortunate. There has been no religious conflict in either Mewat or entire Haryana."
The state leadership of the BJP is confident that this time Mewat won't disappoint them. "Hum toh ek-ek panna jeetna ki koshish mein hain (we're all going out to win every seat). The fact that all the MLAs in Mewat have joined us shows that everyone now recognises the good work that the BJP government has done," state BJP President Subhash Barala said.
But Meos are concerned over the MLAs jumping ship. Several community leaders apprehended that there are not many leaders left to raise their issues.
In Rawa village, sipping a cup of tea, Raquib Khan says the leaders who switched sides won't receive popular support. An elderly person says Muslims (who make up 7.2 per cent of the state's population) won't blindly trust the BJP. "Do they have a single Muslim MLA?" he asks.
In the 90-member assembly, the BJP has 47 MLAs, none of them is a Muslim.
But the BJP has found a way to look beyond it. "Who says we're anti-Muslim? Our motto is Sabka Saath, Sabka Vikas. Our outreach efforts and the development programmes in Mewat are proof of that," said Mohammad Imtiyaz, a BJP worker, preparing for a hectic couple of weeks before the all-important October 21.