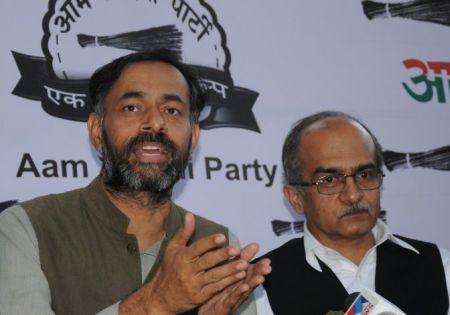 The brainstorming session of Aam Aadmi Party 'dissidents' scheduled to be held in Gurgaon on April 14 could serve as a sounding board of a new political formation.
The meet, to be spearheaded by Yogendra Yadav and Prashant Bhushan, has been named 'Swaraj Samvaad' (open dialogue). Some issues to be discussed at the Samvaad are: If AAP's political movement is being reduced to merely an election machine, whether or not 'our horizon shrunk from national politics to that of a regional formation or a city state' and if they have 'fallen prey to the ills of established political cults and success-at-any-cost'.
The meet which also being led by the two other expelled National Executive members, Ajit Jha and Anand, Kumar aims to 'explore future course for alternative politics'.
Some of the 'unsatisfactory' options that are open before this group have been enunciated as 'continuing on the same path believing that it's a temporary decline' or forming a non-political platform or undertaking a course correction internally within the AAP.
But as insider concedes, "Too much water has flown under the bridge and such options are not feasible. The only alternative appears to be strike it out on our own."
However Kumar speaking to Business Standard dismissed any immediate plans of floating a new political outfit. "We are going for a loud thinking where all views will be heard and discussed on what is the best option in national interests and not only in interests of the party," Kumar said.
Even though several AAP supporters are disillusioned and several have even quit the party in disgust at what has transpired, they are aware of the limit of the potential and resources that they (dissident group) can drum up.
There is also the differing perspectives of those that are likely to attend; while those from neighbouring states such as Punjab and Haryana are more keen on staying the course as seeing from close quarters the impact of the Delhi victory; they prefer to weed out the paratroopers and power brokers who have hijacked the party.
On the other hand, party supporters coming from other parts of the country who have been dismayed at the internal squabbling and mudslinging, want to strike it out separately.
Most of the 48 signatories to the invitation letter are former AAP leaders who have resigned from the party over these past two years of its existence.
They include Christina Samy, Rakesh Sinha, Maruti Bhapkar. Elected AAP leaders Dharamvir Gandhi and a few MLAs are slated to attend the meet as is Medha Patkar, who resigned from the party in protest recently. At present, about 3,000 people have registered online for the Swaraaj Samvaad.