In the backdrop of former Rajasthan deputy chief minster Sachin Pilot announcing public outreach events in the state, the Congress on Friday said its president Mallikarjun Kharge and other leaders are working to find a solution to the party's issues there that will strengthen the organisation.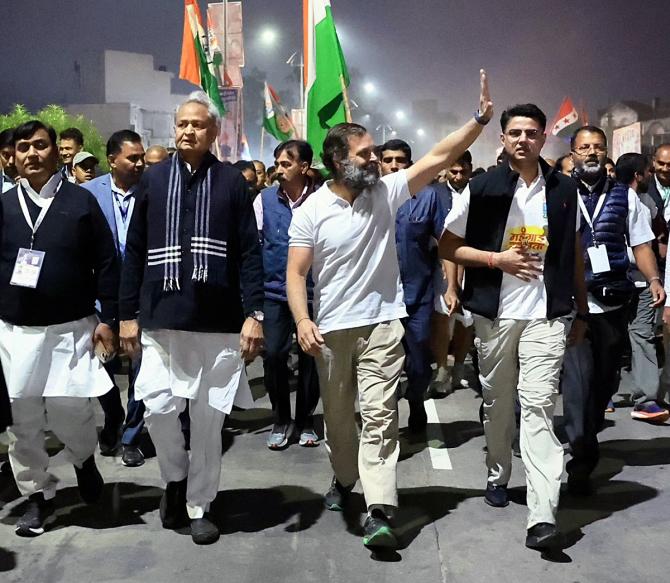 Amid his power tussle with Chief Minister Ashok Gehlot, Pilot has announced that he will be among the people and Congress workers in various districts of Rajasthan between January 16 and 20.
Asked about Pilot's announcement and the issue of party leadership in Rajasthan, Congress general secretary Jairam Ramesh told a press conference in New Delhi, "Khargeji, our president, our in-charge (Sukhjinder Singh) Randhawaji and many leaders are engaged in finding a solution."
"The unity, discipline and togetherness that we have seen in the Bharat Jodo Yatra in all the states, especially in Rajasthan, gives me confidence that some way or the other will be found, which will be beneficial for the organisation. Leave aside individuals, the organisation is paramount," the former Union minister said.
"The solution that Khargeji, Randhawaji and all the leaders will find will strengthen the Congress in Rajasthan. People will come, people will go. Rahulji (Gandhi) has clearly said both of them (Gehlot and Pilot) are assets for our party," he added.
Pilot's announcement that he will have public interactions in Nagaur, Hanumangarh, Jhunjhunu, Pali and Jaipur has raised the political temperatures in Rajasthan.
As the Bharat Jodo Yatra's Rajasthan leg ended last month, the Congress had heaved a sigh of relief as the foot march passed the state without any face-off between the supporters of Gehlot and Pilot, despite sloganeering on the roads.
A major row erupted in November following Gehlot's comments that Pilot is a gaddar (traitor) who cannot replace him.
The remarks drew a sharp response from Pilot, who had said it was unbecoming of a leader of Gehlot's stature to use that kind of language and that such 'mudslinging' would not help at a time when the focus should be on the yatra.
The escalation of the Gehlot-Pilot rift just ahead of the yatra's entry into Rajasthan had put the party on the spot, but K C Venugopal's visit to the desert state had calmed tempers and in a show of unity, both Gehlot and Pilot had posed for the cameras along with the Congress general secretary organisation.
© Copyright 2023 PTI. All rights reserved. Republication or redistribution of PTI content, including by framing or similar means, is expressly prohibited without the prior written consent.