All eyes are set on the Karnataka cabinet meeting on Friday where a decision will be taken on implementing the five guarantees promised by the ruling Congress during the assembly elections in May.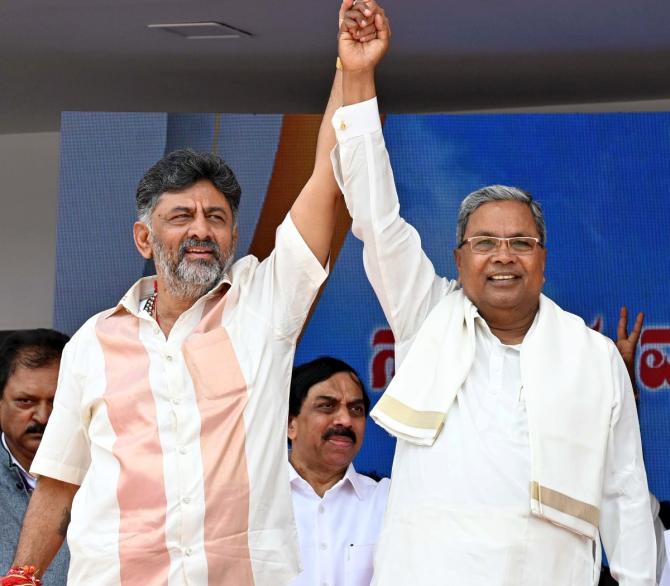 The Congress had said that it will implement these schemes if its government is formed in Karnataka. The party stormed into the Vidhana Soudha by winning 135 out of 224 seats. Now it is the Congress's turn to fulfill its promises after the people reposed their faith in it.
The five guarantees promised are: 200 units of free power to all households (Gruha Jyoti); Rs 2,000 monthly assistance to the woman head of every family (Gruha Lakshmi); 10 kg of rice free to every member of a BPL household (Anna Bhagya); Rs 3,000 every month for unemployed graduate youth and Rs 1,500 for unemployed diploma holders (both in the age group of 18-25) for two years (YuvaNidhi); and free travel for women in public transport buses (Shakti).
The Congress government has estimated that the implementation of these schemes may cost about Rs 50,000 crore.
"We have announced five guarantees. We discussed them elaborately yesterday. Tomorrow we will take a decision. We have assured that we will give 10 kg rice. There is no second thought about implementing it but I will explain to you after the cabinet decision," Food and Civil Supplies Minister K H Muniyappa told reporters on Thursday.
He further said, "We will implement the guarantees we have promised in a phased manner."
With regard to the Anna Bhagya scheme, he said the state government will ask the Centre and the Food Corporation of India to provide rice to Karnataka.
"In case, they (Centre and the FCI) refuse, we on our own will procure rice through tender or though organisations and distribute it to the beneficiaries," Muniyappa said.
During the elections, former Congress president Rahul Gandhi had said these schemes will be implemented on the day the government took over.
However, Chief Minister Siddaramaiah after assuming power on May 20 said the government has agreed in principle to implement the guarantees and sought time till the next cabinet meeting.
"We have given approval in principle. We will get details, discuss, financial implications will be looked into and then we will do it for sure. Whatever the financial implications may be, we will fulfill these five guarantee schemes," Siddaramaiah told reporters after the first cabinet meeting.
When asked when it will be implemented, he said, "Most likely it will be implemented after the next cabinet meeting," and added, "Already the cabinet decision has been taken. We need to work out details such as its financial implications."
When asked why these aspects were not looked at before making the promises, the chief minister underlined, "The promises have been agreed upon. We will not go back."
Siddaramaiah said spending Rs 50,000 crore on these guarantees will not be a burden for the state, whose budget is about Rs 3 lakh crore annually.
The opposition Bharatiya Janata Party is also waiting with bated breath to see how the Congress implements these guarantees which, according to them, will push the state towards financial bankruptcy.
The BJP has alleged that the government has no intention to implement the guarantees and had made false promises to come to power.
"They said they will implement it on the day they assume power but they could not do it. The delay has proved that the Congress is a party of cheats," BJP state president Nalin Kumar Kateel said.
According to some Congress leaders, there will be some conditions attached to these schemes.
The Gruha Lakshmi promising Rs 2,000 to the women head of the families is meant for those who are Below Poverty Line. Even the Anna Bhagya scheme providing 10 kg food grains is for BPL families.
Even Gruha Jyothi scheme offering 200 units of free power is for the economically weaker sections, they said.
Regarding the Shakti scheme, Congress leaders said there will be no conditions attached but it will specify in which buses women can travel free of cost.
An estimate prepared by the BMTC shows that its operational cost itself is over Rs 12,000 crore whereas its revenues are just over Rs 9,000 crore.
© Copyright 2023 PTI. All rights reserved. Republication or redistribution of PTI content, including by framing or similar means, is expressly prohibited without the prior written consent.