Siddaramaiah's anti-urban bias, which he does not bother to hide, may become the Congress government's biggest weakness unless it is corrected.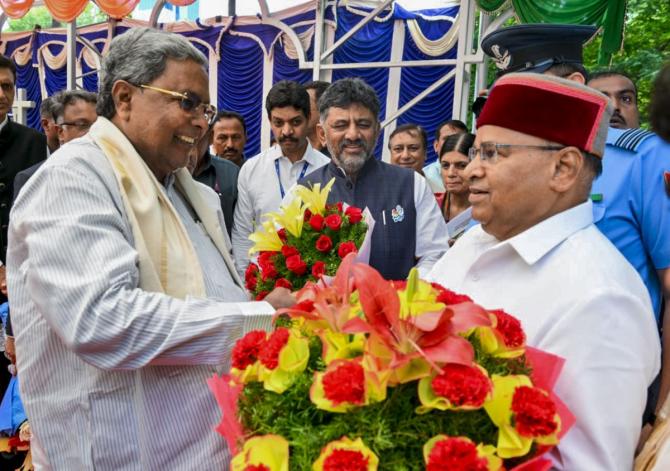 Judging by an analysis of the data the 2023 assembly election in Karnataka has thrown up, Siddaramaiah is the Congress most appropriate -- and indeed, logical -- choice for chief minister.
The data reveals two (among many other) sit-up conclusions.
One, as Nilanjan Sircar of the Centre for Policy Research notes, is that the strike rate (the seats contested versus those won) of the Bharatiya Janata Party in rural areas fell from 55 in 2018 to 25 in 2023.
And correspondingly, support for Congress went up from 35 to 63.
In other words, the BJP was almost as popular as before in Karnataka's urban areas. But in rural areas, support for it plummeted.
The other conclusion relates to South Karnataka, the Vokkaliga-dominated cotton and sugarcane belt in Karnataka, where the Janata Dal-Secular used to have an unshakeable presence.
This is the region that Siddaramaiah belongs to.
Here, the Congress strike rate zoomed from 29 in 2018 to 62 this time.
The BJP collapsed from 21 to 10. But both parties denuded the JD-S of its support in its pocket borough.
The JD-S strike came down from 46 in 2018 to just 25 this time.
This is not the entire story.
Siddaramaiah, with his powerful oratory and blunt contempt for urban Karnataka, contributed powerfully to script the BJP's decline in rural Karnataka.
This dates back to his younger days under the tutelage of strong farmer lobbies, which had leaders like M D Nanjundaswamy of the Karnataka Rajya Raitha Sangha.
The Congress might not accept this, but it is for this that he has been rewarded.
However, Siddaramaiah's exaggerated anti-urban bias, which he does not bother to hide, might become the new Congress government's biggest weakness unless it is corrected.
And Siddaramaiah's relationship with his former leader H D Deve Gowda and his biting criticism of the Vokkaliga community amplify and inform both the data and his politics.
In his last tenure as CM (2013-2018), Siddaramaiah established a good administrative track record and showed admirable fiscal restraint.
His forte was large social welfare projects; his food security, nutrition, and women-oriented schemes were big hits.
But where Siddaramaiah showed little or no imagination was in creating conditions to attract more investment to Karnataka based on urban renewal.
His policies were derived from his political history and beliefs.
He joined the Congress only in 2005, having walked out of the JD-S.
Deve Gowda was extremely fond of this maverick politician and brilliant speaker.
While he made him deputy CM in the JD-S government, he held back from making him CM, not unnaturally, preferring his son H D Kumaraswamy.
The decision to make Siddaramaiah CM in 2013 was also a long-drawn-out affair that involved extensive consultation.
Senior Congress leader A K Antony spoke to MLAs and telephoned Ahmed Patel, seeking the Congress president's opinion.
Although a majority of the MLAs said they did want Siddaramaiah, Antony conveyed to Patel that a large number of them were also apprehensive, saying that one community should not be pacified at the cost of another.
Siddaramaiah is a Kuruba (shepherd). His antipathy towards the upper castes -- both Lingayats and Vokkaligas -- is hardly hidden.
This is what led the pontiff of the Chunchanagiri Mutt (Vokkaliga) to declare openly that Vokkaligas would revolt if D K Shivakumar was not made CM.
This fiat should be read not so much as a demand for Shivakumar's elevation as the thought that Siddaramaiah could reap the benefits of Vokkaliga support for the Congress -- the same Siddaramaiah who openly reviled and ridiculed the caste.
The impression now is that with Shivakumar as his deputy, some balance will be restored both in terms of caste and rural-urban priorities.
Siddaramaiah is thought to be the architect of the Ahinda (Kannada acronym for Alpasankhyataru or minorities, Hindulidavaru or backward classes, and Dalitaru or Dalits) coalition that helped bring the Congress to power.
But in 2018, the Ahinda pact broke down and collapsed.
This time too, it faces the same danger unless correctives are applied.
Said veteran Congress leader B K Hariprasad on the 'arrangement' reached by the party in Karnataka: "No one is angry, everyone is happy."
But these could be famous last words.