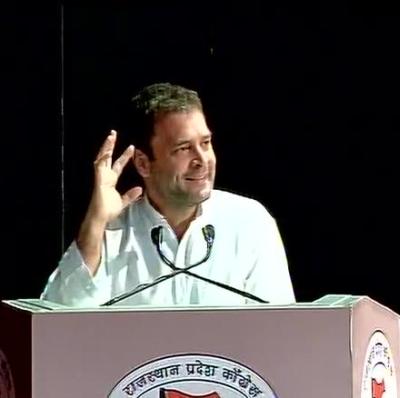 Congress vice president Rahul Gandhi on Friday poked fun at Prime Minister Narendra Modi's '56-inch' chest, saying his party and the people of this country will reduce it to 5.6 inches in the next six months.
Addressing Congress workers in Jaipur, Rahul said that for the first time there is a government in the country which wants to help the Opposition.
The Congress vice president said Prime Minister Modi, who made tall claims and promises before the Lok Sabha polls, is least concerned about farmers, as he has now occupied the top post.
"Now that he has become the PM, why should he be concerned about farmers? He made several promises, but empty ones," he said.
Highlighting the woes of farmers, Gandhi narrated their emotions and feelings which he experienced during his 'padyatra' on Thursday.
"I liked the film Lagaan. In that film, the farmers were disunited; then they got together and protested against a British-imposed tax... One British officer in the movie realized that he couldn't help the farmers because his remote control was in London," he added.
The Congress vice president also challenged Prime Minister Modi to bring back former IPL boss Lalit Modi.
He alleged that the BJP government in Rajasthan was being run by Lalit Modi from London.
"As during the days of the British Raj, the remote control of the government here was in London. Similarly, the remote control of the Rajasthan government is in London," he said.
"This government's remote control is in London. He presses the button there and the reaction is seen here," he added.
Gandhi said that Rajasthan Chief Minister Vasundhara Raje has broken the law by helping Lalit Modi.
He alleged that the Union Cabinet has only one minister and that is Prime Minister Modi.
"The Cabinet doesn't have an array of ministers. The Cabinet has only one minister and that is (Narendra) Modi. It's like a puppet show where he is the puppeteer," he said amid a thumping applause from the crowd.
Hitting out at the prime minister for talking of giving Rs 15 lakh to account holders by bringing in black money stashed abroad, the Congress Vice President said, "He (Lalit Modi) is sitting in London with lakhs of crores. Bring him back and remove his government here and install a people's government instead."
Taking a jibe at his promise of not doing corruption or allowing it, Rahul said, "Please fulfil that promise and bring Lalit Modi back and remove his government in Rajasthan".
Rahul, who wrapped up his two-day visit to Rajasthan, where he also undertook a 10-km 'padayatra' and interacted with farmers, said, "In earlier times, those who ruled over India had given their powers to London. The same way, your Chief Minister has signed an authority in England and said I want to help an absconder but Indian people should not know.
"In her earlier term as chief minister, they did business together and Lalit Modi invested money in her son's hotel, which I am told is a government property," Rahul charged.
The Congress leader also attacked the BJP governments in various states by saying, "Here it is the Lalit Modi government, in Madhya Pradesh it is a Vyapam government, in Maharashtra it is a Munde government and in Chhattisgarh it is a 'dhaan' government. And the Prime Minister with a 56-inch chest is not uttering a single word."