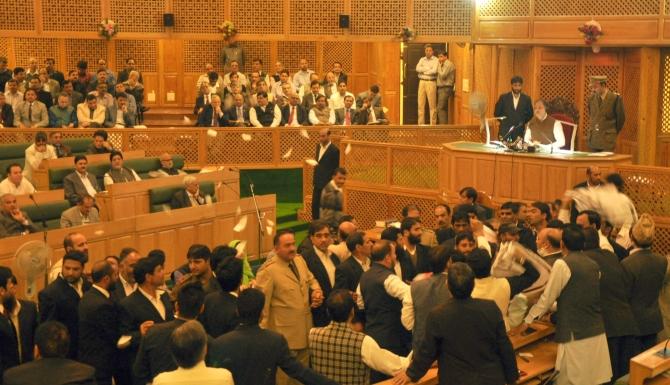 The Jammu and Kashmir government on Tuesday said it will protect the special status granted to the state under Indian Constitution. "We are here to safeguard and protect the Article 370 and Article 35-A," Law minister Basharat Bukhari said amid thumping of desks by the treasury benches.
Bukhari made the statement as Opposition National Conference and Congress demanded suspension of question hour for discussing Article 35-A which has been challenged in the Supreme Court.
"The question hour is meant for raising issues of public interest in the house. Please stop creating disruptions," the minister told the opposition. Leading the charge on behalf of the coalition government, Bukhari said rules demand that the House should not hear matters which are sub-judice.
Go and read the rules. What are you (opposition members) shouting for? By creating this melee, you are only wasting the precious time of this House," he said. Regretting the constant disruptions, Bukhari said the opposition is not serious in speaking on issues of public interest.
"They only want to disrupt the house. It is not necessary to adjourn the question hour. Article 35A is sub-judice and there are rules which must be followed," he said.
Earlier, the opposition members including Mohammad Akbar Lone, Devendra Singh Rana, Ali Mohammad Sagar, Mohammad Usman Majeed, G M Saroori and Sheikh Abdul Rashid stormed the well of the house and shouted at the speaker.
"Please sit down," Speaker Kavinder Gupta told the opposition members, who refused to relent. "The House will give you time for raising your issues," he added. Later, talking to reporters, Bukhari said the NC should not have boycotted the entire session.
"I feel they should not boycott the entire session. They should come. There are issues of the people. When they raise those issues, we will respond and people get respite," he said.
The minister said there was nothing bad in opposing the government, but the opposition members should also listen to the speaker.
"There is nothing bad in opposing the government. We have also done it while we were in opposition. I appreciate it when an opposition opposes in the real sense of term. They had given adjournment motions, but at the same time they should have listened to the Speaker," he said.
With inputs from Mukhtar Ahmad in Srinagar. Photograph: Umar Ganie
© Copyright 2020 PTI. All rights reserved. Republication or redistribution of PTI content, including by framing or similar means, is expressly prohibited without the prior written consent.