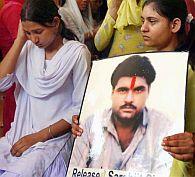 Pakistani officials on Monday dismissed a report that a medical board was considering a proposal to send abroad Indian death row convict Sarabjit Singh -- comatose in a Lahore hospital after a brutal assault -- for treatment.
The four-member medical board headed by JinnahHospital chief executive Mahmood Shaukat conducted a routine examination of Sarabjit this morning, officials said.
They rejected a media report that the board was mulling a proposal to send Sarabjit abroad for treatment.
"No such proposal has been under consideration," an official of the health department of Punjab province told PTI.


"In fact, the medical board has no mandate (to decide about sending Sarabjit abroad)," said the official, who did not want to be named as he was not authorised to speak to the media.
The medical board is "minutely monitoring the patient" and Sarabjit is being given the "best treatment" at JinnahHospital, the official said.
Sources in the hospital told PTI that there had been "no improvement whatsoever" in Sarabjit's condition.


The members of the medical board -- Shaukat, Postgraduate Medical Institute principal Anjum Habib Vohra, JinnahHospital neuro department head Zafar Chaudhry and KingEdwardMedicalUniversity neuro-physician Naeem Kasuri -- see Sarabjit's case as "major neurosurgical challenge", the sources said.

Sarabjit, 49, sustained several injuries, including a skull fracture, when six prisoners attacked him in Kot Lakhpat Jail on Friday and doctors said his chances of survival are slim.


He was hit on the head with bricks and cut with sharp weapons. He is in a deep coma and on ventilator support in an intensive care unit of Jinnah Hospital.
He was convicted of alleged involvement in a string of bomb attacks in Punjab province that killed 14 people in 1990.

His mercy petitions were rejected by the courts and former President Pervez Musharraf.
The outgoing Pakistan People's Party-led government put off Sarabjit's execution for an indefinite period in 2008.

Sarabjit's family says he is the victim of mistaken identity and had inadvertently strayed across the border in an inebriated state.
© Copyright 2023 PTI. All rights reserved. Republication or redistribution of PTI content, including by framing or similar means, is expressly prohibited without the prior written consent.