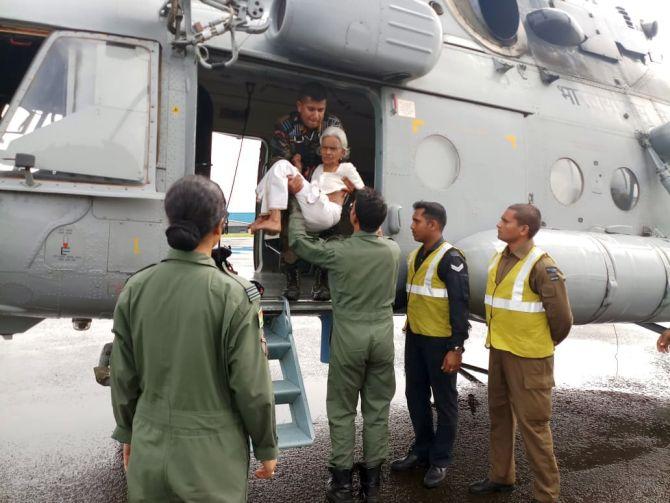 The Southern Naval command on Wednesday called off its 14-day long rescue operations in flood-hit Kerala, saying there were no more requests for evacuation as waters receding in affected areas.
It also said the Naval personnel rescued a total of 16,005 people during 'Operation Madad', launched on August 9 for assisting the state administration and undertaking disaster relief operations.
'The Southern Naval Command recalled all rescue teams deployed for #OperationMadad as flood waters receded and no more requests for rescue were received,' a Defence release in Kochi said.
Besides the Navy, personnel of the Army, the Air Force and Coast Guard were also involved in the rescue and relief operations along with civil administration.
Army's Southern Command chief Lt Gen D R Soni had on Monday said its personnel would continue to be engaged in the rescue operations in flood-hit Kerala till the situation stabilised.
Kerala Chief Minister Pinnarayi Vijayan said the 'government has decided to organise a farewell on August 26 to express its love and gratitude towards the various defence forces who helped in relief and rescue operations in the state'.
On allegations by opposition parties that the floods were caused by opening of dams, Vijayan said that 'on July 30 water levels were below orange alert and till August 7 water was receding, on August 8 heavy rain started and water levels began to increase'.
"On August 15 Mullaperiyar Dam was opened. Nobody could've foreseen this but still warnings were given and evacuations were done," he said.
On reports of Centre refusing to accept aid given by United Arab Emirates towards flood relief, he said, "The 2016 National Disaster Management Policy says, 'if a government of another country voluntarily offers assistance as a goodwill gesture in solidarity with the disaster victims, the central government may accept the offer'. Right now only talk is happening, let us see what happens."
The Defence forces were involved in several daring rescue acts such as the air-lifting of a pregnant woman, winching up of a two-year old which won them widespread appreciation.
The Navy said that in addition to the rescue of the marooned, ten air sorties amounting to 15 hours of flying were undertaken by various naval aircraft, mainly for air dropping of relief supplies especially food and medicines.
Relief materials including fresh water, provisions, ready to eat meals and medicines which arrived on board two ships of the Western Naval Command were distributed in various localities in coordination with the civil administration.
The Naval air station, 'Garuda', continued facilitating civil aircraft operations, in addition to the military flying requirements, the release said.
The Naval airport was being used in view of the closure of the international airport at nearby Nedumbassery in the wake of floods.
Alliance Air, a subsidiary of Air India, and Indigo operated ATR 72 aircraft during the day. The air station was also extensively used to airlift medical teams, food and medicines as required by the state government so that the relief supplies could quickly reach the needy people, the release said.