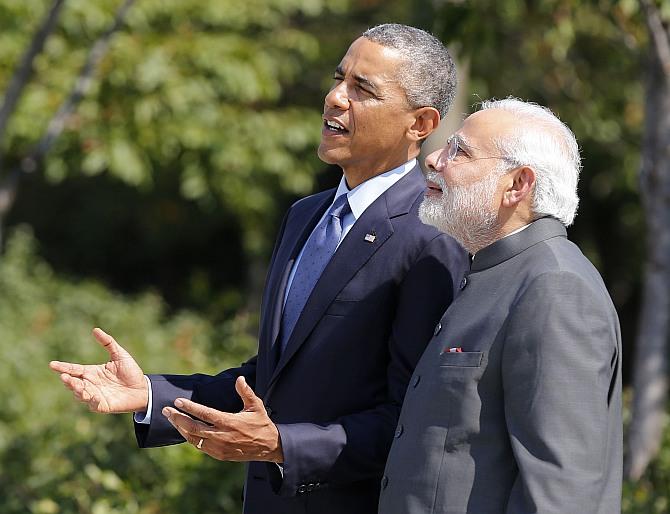 Ahead of United States President Barack Obama's visit to New Delhi, an advance American team held talks on agenda and security-related aspects on Friday even as top Pentagon official Frank Kendall will arrive on January 21 to give final touches to defence-related content.
"A discussion on substance and agenda apart from protocol, logistics and security related issues were taken up with a view to give final shape to the programme and agenda of the presidential visit starting from January 25," top government sources said.
They also mentioned that there were "number of proposals" on the table for discussions related to the three-day visit of Obama. However, they did not disclose the nature of these proposals.
There are reports that the Americans have proposed three- tier security rings apart from their own Secret Service cover for Obama and closure of business establishments near the sites of visit by the US president, both in Delhi and Agra, during his stay due to heightened security alert.
The sources said Under Secretary of Defence for Acquisition, Technology and Logistics Kendall will be travelling to India on January 21 to finalise the defence-related agenda. Kendall is the Pentagon's point person on India-related defence issues, in particular on the India-US
Defense Trade and Technology Initiative.
While in India, Kendall plans to meet Defence Secretary Radha Krishna Mathur and Secretary (defence production) G Mohan Kumar.
A meeting is also scheduled with Scientific Advisor to the Minister of Defence Avinash Chander, who was sacked by the defence ministry this week, but continues in his job till the end of this month.
Obama will visit India for three days and will be the first US president to be the Chief Guest at the Republic Day celebrations. He will have a tight schedule during his trip starting January 25, as he will hold talks with top leadership in New Delhi on ways to make progress on key issues like defence and civil nuclear agreement, among other engagements.

Image: US President Barack Obama with PM Narendra Modi