The positivity over Narendra Modi's election speech in Jammu is unanimous, but it comes with guarded optimism as many would like to wait and watch to see how the new government actually manages the 25-year-old issue, says Upasna Pandey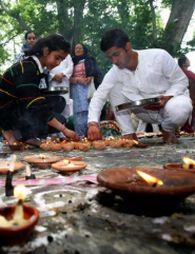 India has a new prime minister and displaced Kashmiri Pandits across India are hopeful for 'ache din'. Hopes have been raised particularly as Narendra Modi said it would be his priority to facilitate the return of Kashmiri Pandits to the Valley in his Jammu election speech. Every step he will take in this direction will be watched keenly.
Kashmiri Pandits have been getting the usual dole from the government -- cash relief, employment packages and promises of improving living conditions at migrant camps in Jammu region, rolled out by the former UPA central governments and implemented by Omar Abdullah's J&K state government. But, clearly, the expectations are much higher from the Modi government.
"We congratulate Modi for creating a positive environment by bringing our issue on a national level for the first time during the election campaign. Till now, we have been sidelined as a regional issue," says Moti Kaul, president of All India Kashmiri Samaj, an apex body.
The confidence is bolstered because "historically, BJP has been conscious to the plight of Kashmiri Pandits," says MK Pajan, general secretary Kashmiri Sewak Samaj (Faridabad, Haryana).
The cause has picked up momentum in the last decade with Kashmir Pandits taking the matter to the court. Recently, the SC gave the Centre 6 weeks to come to a final settlement on the Kashmiri Pandits' issue.
"So far the Centre and state government have put the onus on us to go back to the Valley. But for the first time, we are hoping that the Central government will take that initiative and we don't need any symbolic gestures from the government," adds Dr Ajay Chrungoo, president of Panun Kashmir, an organisation which has been fighting for a separate territory for Kashmiri Pandits.
The positivity over Modi's Jammu speech is unanimous but it comes with guarded optimism as many would like to "wait and watch" to see how the new NDA government actually manages the 25-year-old issue.
Moti Kaul cites the need for a "comprehensive package" in place of a financial package, which would address the core areas of security, sustainable development and assured human rights in the Valley for Kashmiri Pandits to facilitate smooth return to the troubled Valley.
This may not be as easy and quick to stitch together, says Dr Romesh Raina, general secretary AIKS.
"We have to consider that an entire generation of the majority community has been raised in the absence of Kashmiri Pandits, so there is the issue of being realigned and accepted back in the folds, we don't know how smooth that can be once we return," says Dr Romesh.
There is also concern over the disconnect among young Kashmiri Pandits. "For the youth who have been born and raised outside the Valley, there is a yearning to be connected with the language and culture, but they may not share the zeal to return to the Valley. We will need to rope them in through genuine employment and a vision of a stable life there," says Moti Kaul.
All eyes are now set on the Modi government which is expected to take the lead and drive the rehabilitation plan, as there is little confidence in the state government, which is seen as "a party to the misdoings meted out to Kashmiri Pandits", says another Kashmiri professional who fled in 1990 from the Valley.
The disenchantment with the J&K government continues to be a sore point as Kashmiri Pandits cite poor infrastructure at migrant camps such as Jagti camp in Jammu region and half-hearted roll out of employment packages over the years.
Apart from the hundreds of families that are living in migrant camps in the Jammu region, a large number of Kashmiri Pandit families have found employment and opportunities at other places in India and abroad. But the yearning to return home is persistent for all.
For Dr MK Razdan, who has been living in Texas, USA for 47 years, this has translated into him plunging actively into restoration, rebuilding and maintenance of religious shrines in the Valley as well as creating new religious shrines across cities. "Everyone wants to be connected to Kashmir and we have to go back sometime. The previous government has dragged its feet on the issue. We need to wait and watch the Modi government to deliver on its promises. If they are serious, they can even withhold the funds for the state government till they also work seriously on this issue," he adds.
He says the experience of working on restoration and reclaiming religious shrine properties in the Valley has been smooth with the cooperation from local majority community residents.
"This is not a natural disaster like floods or drought, we want the government to acknowledge this as a displacement issue, create a conducive environment to facilitate safe return of Kashmiri Pandits and deliver justice by bringing to law those responsible for the killings, terror and mass exodus of the community in 1989," says Dr Ajay Chrungoo.
"The government would also need to consider Constitutional provisions, look at reserving seats in the legislative assembly, to ensure participation in the political system. We may even be given minority status so we can benefit from various provisions and national programs as well," adds Dr Romesh Raina.
BL Sadhu, chairman of Kashmiri Medical Emergency and Charitable Trust set up in 2010, claims to have supported so far 275 Kashmiri patients with around Rs 3 crore raised through donations.
"We don't want to be resettled in some faraway township near Kashmir, we would like to be near our old homes and neighbourhood. Government needs to work on changing the mind set of majority community as well, this is critical," says Sadhu.
Kashmiri Pandits are hoping that with his famous "yes we can" spirit, the new PM will be able to put together a financial, social and political roadmap that addresses their aspirations and more importantly, take them back to the Valley.
Peace has returned to valley after decades of violence and tourists are back in large numbers. The big question, however, is, can the Kashmiri Pandits go back home? 25 years is a fairly long time.
Image: Kashmiri Pandit families light diyas while they offer prayers at Khir Bhawani temple in Tullamulla
Photograph: Umar Ganie