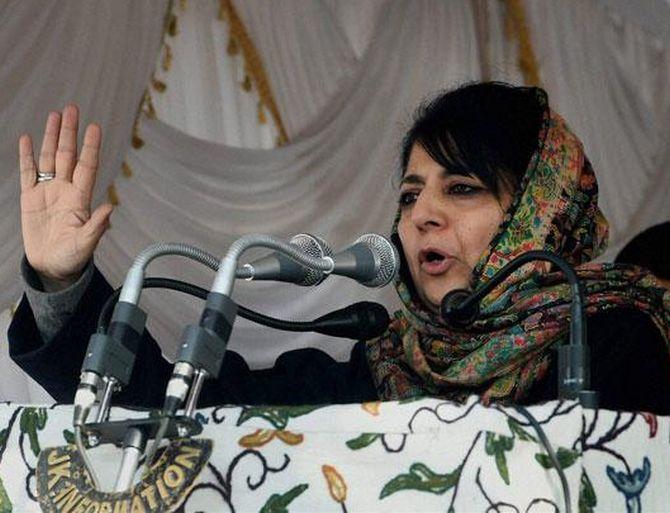 With Mehbooba Mufti set to take oath as the chief minister of Jammu and Kashmir, the Shiv Sena has questioned the Bharatiya Janata Party-People's Democratic Party alliance in the state and asked whether the PDP chief would raise 'Bharat mata ki jai' slogans now.
An article published in the Shiv Sena mouthpiece, Saamana, said that Mehbboba's links with separatists in Kashmir have always remained a debatable issue. The article further goes on to say that the PDP chief is sympathetic towards the anti-national elements.
"The most important thing is that Mehbooba Mufti and the BJP were never comfortable together. Mehbooba bai's anti-national statements, her association with the separatists, have always remained controversial. Bai sahib (Mehbooba) has been sympathetic towards those raising anti-national slogans in Kashmir," the Saamana article said.
"Therefore, BJP would be happy that she is set to become the chief minister with their support but the nation is worried... These days a debate is going on in the nation over nationalism. So, will Mehbooba Mufti say 'Bharat mata ki jai'? Such questions are being asked," it added.
The article further asks whether Mehbooba still feels that Afzal Guru's mortal remains should be brought from Tihar and be venerated like a martyr?
It also hoped that the peace would prevail in the Valley so that justice is done to Kashmiri pandits, who have been displaced from their homeland due to terrorism in the Valley.
PDP chief Mehbooba Mufti on Saturday met Jammu and Kashmir Governor N N Vohra to stake a claim to form a government in the state after, PDP legislators unanimously elected her as the legislature party leader.
Mehbooba handed over the letter staking claim to form the government to the governor while Dr Nirmal Singh handed over the letter from the BJP supporting her claim.
Earlier, the state BJP elected Dr Nirmal Singh as Legislative Party leader in a meeting of BJP legislators held at Jammu on Sunday.
Singh was also nominated as the candidate for deputy chief minister's position who has served in the same capacity in the previous PDP-BJP coalition government.
BJP national general secretary Ram Madhav and BJP MP and Union Minister of State in PMO Dr Jitendra Singh also attended the meeting.