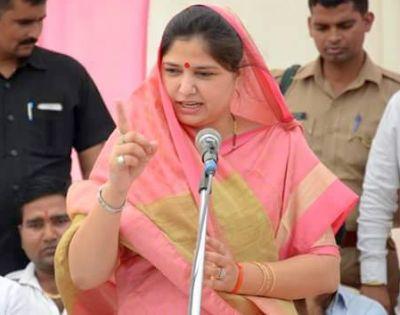 A Bharatiya Janata Party MP from Uttar Pradesh has been caught on camera purportedly threatening a trainee IAS officer that she would make his life "difficult" during an argument over an anti-encroachment drive.
The video of the exchange between Barabanki MP Priyanka Singh Rawat and Ajay Kumar Dwivedi on Tuesday in Chaila village of the district has gone viral.
In the video footage, Rawat is heard threatening the IAS officer: "Main tumhara jeena mushkil kar doongi(I will make your life difficult) in Barabanki if my workers face even an iota of difficulty."
Asked for her comment, the 32-year-old MP said Dwivedi walked away without listening to her when she was discussing the matter.
"What message will go out to the people? It is the responsibility of the official to listen, understand and pay due respect to protocol," Rawat told reporters on Wednesday.
The incident took place when Rawat apparently lost her cool seeing the opposition of locals against an anti-encroachment drive by a team of government officials led by Dwivedi, who is currently posted as a sub-divisional magistrate.
In the video, Rawat, can be heard asking Dwivedi if he has any etiquette.
"I am standing here for the people of the area and you are walking away...you have to work for the people of the area and not for yourself. Learn about protocol and how people's representatives have to be given respect," she said in Barabanki, about 30km from Lucknow.
Rawat defended herself when reporters asked her if she stood by her statement.
"We are educated people and know what language has to be used. We are not illiterate people. You can get an enquiry done into what kind of language was used by the said person (the trainee IAS officer)," the MP said.
Giving his version of what happened, Dwivedi said a team of revenue department officials and police was sent to clear an alleged encroachment on a pond and a primary school on government land, but they were stopped from doing so. Later, the MP also reached there.
The SDM said he had informed his seniors of the matter and maintained that his drive against the illegal encroachments would continue.
In April this year, Rawat was in the news for telling a police officer that she would "skin him alive".
Image: Barabanki MP Priyanka Singh Rawat. Photograph: Courtesy @priyankaMP_BBK/Twitter