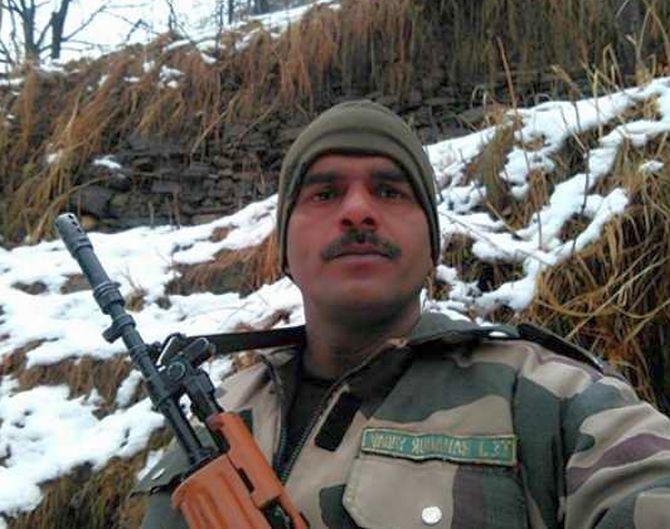 Dismissed Border Security Force jawan Tej Bahadur Yadav is planning to move court against his sacking as he contended on Thursday that he was not given a fair trial after he complained about poor quality of food being served to the soldiers.
Yadav, a native of Rewari in Haryana, had posted a video online about five months ago, complaining about poor quality food being served to the troops on the icy heights along the Line of Control in Jammu and Kashmir.
He was dismissed on Wednesday by a Summary Security Force Court where he was tried on two counts -- of making 'false allegations' on social media regarding the quality of food and carrying two mobile phones while on operational duty, the BSF spokesman said.
"I was not given a fair trial. Though I was given an opportunity to present witness but my mobile phone was seized. I wanted to call colleagues as witnesses, but wasn't allowed to do so," Yadav said on Thursday after returning to his village in Rewari, Haryana, from Jammu and Kashmir.
He said he was shocked to know about his dismissal after being earlier asked to prepare pension and retirement documents.
Yadav's wife Sharmila said the family was not expecting that he would be dismissed.
"We will go to the Delhi high court. He (Yadav) has served for 20 years. He should get pension. That is his due," she said.
Yadav claimed that the food quality served to jawans improved by 70 per cent after his video went viral.
"I got a lot of support from my fellow jawans," said Yadav, who was given a rousing welcome from the villagers as soon as he got down from a Haryana roadways bus.
"I have given proof of the food but I did not get justice. I will go to the court. I am confident of getting justice. I will fight for the soldiers till my last breath. Complaints had come earlier as well but no one paid heed to that. It was my duty to reveal it to the government," Yadav said.
The BSF jawan was surrounded by youngsters and elderly people as he reached his village. Many youth could be seen clicking selfies and shaking hands with him.
Yadav's dismissal came five months after he posted the video on Facebook, triggering public outcry over the working conditions of troops guarding the country's frontiers.
The BSF spokesman on Wednesday said that making 'false allegations' about the quality of food was an act 'prejudicial to good order and discipline' of the force, and that Yadav did not adhere to formal grievance redressal mechanism available.
The spokesman had alleged that constable Yadav did not obey a general order of the force and carried two mobile phones while on operational duty which was against the Standard Operating Procedure.
Yadav also posted photographs in uniform on social media in contravention of instructions, the spokesman had said.
Yadav said he raised his voice so that the coming generation does not face the same situation in the force.