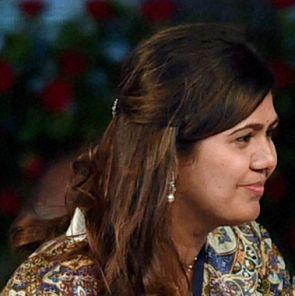 A week after coming under a cloud of allegations, Maharashtra Women and Child Welfare Minister Pankaja Munde on Tuesday asserted she will expose the conspiracy against her.
Back home from a trip to London, Munde, addressing supporters at the Chhatrapati Shivaji International Airport, said, "I will expose the conspiracy against me with your trust and support."
In a show of strength, supporters had gathered in size to receive Munde, daughter of late Bharatiya Janata Party veteran Gopinath Munde.
They shouted slogans against leader of opposition in the Legislative Council Dhananjay Munde of Nationalist Congress Party, who is Pankaja's first cousin.
She was in London when she came under the cloud of allegation of clearing contract worth Rs 206 crore for purchase of a host of items under the Integrated Child Development Scheme.
Seizing on the allegation to attack the Devendra Fadnavis government, the Congress has approached the Anti Corruption Bureau seeking a probe.
Later, her supporters also thronged her official residence 'Royalstone'.
Parliamentary Affairs Minister Girish Bapat was among those who called on Pankaja. She is expected to address the media on Tuesday morning.
Chief Minister Devendra Fadnavis has supported Pankaja saying that the opposition was making baseless charges without proof.