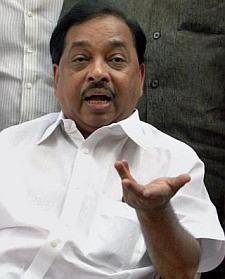 With Congress apparently cold to his demand for a leadership change in Maharashtra ahead of assembly polls, Konkan strongman Narayan Rane on Tuesday withdrew his resignation as minister, terming his decision as an "adjustment" after being assured he will be given "due respect".
A fortnight after he resigned from the cabinet slamming the Congress leadership for not keeping its promise of making him the Chief Minister and claiming the party's prospects under incumbent Prithviraj Chavan were bleak, Rane said he would work for its victory in the elections due in October.
Rane said he decided to withdraw his resignation after consultations with Congress vice president Rahul Gandhi, All India Congress Committee general secretary in charge of Maharashtra Mohan Prakash, senior ministers and state party chief Manikrao Thakre.
"They told me due respect would be given to me and promises would be kept," Rane told reporters. "I will work for the victory of Congress in assembly elections. I did not want to contest the elections myself but the party leaders asked me to contest," he said.
Replying to a question whether he was prepared to face the polls under Chavan, Rane said as head of the government Chavan will lead but at party level it will be a collective leadership.
While resigning, Rane had lashed out at Chavan, saying "victory in upcoming assembly elections under the chief minister's leadership is difficult. He has a clean image but decision-making is slow, implementation of decisions already taken is tardy. This affects the people who made known their displeasure with the government in Lok Sabha polls."
He had also said he would not like to be "a partner in the blame for defeat in assembly polls". Rane, a former Shiv Sena chief minister, said he had not "gone soft" by taking back his resignation and that "it's adjustment. I don't hanker after posts, posts come to me."
Rane, however, said he had asked for state Congress chief's post for three months before assembly elections, a demand that apparently did not find favour with the party leadership.