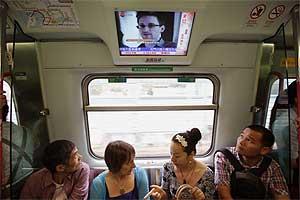 China on Friday said Edward Snowden's revelations have proved that it was one of the major victims of cyber attacks, as the official media pressed the government to milk 'solid information' from the whistleblower and use him as a 'card' to negotiate with the United States.
Still ambivalent on whether China would permit Hong Kong to extradite Snowden, Chinese foreign ministry spokesperson Hua Chunying said she has no information on the issue.
She pointed to China's repeated stand on cyber theft -- "it is one of the major victims of cyber attacks".
"What has happened recently has also shown that China is indeed one of the major victims of cyber attacks," she told a media briefing, indirectly referring to Snowden's allegations of hacker attacks on China by the US in an interview to Hong Kong-based South China Morning Post.
"The international community should come up with regulations on cyber security. China is firmly opposed to all forms of hacking attacks. What cyberspace needs is not war or hegemony, not irresponsible attacks or accusations but regulation and cooperation," Hua said.
"We will also maintain that relevant international regulations should be made within the framework of the United Nations, and we have made specific proposals," she said.
"We hope all relevant parties can take concrete action to boost mutual trust and maintain peace and security of cyberspace. We will carry out cooperation with the US through the cyber security working group within the framework of the strategic security dialogue," she said.
Meanwhile, the Chinese official media said Beijing should extract more information from Snowden, a 29-year-old Central Intelligence Agency employee who defected to Hong Kong on May 20.
"The Chinese government should acquire more solid information from Snowden if he has it, and use it as evidence to negotiate with the US," state-run Global Times said in an editorial titled "China deserves explanation of PRISM".
"Snowden is a card that China never expected. But China is neither adept at nor used to playing it. China should make sure that Hong Kong is not the last place where other 'Snowdens' want to go. At the very least, Hong Kong should be an acceptable destination for them," the editorial said.
"Snowden has turned out to be a hot potato, posing a challenge for Beijing. Whether the Chinese government agrees to extradite Snowden back to the US will directly impact their bilateral relationship, which has seen a good start after the (recent) Xi Jiping-Barrack Obama meeting," the editorial said.
"China is a rising power, and it deserves corresponding respect from the US. Such respect will allow Sino-American relations to be more healthy and reciprocal," it said.
Snowden, the man who blew the whistle on the National Security Agency's PRISM project, has claimed that the US has been hacking servers in the Chinese mainland and Hong Kong for years.
The Chinese diplomatic department should explicitly demand a reasonable explanation from the US government, the editorial said.
"Snowden's exposure has upgraded our understanding of cyberspace, especially cyber attacks from the US, which is probably a much sharper weapon than its traditional military force. This weapon has demonstrated the US' hypocrisy and arrogance," it said.
"Besides Snowden's disclosure, it is still unknown what else the US, a country which once condemned China for cyber attacks, has done to China," it added.
Some analysts were of the view that it is better China leave the extradition issue to the Hong Kong government.
Hong Kong, a former British colony, enjoys autonomy but administratively is still part of China.
Zhu Feng, a professor at the Peking University School of International Studies, said extradition has nothing to do with China and it is not necessary for Beijing to step in given the "one country, two systems" model.
"It is not a problem for Sino-US ties, and it should be decided by Hong Kong's judicial system," Zhu told Global Times.
Zheng Hailin, director at the Hong Kong Research Centre of the Asia-Pacific Studies, echoed this opinion, saying the best solution is to leave it to the Hong Kong government.
"I think the Hong Kong government could withstand pressure from the US, which labels itself as the country which respects freedom of speech the most," Zheng said.
"It could also minimise its impact on the Sino-US relationship, and win the Chinese mainland credit internationally," Zheng said.
Image: Passengers watch a television screen broadcasting news on Edward Snowden, a contractor at NSA, on a train in Hong Kong| Photograph: Reuters