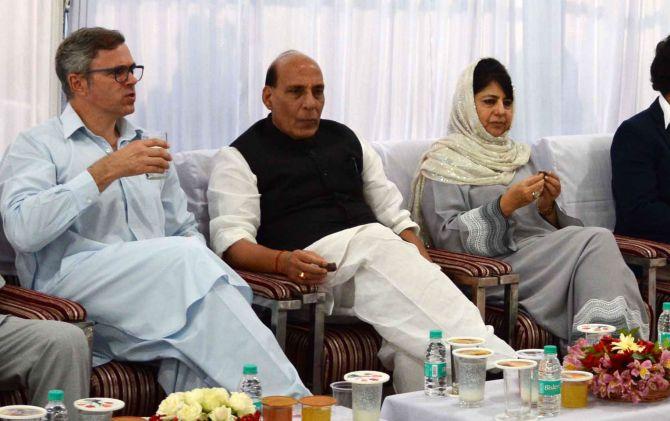 The Modi government is keen to hold dialogue with all 'right-minded' people in Jammu and Kashmir to bring lasting peace in the state, Union Home Minister Rajnath Singh said on Thursday.
Singh, who is on a two-day visit to the state, said a decision on extending the ongoing suspension of operations against terrorists beyond Ramzan will be taken after reviewing the situation in Jammu and Kashmir.
"Dialogue can be held with everyone. It is not necessary to be like-minded to hold talks, but it is compulsory to be right-minded," he said, offering an olive branch to the separatists.
The home minister said at a press conference that the central government has appointed a special representative for holding talks with all stake-holders in Jammu and Kashmir.
"The special representative has not been appointed for sightseeing. He has come here 11 times so far," he said referring to the appointment of former director of the Intelligence Bureau
Dineshwar Sharma as the centre's representative to Jammu and Kashmir in October last year.
Singh appealed to the people of Jammu and Kashmir to come forward for bringing back peace in the state.
"Lest we might lose another generation of the state to the darkness," he said.
On whether the unilateral ceasefire announced by the Centre in Jammu and Kashmir will be extended beyond Ramzan, he said a decision in this regard would be taken after reviewing the situation thoroughly.
"The prime minister (Narendra Modi) took a decision on the suspension of operation during Ramzan after giving it due thought.
"We took this decision keeping in view the situation of the common people of Jammu and Kashmir... A decision on extending it beyond Ramzan will be taken after reviewing the situation," he said.
On what feedback security forces' officials gave during the review meetings held on Thursday, Singh said, "Good things were spoken about it."
Condemning recent terror attacks, he said militants were not refraining from their nefarious activities even during the holy fasting month.
"Those who are not giving up their nefarious activities even in the holy month of Ramzan, should their activities not be called unholy. I would like to say that to mislead the youth is not only deceit, but a crime," he said.
Without naming separatists, Singh said they should refrain from misleading the youth into violence.
"They give education to their own kids and stones in the hands of other kids. I appeal to them to treat the kids of others just like they treat their own," he said.
The Home minister said the central government had decided to withdraw cases against nearly 10,000 persons who were involved in stone pelting for the first time, taking into consideration their plight.
He said, from ramparts of the Red Fort, the prime minister had said the government wanted a solution to the problem of Jammu and Kashmir, not by firing bullets, but by embracing the people.
"When we talk about Kashmiriyat it includes Hazratbal (shrine) as well as Amarnath (shrine)," he said.
On Pakistan, the Home minister said the country must stop terror activities emanating from its soil and if it cannot do so, the country should take India's help.
Singh said the neighbouring country should prevent terror activities on its soil and if it cannot stop terrorism, "why don't you take help from your neighbouring country, India".
He said some countries were covertly or overtly using terrorism. "They should understand that terrorism has no religion... When it will devour whom no one can say with certainty," Singh said.
He said the Centre has maintained from the beginning that it was willing talk to everyone.