The counting of votes for the high-stakes assembly elections in Uttar Pradesh, Punjab, Uttarakhand, Goa and Manipur will begin at 8 am.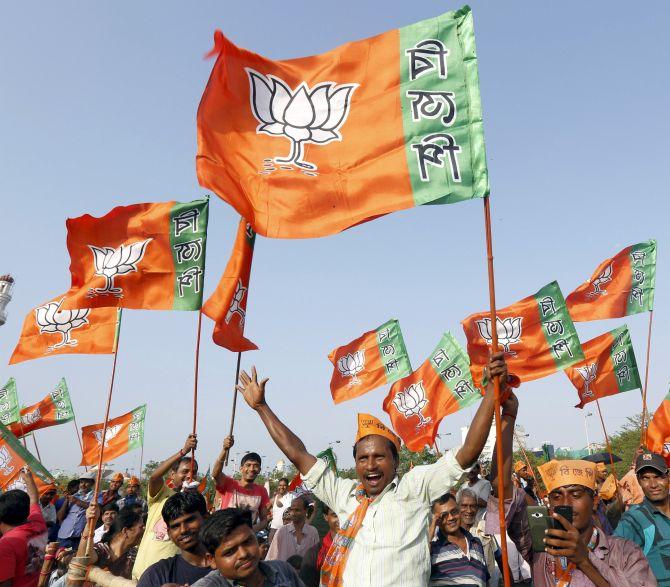 Counting of votes for the high-stakes assembly elections in Uttar Pradesh, Punjab, Uttarakhand, Goa and Manipur will take place on Saturday morning with trends expected to be available by 11 am.
By 12 noon, a final picture could emerge on who would be the major players in the five states.
Election Commission officials said the counting of votes commences at 8 am and will be completed by late evening.
Counting will take place at 157 centres -- Punjab (53), Goa (2), UP (75), Uttarakhand (15) and Manipur (12).
According to Election Commission guidelines, half-an-hour after the postal ballots are counted, the process of counting of electronic voting machines votes begins.
The 'ballot unit' is switched on in the presence of senior poll officials and counting agents of candidates and the result command keyed in to get the results per machine.
Where a paper trail audit or 'voter-verified paper audit trail' has been used, the counting agent can call for a count of the paper slips in the drop box attached to the voting machine, but a final count is taken by the returning officer.
Once the results are declared, the names of the winning candidates will find mention in the gazette.
The gazette notification will initiate the process to form the next legislative assemblies in the states.
Exit polls by various news channel on Thursday had predicted a hung assembly in the key Hindi heartland state of Uttar Pradesh where the Bharatiya Janata Party would emerge as the single largest party, winning anywhere between 164 and 210 of the 403 seats.
Most polls also forecast a close fight between the Congress, which is seeking to return to power in Punjab after a hiatus of 10 years, and Arvind Kejriwal's Aam Aadmi Party, making its debut in the assembly polls in the state.
They predicted victory for BJP in Uttarakhand, but the saffron party, though likely to lead the table in Goa, was projected to fall short of a majority in the tiny coastal state.
© Copyright 2019 PTI. All rights reserved. Republication or redistribution of PTI content, including by framing or similar means, is expressly prohibited without the prior written consent.