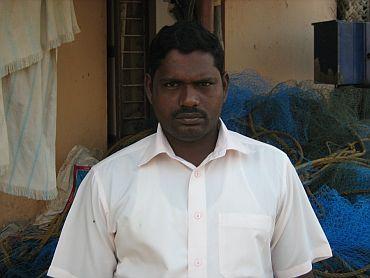 Tamil Nadu's 136 fishermen, who were recently arrested by the Lankan government, were released on Friday. Of those 106 fishermen are from Nagaipattinam district and the rest from the adjoining Pudukottai district.


In Nagaipattinam, most of these fishermen belong to a sea shore village, namely Akkaraipettai. This village was called 'ground zero' during the tsunami devastation in 2004 by then district collector J Radhakrishnan. It suffered the maximum destruction and loss of lives at that time.
G Vijayendra is the Panchayat president of Akkaraipettai. He told
rediff.com
that arrests of Indian fishermen in Sri Lanka have been happening for the last 30 years.
On February 12, 300 boats had set out from the Nagaipattinam harbour. They were supposed to return on February 17.

While the others came back, 18 boats did not return that day. 106 fishermen from Nagaipattinam and 24 from Pudukottai were missing. They received information that they had been arrested in Sri Lanka.

Three months back Sri Lankan fishermen had come to Nagaipattinam to discuss this issue. Suryakumar, who was a leader from north Sri Lanka's Yalpannam district, had also come with his team. Vijayendra, who had Suryakumar's phone number, called him to find out what happened.

Suryakumar told him, "Your fishermen had been apprehended by Lankan fishermen. We have taken them just to warn them not to fish in our waters, and then we are going to release them."

"When the local police came to know about this, they told us that we cannot take action against fishermen from another country and arrested them. They have been presented in court and will be released shortly," Suryakumar told Vijayendra.

Other sources told Vijayendra that all through the while, the Lankan navy had been watching the show from the sidelines but had not interfered.

Meanwhile, the fishermen in Tamil Nadu agitated and also met Chief Minister M Karunanidhi who had promised them that they would be released on Friday.

The Lankan navy would escort them to the international maritime boundary line near Mandapam where Indian Coast Guards would receive them. Then they would sail to the Nagaipattinam harbour.
They were expected to arrive at 10 or 11 pm on Friday night.

Elaborating on the same story, Vijayendra said that 543 fishermen have been killed by the Lankan navy in the last three decades.
More than a 1,000 have been maimed for life. More than 100 boats have been destroyed by them, he said.

"Only now we are getting our boats back, earlier only the fishermen came back" he said.

He admitted that fishermen do cross the IMBL when they don't find fish here. From Kodikarai village to the Lankan boundary line it is only 18 nautical miles. From Nagaipattinam, the border is 35 nautical miles away.

A mechanised boat goes out for fishing for three nights and three days. A maximum of seven people go in one boat. The trip requires a 1000 litres of diesel, ice and also food for the crew. One trip costs Rs 50,000, he said.

So they have to come back with at least Rs 80,000 worth of fish to run the business. When they feel that they haven't achieved that target, they tend to stray into the sea, he added.

For each trip the government gives 340 litres of subsidised diesel. This is Rs 7 cheaper than the normal rate.

Vijayendra felt that only if both the governments sit down with fishermen representatives from both countries, this problem will be solved.

Three months back when the Lankan fishermen had come here, their main demand was a ban on the bottom trawling nets that the Indian fishermen use. "They wanted us to use nets which catch fish only near the sea surface," Vijayendra said.

"There are a thousand mechanised boats in Nagaipattinam alone. All of them use trawler nets. We cannot tell them to stop using them over night. We can only reduce it gradually. If we switch to the new nets, the infrastructure on the boat has also to be changed. This requires a lot of money. If the government helps us we can change to the new nets, but slowly," he said.
Vijayendra added, "We should be allowed to fish in their waters for four months in a year, twice a year for two month periods. We should also allow them to fish in our waters for four months in return."

He said that if this is allowed then the Indian fishermen would not go there for eight months of the year. And if they did, the Indian government should take stringent action against them. They would co operate to do this.

The chances of such an agreement coming into force looks very remote at this stage. But some solution has to be found. And till then the fishermen of Nagaipattinam will have to brave the forces of nature at sea, the Lankan navy and the Lankan fishermen.
Image: G Vijayendra
Photograph: A Ganesh Nadar