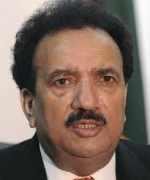 The Bharatiya Janata Party on Monday sought to corner the government over the controversial statement by Pakistan Interior Minister Rehman Malik equating the Babri Masjid demolition with Mumbai terror attacks, as it demanded to know in Rajya Sabha as to why India did not respond strongly.
Raising the issue during Zero Hour, Deputy Leader of BJP Ravishankar Prasad asked why the government "failed" to tell Malik that the Allahabad high court has already given its verdict and those claiming it to be a mosque have been unable to prove it.
This triggered an angry reaction from Sabir Ali, a member of BJP ally Janata Dal-United, who trooped into the Well.
Malik, during his visit to New Delhi, had said nobody wants to see the recurrence of incidents like Mumbai blasts, Samjhauta blasts or Babri Masjid issue. Later, however, he denied comparing the demolition of the shrine to the Mumbai attacks, adding that he had been "misunderstood".
"What Rehman Malik said was unwarranted, unprovoked. We strongly condemn it. I want to ask the home minister why Malik was allowed to come if his visit to India was with an agenda. Why the government did not respond to all this strongly? The home minister should reply," Prasad said in presence of Shinde.
Prasad also took objection to Malik's remarks dismissing India's evidence against Saeed in 26/11 attacks and that the Lashkar-e-Tayiba terrorist Abu Jundal was an operative of an elite Indian intelligence agency.
Minister of State for Parliamentary Affairs Rajiv Shukla said the minister will make a statement on the issue.