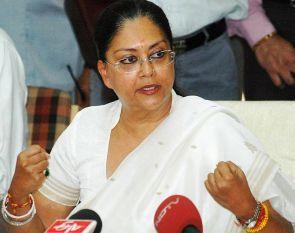 Among political party big-wigs who have held rallies in Rajasthan, Bharatiya Janata Party's prime ministerial candidate Narendra Modi has done it the maximum number of times.
Modi held 23 rallies in the state but was accompanied by the party's chief ministerial candidate Vasundhara Raje just once.
Raje shared the stage with Modi only in Kota during the election campaign.
So, why did Raje stay away from 22 rallies that Modi held in the state? Was it merely because she was campaigning simultaneously for other seats or was there more to it?
Before the announcement of the election date, Vasundhara Raje shared the stage with Modi on the concluding day of the Suraj Sankalp Yatra in Jaipur.
Sources say, Raje who wants to 'look secular', did not want to share the stage with Modi after the election dates were announced. She attended the Kota rally with Modi under pressure from the Rashtriya Swayamsevak Sangh.
"Vasundharaji could not share the stage with Narendraji as she had to cover the entire state. She is at par in stature with Narendraji," said BJP spokesperson Vimal Katiyar.
Katiyar said that Modi too is secular. He would not have been elected thrice in Gujarat if he wasn't secular, says Katiyar.
"Was Ashok Gehlot (Rajasthan chief minister) there every time Sonia Gandhi and Rahul Gandhi held rallies in Rajasthan,?" questioned Katiyar.
When this correspondent pointed out that the chief minister was present for all the rallies and so was C P Joshi (an important strategist of Congress Vice-president Rahul Gandhi's team), Katiyar had no proper reply.
Senior journalist and political analyst Om Saini has an explanation for Raje's absence from the rallies. "In Rajasthan, Vasundhara Raje did not consider any other party leader above her and she was not even interested in a rally by Modi. But because of RSS pressure, who felt that as Modi is BJP's PM nominee, his rally should take place in the state. Raje had to succumb to the order."
"But she is a good actor too. From her appearance you would not be able to know that she does not want a Modi rally in Rajasthan or share the stage with him,' says Saini.