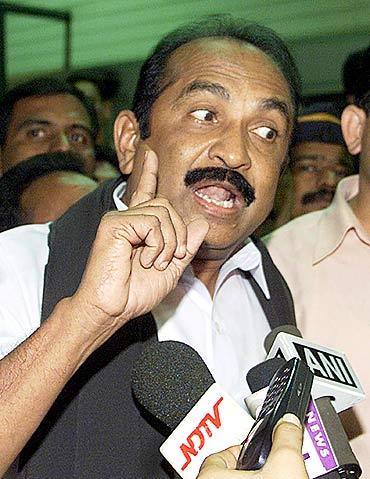 Vaiko's stock dwindles as the DMK's poaching of his cadre continues unabated, reports R Ramasubramanian from Chennai.
Vaiko, the 71-year-old firebrand Tamil Nadu politician and founder general secretary of the Marumalarchi Dravidar Munnetra Kazhagam, is an angry man these days, and the reason is obvious. Poaching of his cadre, especially the second rank leadership, by Vaiko's parent body, the Dravida Munnetra Kazhagam, is going on unabated.
In the past 10 days four of his senior colleagues have switched allegiance to the DMK, of who three were his long-term associates -- Kanchipuram district secretary Pallavakkam Somu , MDMK's women's wing chief Kumari Vijayakumar and party treasurer Masilamani. On Tuesday, Vaiko dismissed another front line office-bearer and Karur district secretary, Bharani K Mani, alleging that the latter had violated party discipline. MDMK sources say Mani was also planning to switch sides.
The trouble started after Vaiko, in an internal party meeting a few weeks ago, reportedly told the party that in the assembly elections next year, the MDMK will not have any truck with either the AIADMK or the DMK.
Everyone knows that the MDMK will not go anywhere near the AIADMK as it jettisoned Vaiko in the 2011 assembly elections at the eleventh hour and J Jayalalithaa has shown no political leniency towards Vaiko ever since.
The general perception in the MDMK was that this time they will have an electoral pact with the DMK. This was strengthened when Vaiko attended DMK chief M Karunanidhi's grandson's wedding in May. For nearly a month Vaiko was moving closely with the DMK and dropping adequate hints that he will be with it in the next elections.
But suddenly, Vaiko launched an alliance of small parties -- the Communist Party of India, CPI-Marxist, Viduthalai Chiruthaigal Katchi (a Dalit party) and Manithaneya Makkal Katchi (a Muslim outfit) -- and things started moving in a different direction.
Originally this front was formed to fight for total prohibition on alcohol in the state but later started taking up other issues. Though leaders of other four parties claimed that this was just a common front aimed at bringing social change in the state and not an electoral front as of now, Vaiko was clamouring to project that this was indeed going to be a political front.
'This is an alternative front to both the AIADMK and DMK in the ensuing elections' became Vaiko's slogan.
"Here lie the fault-lines. An average MDMK cadre and office-bearer who was dreaming of contesting the assembly elections suddenly realised that this time too the party was going to end up as a zero. It's common knowledge that if you don't join with either one of the Dravidian majors you cannot win even a single seat. Our party boycotted the 2011 assembly elections and we have forfeited five years of our political career. Do you think an average political worker in a mainstream party with dreams of becoming an MLA will accept this line of politics by its leadership?" a senior MDMK leader, who is toying with the idea of switching sides, told Rediff.com.
As usual, Vaiko vociferously attacks the DMK, especially Karunanidhi, for his troubles. He says the DMK wants to finish off the MDMK, but boasts that it will be the DMK which will face extinction and predicts that this will be accomplished by its leader-in-waiting, DMK treasurer and Karunanidhi's son M K Stalin.
Despite all the bluster Vaiko is today a loner in Tamil Nadu politics. His five-party alliance is facing an existential crisis. Three of the party leaders in his alliance privately admit that they are merely passing the time and if they get a positive signal from the AIADMK they won't hesitate to switch sides.
Only the CPI-M is backing Vaiko to the hilt. The MDMK commands less than 1.5 per cent of the votes in the state. Given this meagre vote share, what exactly is Vaiko's strategy and how he plans to execute it, is not clear.